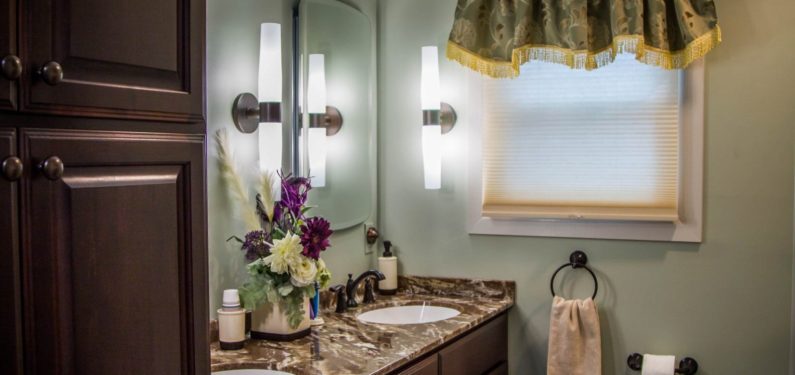 5 Bathroom Design Ideas to Inspire You
Posted on October 8, 2020
A bathroom remodel or addition is a great home improvement project that will yield immediate benefits. When you add a new bathroom to your home or overhaul an existing one, there are a lot of options available. It can be difficult to figure out where to start. Here are some bathroom design ideas to inspire you on your next bathroom remodeling project:
1. Customize the Shower
There are many benefits of a walk-in shower. They are convenient and enhance the aesthetics of any bathroom. Plus, you can customize them in a variety of ways. A custom shower stall and the right type of showerhead in your bathroom are some of the best improvements you can make to this room in your home.
A walk-in shower can be designed, built, and installed to maximize the space available in your bathroom. Additionally, the interior of the shower can be customized with built-in shelving, a bench seat, tiling, upgraded fixtures, and even customized shower glass.
Take a look at the custom walk-in shower in this master bathroom addition!

2. Go With a Specific Theme
Choosing a specific style and design theme for your bathroom is another great way to enhance this area of your home. You can incorporate the interior design style of the rest of the home into the bathroom or take the opportunity to develop a unique theme.
Whether you choose a nautical style, farmhouse aesthetic, industrial theme, etc., having a predetermined theme for your newly upgraded bathroom will help you narrow down options and choose colors and decor that are cohesive. This can help you create a well-thought-out and creatively designed room where everything flows nicely and nothing looks out of place.
3. Choose an Interesting Mirror
The mirror in your bathroom can be an accent to your decor or it can be a focal point. Either way, an interesting mirror is one of the bathroom design ideas that can tie the room together. From ornate wooden-framed mirrors to the more modern, sleek frameless mirrors and everything in between, the options are nearly endless. So, you will be able to find the perfect mirror for your bathroom.
4. Include the Right Mix of Lighting
The right mixture of light sources is important for a bathroom. Many bathrooms may feature limited exterior light sources. An exterior window with privacy glass and skylights or sun tunnels can be great ways to let natural light into a bathroom.
In addition to these sources of natural light, give plenty of consideration to the lighting fixtures you choose. Recessed lighting, wall sconces, and vanity fixtures are all viable bathroom lighting options. Getting the right mix of natural light and artificial light sources can help take your bathroom design to the next level.
5. Get Creative With Storage
When you are planning your bathroom remodeling project, make sure that you don't overlook the necessity of having plenty of storage options. Adequate storage keeps a bathroom clean, tidy, and free of clutter. Having storage in the bathroom for what you need means you don't need to store it elsewhere in your home.
Also, storage options aren't limited to a bathroom closet. Plenty of creative storage options exist. Floating shelves, corner shelving, cabinets, and even a large vanity with additional storage capacity are all options that provide storage and also enhance the aesthetics of your new bathroom. Plus, making sure you add plenty of storage is one of the best ways to update a bathroom.
These are just a few bathroom design ideas to inspire you as you think about what you want in your new bathroom. Having an idea of what you want is helpful. Partnering with the right home improvement contractor is an essential step on the bathroom remodel checklist and can help you bring your ideas to life.
If you would like to discuss your bathroom remodeling project, give Zephyr Thomas a call at (717) 399-4708 for a free quote!