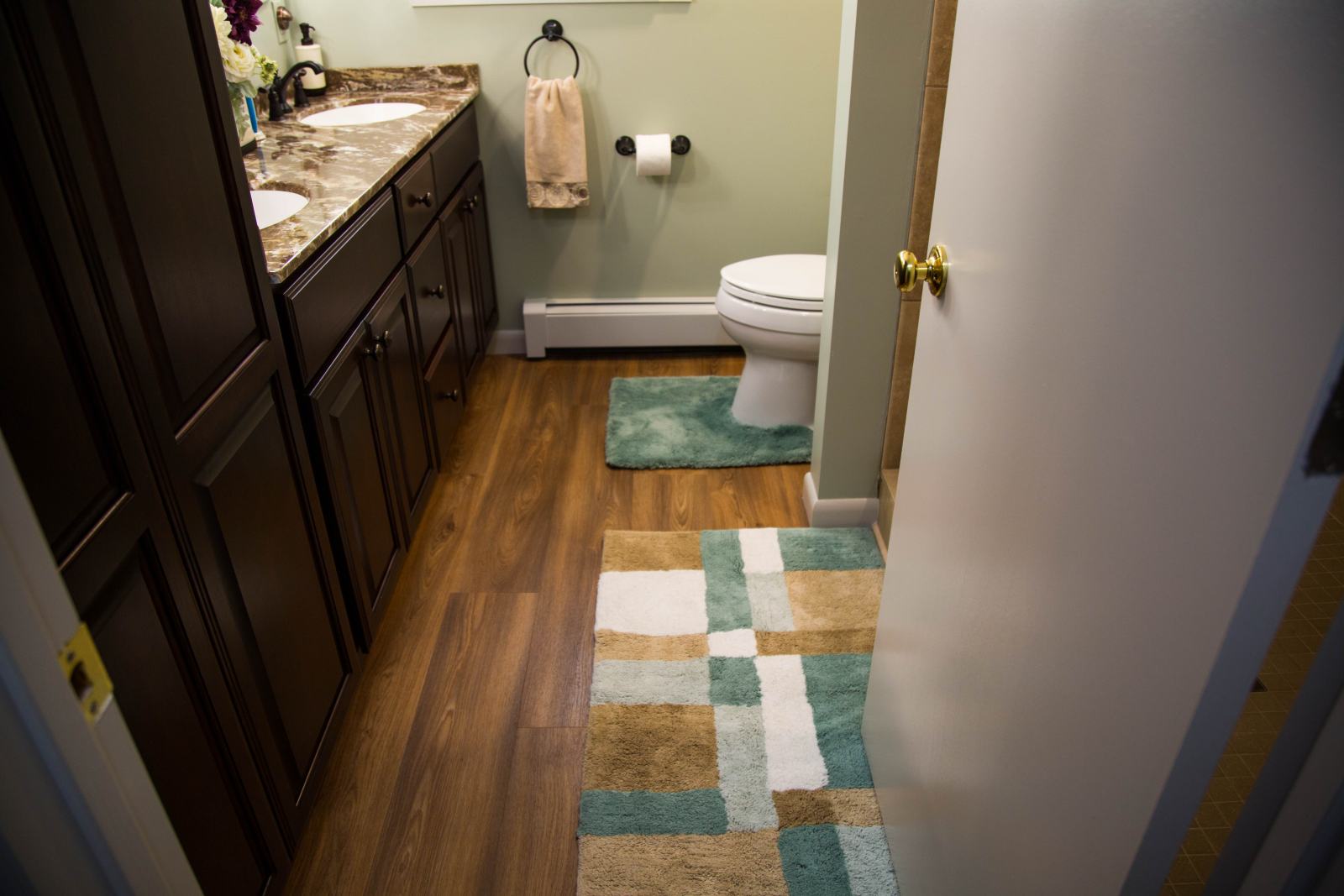 5 Bathroom Flooring Ideas
Posted on September 21, 2023
Bathrooms are one of the most-used rooms in a home. Not only does it have to be well-designed for optimal use, but it also needs to be able to handle a lot of moisture, humidity, and water effectively. This can limit the materials you use in a bathroom, especially when it comes to flooring. If you are thinking about remodeling your bathroom, here are some bathroom flooring ideas to get you started:
1. Pick the Right Flooring Material
Unappealing aesthetics, lack of function, damage, and more are all signs it's time to remodel your bathroom. When remodeling any room in a home, there are plenty of flooring materials to choose from. When it comes to a room full of moisture like a bathroom, there are definitely some flooring materials that are a better fit than others.
You need something durable and definitely something waterproof. This is why picking the right flooring material is one the most important bathroom flooring ideas and why picking the wrong materials is one of the biggest bathroom remodeling mistakes. Here are a few of the top bathroom flooring options:
Luxury Vinyl
Luxury vinyl plank (LVP) or luxury vinyl tile (LVT) are versatile flooring options that tend to be a great fit for any room. In addition to having waterproof options, these flooring materials are also durable, look great, and are comfortable. On top of that, they can be manufactured to look like wood, stone, or another material, come in a variety of colors, and can be cut into interesting shapes.
Tile
Aside from vinyl tile options, traditional tile is also a good option for bathroom flooring. Usually made of porcelain, ceramic, or linoleum, tile is durable and waterproof. On top of these benefits of tile flooring, it's also available in many colors, textures, and more, which makes it a versatile flooring material that can fit in well with any bathroom design.
2. Incorporate Interesting Shapes
The type of flooring material is just one of the things to consider when remodeling your bathroom. You also have to think about colors, textures, patterns, and more, and think about how it all fits together.
Whether you go with tile, vinyl, or something else, one of the bathroom flooring ideas is to incorporate interesting shapes. Large-format tiles are gaining popularity and can give your bathroom floor an interesting and cohesive look. You can also incorporate other shapes, from hexagons, circles, and more, to enhance your bathroom floor in a subtle way.
3. Mix Materials and Colors
Another idea is to mix materials and colors. Flexible materials like tile and vinyl can be manufactured to look like other materials. Even if you aren't actually mixing wood and stone in your bathroom, you could create a bathroom design that looks like you are.
You also are not limited to doing this just on the floor. Mixing materials and colors is a bathroom remodeling idea that could mean opting for something simple in the bathroom floor that contrasts and complements a different material or color on the walls.
4. Create a Mosaic or Pattern
In addition to or instead of tile cut into interesting shapes, you can also create a mosaic or opt for a pattern in your bathroom flooring. Geometric and patterned tiles are one of the popular bathroom design trends and can make your bathroom stand out in a unique way.
This also gives you a chance to add more color to your bathroom in interesting ways without the color taking over the entire room. Whether you want something simple and subtle or something more complex and interesting for a focal, there are a lot of options available to help you get the look you want.
5. Add Underfloor Heating
Adding a touch of luxury to your bathroom floor is not limited to just the way it looks or the materials you use; it also extends into the technology behind it. Heated bathroom floors are popular options for people who want to add some extra comfort to their bathroom remodel. This is also why some of the top tips to turn your bathroom into a home spa are to warm up the floor and to add luxurious details.
Remodel Your Bathroom With Zephyr Thomas
Updating the flooring is just one of the best ways to update a bathroom. These are a few bathroom flooring ideas to consider if you are thinking about remodeling your bathroom. Whether you're ready to get started on a bathroom remodel or are still working through some options, give Zephyr Thomas a call at 717-399-4708 to ask some questions or to start a free estimate!
Check out the time-lapse video below to see the Zephyr Thomas crew completing a master bathroom addition!