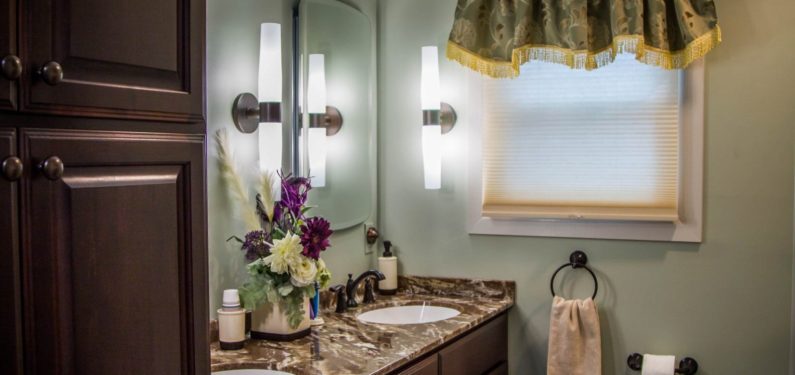 6 Best Ways to Update a Bathroom
Posted on May 7, 2020
A bathroom remodel or update is a relatively quick home improvement project that can offer many great benefits. If you are thinking about updating one of the bathrooms in your home, consider some of these best ways to update a bathroom:
1. Upgrade to a Walk-In Shower
If convenience is a high priority, upgrading a tub/shower combo to a walk-in shower can be a big improvement to a bathroom. The convenience is just one of many of the benefits of a walk-shower.
Custom walk-in showers with the right shower wall options and accessories can be incorporated into a bathroom design to increase aesthetic appeal and the value of your home. Additionally, walk-in showers can sometimes be space savers for smaller bathrooms that can benefit by adding more storage area that would be unavailable if a tub/shower combo was used.
2. Include a Freestanding Bathtub if You Have Room
If you are feeling creatively inspired, and the size and layout of your bathroom lends itself to adding a freestanding tub, then consider this great feature for your next bathroom update! Freestanding tubs make for unique focal points in bathrooms that successfully incorporate these items into their design theme. Plus, there are several types of bathtubs to choose from and they are a great addition to a master bathroom that has a walk-in shower.
3. Opt for a Dual Vanity in Shared Bathrooms
Dual vanities in shared or master bathrooms offer some of the greatest benefits of any bathroom upgrade. If convenience and efficiency matter, then this is one bathroom feature that should make its way onto your shortlist. It's also one of the bathroom design ideas inspired by hotels.
Households with several school-age children or dual-income earners will especially enjoy a dual vanity. Not only does it offer more space and storage, but it also helps eliminate some of the common bathroom clustering or traffic jams that often occur during morning routines. Knowing who will use the bathroom and how can help you choose the best vanity for your bathroom remodel.
4. Update Flooring and Walls
Sometimes, what a bathroom needs is a little sprucing up. A lot can be accomplished with new floor and wall coverings. Tiled floors have long been a great option for bathrooms, and still are, but there are several bathroom flooring ideas and many other waterproof flooring materials are now available in a variety of colors, patterns, and textures. Luxury Vinyl Tile (LVT) is a prime example of this.
A fresh coat of paint can go a long way for a bathroom's walls. If you are looking to take your bathroom décor to the next level, tile backsplash, reclaimed wood, brick, or other materials might be the perfect prescription for your bathroom depending on the look you have selected for the room.
5. Build in Plenty of Storage
Even when you think you have enough storage in your home, you find out that you can never have "too much". Ample storage space helps to keep living areas clean and helps to facilitate a more stress-free life. This goes for bathrooms, as well.
If you are wondering how to get a great deal of value and practical efficiency increases from a home improvement project, look no further than incorporating some additional storage space into your bathroom layout. This is how a bathroom remodel adds value to your home.
6. Add Luxurious Details Where Possible
There are updates, and then there are upgrades. Remodeling a bathroom can be a fantastic opportunity to upgrade features like the sink and shower fixtures, new doors, windows with privacy glass, etc. If you are having a walk-in shower installed, consider a frameless glass door to class the place up even more!
Upgrading bathroom lighting fixtures to match the aesthetic of the room will provide additional continuity of design. If you want to go the extra mile in making your bathroom truly luxurious, heated floors are a great option for added comfort on chilly mornings before you get your first coffee of the day!
A great aspect of bathroom remodeling is that regardless of how big or small the project is, it is bound to provide some significant benefits to you! Plus, it's a great way to add value to your home. So, if you are considering a bathroom update, think in terms of the scale and scope of your needs, the space available, your wants, and of course realistic budgeting for the project.
Sometimes those items can feel like they are at odds with one another when you are planning out your project and that is one of the benefits of working with an experienced home improvement contractor. Experienced contractors will consult with you to determine your goals and help you find creative and unique ways to achieve the results you are looking for! This will also help you get the full benefit from this home upgrade that adds value. If you are interested in updating your home's bathrooms, give Zephyr Thomas a call at (717) 399-4708.