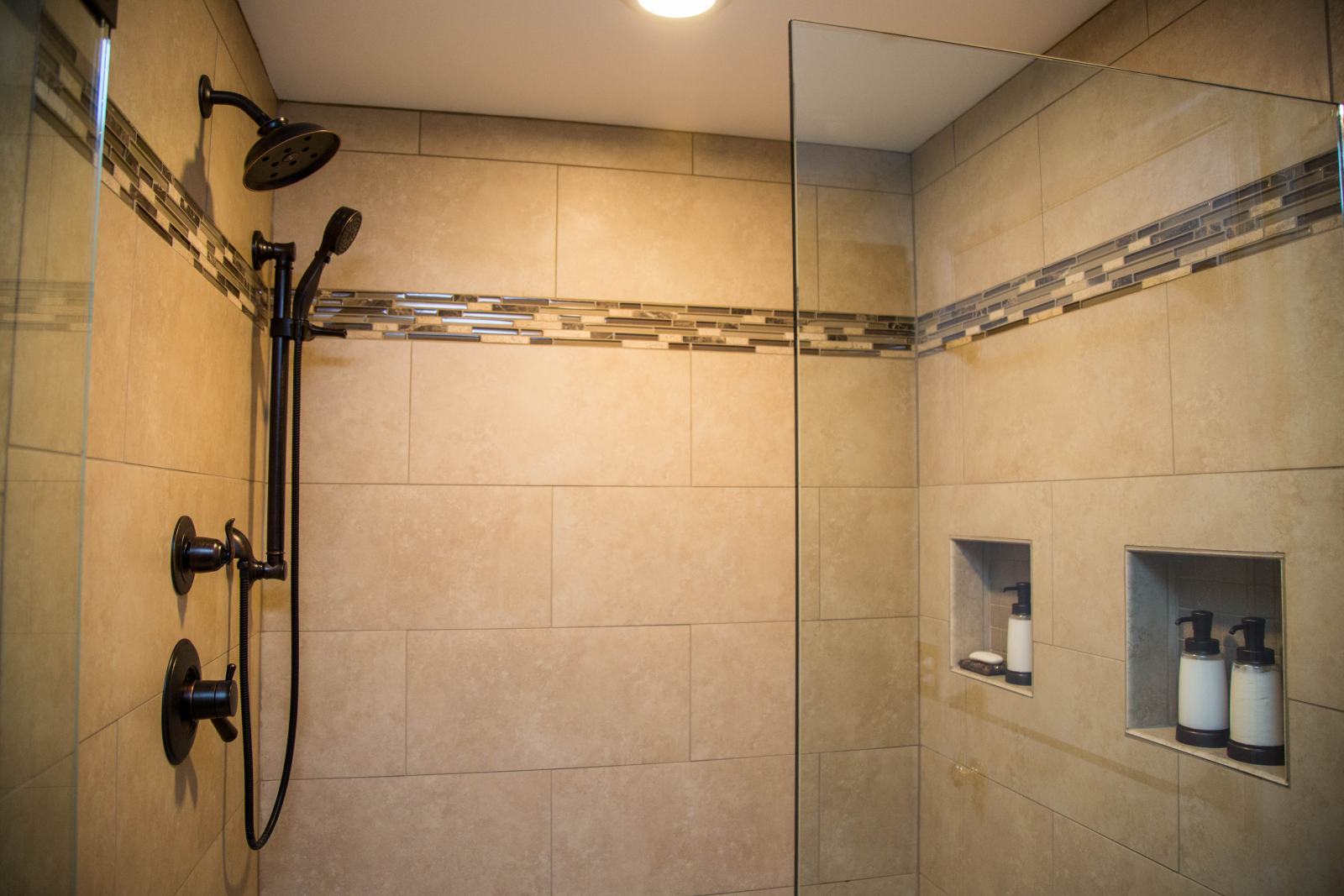 5 Benefits of a Walk-In Shower
Posted on September 5, 2019
The bathroom of a home is one of the best rooms to choose for a renovation project. A bathroom receives regular use and it is an area that guests will have access to in addition to the homeowner and their family. As such, a bathroom renovation adds functionality to the home and also increases its aesthetic appeal. There are multiple ways to get a great-looking bathroom. The addition of a customized walk-in shower is one of the most effective ways to achieve a highly functional bathroom area that also provides a greater level of luxury appearance. Here are just a few of the major benefits of a walk-in shower:
1. Walk-In Showers are Easier to Use and to Clean
Generally speaking, walk-in showers provide greater ease of use than other types of showers stalls or tubs. They create a higher convenience factor and they prove to be easier to clean. Since water is never accumulated in a walk-in shower, there tends to be less residue build-up from hard water or soap like you may find with bathtubs.
Plus, their accessibility makes it easy for a homeowner to quickly clean the shower stall. Showers with doors make it easy to rinse down the walls after cleaning takes place. And, you can accomplish it all without the worry of excess water getting out onto the bathroom floor.
2. They are More Accessible
In the same way that they provide better access for cleaning, walk-in showers are a safer option than many tub-style designs. With a tub, you have to step over the side of the tub to enter the shower while you can simply walk-in, step over a small lip, or even wheel into a walk-in shower. This is especially beneficial for elderly homeowners.
However, even middle-aged homeowners should keep this important benefit in mind. A home improvement that is completed with quality workmanship will be built to last. In 10, 15 or 20 years from the date of installation, a homeowner's physical capabilities may very well have changed and ease of access may become a factor.
3. Walk-In Shower Units Can Fit Any Bathroom Size
There are many types of bathrooms and one of the benefits of a walk-in shower is that they can fit almost any bathroom size. Walk-in showers are a great option for smaller bathrooms because there are many options available that do not require a large "footprint". Oftentimes, a walk-in shower can take up far less space than a tub-style bath if needed.
In fact, opting for a walk-in shower is one of the tips for remodeling a small bathroom. Sometimes the space available in the bathroom makes it necessary to choose a smaller walk-in style shower. But, you may choose to go with a smaller walk-in shower because doing so allows you to add a larger closet or other additional storage space to your bathroom.
As beneficial as walk-in shower units can be when space is limited, they are not options for just small bathrooms. In fact, large bathrooms create additional opportunities for creative customization with walk-in showers in terms of design, functionality, and convenience. If you have a large enough bathroom, you can even opt for both a walk-in shower and a freestanding tub. As such, walk-in showers are great options for bathrooms both big and small!
4. They are Highly Customizable
Another one of the benefits of a walk-in shower is that they are highly customizable. Due to their customizable nature, walk-in showers provide you with the opportunity to creatively add to your bathroom's aesthetics. Plus, you can also customize with a variety of shower lighting ideas to make sure you have the right light where you want it.
Some homeowners may choose to go with a prefabricated shower stall while others may desire a more unique look that will accent a style or color scheme in the room. This can be accomplished in many ways. One of the most popular is by installing a tiled walk-in shower.
There are many shower wall options for bathroom remodeling. Customized tiling patterns that provide a further accent can be used to add some additional flair to this popular bathroom feature. Fixtures that go along with a customized theme can be incorporated in order to add continuity to the decor within the bathroom. Likewise, a tiled shower stall can be easily customized in its shape and features. Additional built-in shelves along the wall of the shower can be added.
Some walk-in showers even feature a built-in bench! Some homeowners desire dual shower heads in their walk-in units. Likewise, steam kits can be included with walk-in shower stalls and give a luxury feel with a sauna-like effect! All of these options are easily incorporated into a customized, walk-in shower. The opportunities are, truly, nearly endless!
5. Walk-In Showers Can Increase Your Home Value
Many walk-in showers units, especially those that are more customized in their nature, will give your home the look and feel of luxury. They look great in real estate listing photos and will set your home apart from the rest of the market, especially in the mind of a potential buyer. Think about walking into a home that has a well-designed, highly functional bathroom complete with a custom walk-in shower.
The same way you feel when you see the awesome features in a bathroom like this will be what draws potential buyers to your home, and subsequently, make them willing to spend more money to buy it! In this way, a bathroom renovation, complete with a walk-in shower unit, is one of the best ways to immediately add some market value to your home! This is one of the ways a bathroom remodel adds value to your home.
Remodel Your Bathroom With Zephyr Thomas
There are many benefits of a walk-in shower and they are yet another one of the many home improvement project options available to homeowners. The great thing is that these types of projects can fit just about any budget and create significant and immediate benefits for the homeowner.
Different than other home improvement projects that may be advantageous for accommodating guests, adding to the aesthetic of the home, or simply adding to the functionality of the home, a beautiful, new, and customized walk-in shower can do all of those things for you – at the same time!
If you need a little inspiration in order to help you get started with the planning of a new bathroom renovation, give us a call at (717) 399-4708 or feel free to stop by our showroom and see how many amazing options are available!