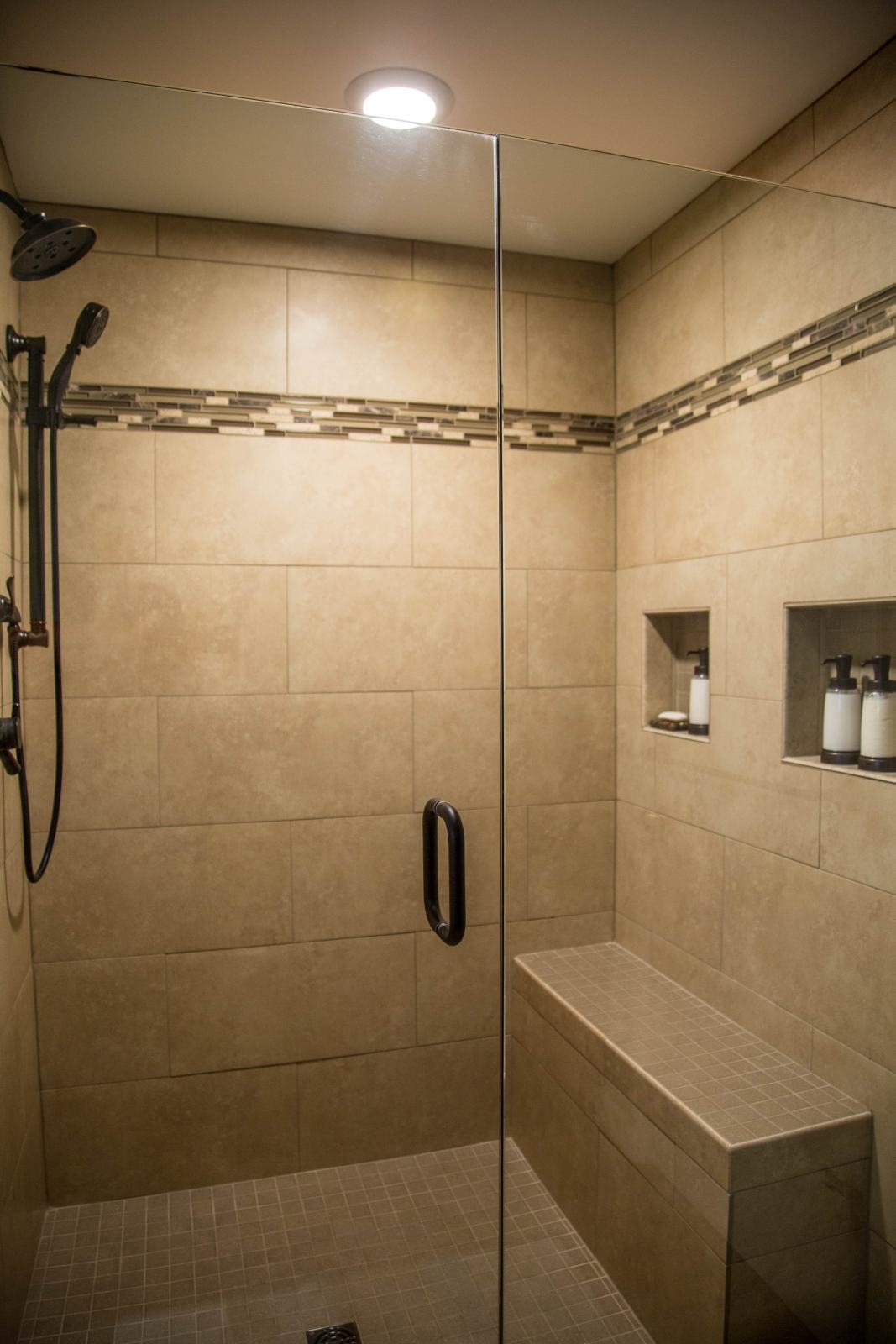 7 Shower Remodeling Ideas
Posted on November 2, 2023
If you're tired of the current state of your shower, it may be time to consider a remodeling project. Simply updating your shower can bring new life to your bathroom, or it can be part of a larger remodeling project. If you're looking for inspiration, here are a few shower remodeling ideas to consider:
1. Built-in Storage
Not having enough storage is one of the most common bathroom remodeling mistakes. If your current shower doesn't offer sufficient storage, consider adding built-in storage options. Extra shelves can be useful for storing items like shampoos or body washes. Or, you could opt for built-in niches. You can choose one or two built-in niches, or for even more storage, try a recessed wall with shelving.
Not only is this a convenient storage option, but it is also an interesting design feature. For extra contrast, choose a different color or patterned tile than the rest of your shower. This is one of the shower wall options that allow design and functionality to come together for a unique shower detail.
2. Add Seating
A shower should be a place of relaxation. Adding seating to your shower gives you a place to sit and let the warm water soothe you. It's also another area that can function as storage if need be.
Seating is also a smart addition for accessibility. These seats offer convenience and safety, plus they're a great home remodeling idea for aging in place. They're also helpful if you have small children, but no bathtub in your home.
3. Get Rid of the Shower Door
Ease of access is one of the benefits of a walk-in shower. If you want an even more seamless entrance to your shower, think about forgoing a shower door. This adds a classy look to your bathroom.
Upgrading your shower in this way is just one of the tips to turn your bathroom into a home spa. However, it's important to note that you need ample square footage and good drainage for this detail to work.
4. Paint the Ceiling
A fresh coat of paint is a great way to update a bathroom. For a statement, paint the ceiling. If you want a moody, luxurious bathroom, pick a dark color, like emerald green or black. To keep the bathroom from looking too dark, keep the rest of the color palette lighter or contrast with white.
Or, if you want to further lean into that brooding vibe, choose geometric black and white tile flooring or shower tiles. The dark ceiling anchors the tile, adding a cohesive feel to the space.
5. Add a Skylight
Good lighting is important in any bathroom. Maximize your lighting with a skylight right above your shower. This will give you a nice amount of light and you won't need to depend on electrical lighting during the day. Plenty of natural light is just one of the benefits of skylights. It also will be an impressive focal point for your shower space.
While natural light is a popular shower lighting idea, be sure your shower at least has some electrical lighting. You'll want light if it's dark out or if it's extra cloudy outside. Good lighting is important in any room, and the shower area is no exception.
6. Add a Tub
If your bathroom doesn't currently have a tub, it might be worth considering adding one to your shower remodel. This could mean a shower and tub combination, or a separate shower and freestanding tub.
Tubs are great if you have kids or if you enjoy relaxing in a tub after a long day. A bathroom remodel adds value to your home and adding a tub along with your shower could add even more, so that's something to keep in mind as you evaluate adding a tub or not.
7. Upgrade the Details
Upgrading the details can include a lot of shower remodeling ideas. From fixtures, custom tile accents, the glass you choose, and more, there are a lot of details you can add and a lot of customizations you can do. For example, there are many types of showerheads to choose from.
A simple upgrade in this area can make a big difference in the look of your shower while also adding luxury, comfort, and convenience. In addition to the overall design of the shower, including wall options, built-in features, fixtures, and more, you can also play around with different types of shower glass on the door to create an interesting look. Clear glass is a classic choice, but there are many options available in tinted, textured, and frosted glass as well. You can even get etched designs!
Remodel Your Bathroom With Zephyr Thomas
These are just a few shower remodeling ideas to consider if you're thinking about a shower or bathroom remodeling project. If you're ready to begin the remodeling process or have questions, contact Zephyr Thomas at 717-399-4708 to get started!
Take a look at the video below to see the Zephyr Thomas team remodeling a bathroom for this homeowner and including some built-in storage niches in the shower!