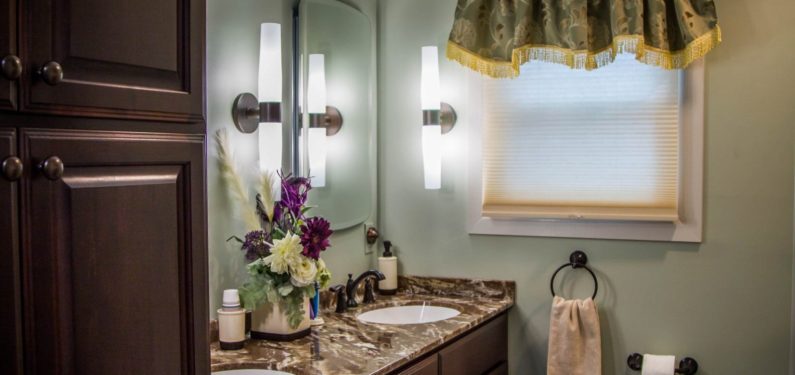 How a Bathroom Remodel Adds Value to Your Home
Posted on February 3, 2022
Bathroom renovations are usually one of the top home improvement projects that add value to your home and can really pay off when you go to resell. Here's how a bathroom remodel adds value to your home:
1. Add More Space
Adding more space to your bathroom and your home is a classic way to increase your home's value. When it comes to bathroom remodeling, there are a few ways to accomplish it.
You can remodel an existing bathroom to make it bigger, remodel an existing bathroom to work better in the current space to make it feel and look bigger, and/or you can add another bathroom to your home. All of these options are popular home renovation trends year after year.
All of these options can give you more space by either expanding the space you have or making better use of the space you have. Additionally, all of these options also give you the opportunity to reorganize and add more storage to your bathroom, which is one of the best ways to update a bathroom.
2. Increase Comfort and Functionality
In addition to adding value to your home, some of the biggest benefits of remodeling your bathroom are increasing its functionality and your comfort in using it. A remodeled bathroom can fix a layout or flow that doesn't work, allows you to fix things that don't work, and gives you the opportunity to add new elements or upgrades to make it the space you need.
3. Upgrade Fixtures and Features
Broken, damaged, or outdated fixtures are one of the biggest signs it's time to remodel your bathroom. Not only can they be an eyesore and a pain to use while decreasing the value of your home, but outdated, damaged, or broken fixtures also tend to decrease energy efficiency and can be a culprit in increasing your energy bills.
By remodeling your bathroom, you get the chance to fix whatever just isn't working. On top of that, you have the ability to overhaul the whole thing and add the upgrades you've always wanted. A bathroom remodel adds value to your home in general, and even more when you take advantage of the options available.
Tired of your shower/tub combo? No problem! Replace it with a walk-in shower. If you aren't ready to forgo access to a soaking tub and you have the space, you can always add a freestanding tub in addition to a walk-in shower. Are the shower or other areas of your bathroom too dark? Implement some shower lighting ideas and other bathroom lighting options to make sure you have the light you want where you want it.
From big items and changes like a shower, a freestanding tub, a new vanity, and more to flooring, fixtures, bathroom lighting options, and small details, there are tons of opportunities and options to give you the bathroom you want and need. Taking advantage of them and paying attention to the details are some essential bathroom remodeling tips.
These are just a few ways a bathroom remodel adds value to your home. They are also some of the reasons why remodeling your bathroom is considered one of the home improvement projects with the highest ROI.
There are a lot of things to consider when it comes to bathroom remodeling. Partnering with an experienced, reputable contractor can help make sure you get the options you need and quality work that lasts.
If you're interested in adding a bathroom to your home or remodeling an existing bathroom, contact Zephyr Thomas at 717-399-4708 to start your free quote!