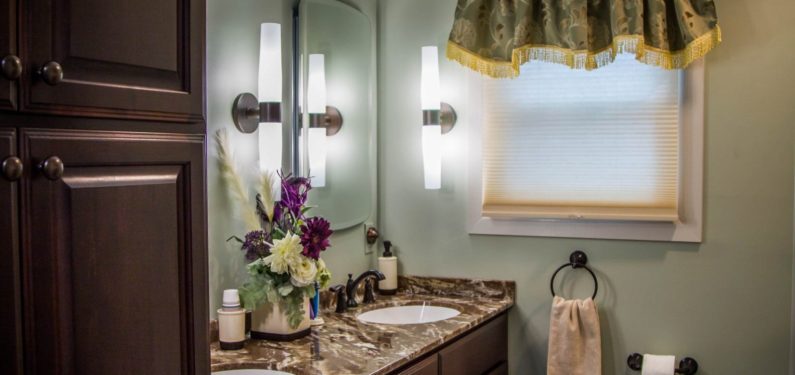 5 Signs It's Time to Remodel Your Bathroom
Posted on October 17, 2019
When is it the right time to undertake a home improvement project? That question plagues many homeowners when they are in the planning and preparation stages of a home remodeling project. One of the first steps in planning a home improvement is to determine what projects you want, or need, to undertake. Aside from necessary structural or safety concerns in the home, which need to be addressed immediately, bathroom renovations are often a popular first choice of many homeowners. These renovations prove to be projects that are reasonable in size with the potential to provide huge returns to the homeowner. Here are a few common signs it's time to remodel your bathroom:
1. Your Current Bathroom Layout is Not Functional
Think about the general layout of your current bathroom. If it seems to be creating more difficulty than convenience, it may be time for a new design. When the layout of your current bathroom is failing to meet your family's needs or is just not functional, it's time to remodel your bathroom.
Exactly what is needed from the bathroom is largely determined by your particular living situation and is just one of the many things to consider when remodeling your bathroom. If it is just you and your spouse, you may want a walk-in shower stall and a double sink vanity for added efficiency on work-day mornings. If you have younger children, a tub-style unit may be in order. If you have the space for it, a walk-in shower and a freestanding tub can be a fantastic option.
2. There Isn't Enough Storage Space
Storage space within the bathroom is something that is far too often overlooked by homeowners and some builders alike. In fact, not having enough storage is one of the bathroom remodeling mistakes to avoid. The convenience factor of having enough drawer, counter, and closet space in a bathroom cannot be overstated. It is amazing how having adequate storage space reduces clutter and adds to the overall cleanliness of the space.
It is also nice to be able to have room to store extra bath supplies and toiletries in the bathroom itself rather than in a hall or bedroom closet. There are many ways to incorporate creative, custom storage options or bathroom features with more storage capacity. So, if your bathroom is lacking in this area, it's likely time to consider an upgrade.
3. The Plumbing and Fixtures are Outdated or Broken
Old and broken plumbing fixtures are one of the biggest signs that your bathroom is outdated and it's time to remodel. When bathroom components start to fail, given the wear and tear of time, it is time for replacements. This creates a great opportunity for a more complete renovation of the entire bathroom or even switching up the types of bathrooms in your home.
4. The Aesthetic is Not Appealing
If the overall style and aesthetics of the bathroom are un-appealing or no longer in style, you may want to consider a bathroom remodeling project in the near future. If you are remodeling your bathroom because of aesthetics, just be sure to also consider whether or not other areas could use improvement as well.
If you're planning a bathroom remodel for looks, you should also consider the bathroom's functionality, layout, and/or storage space available to make sure you end up with a bathroom that works the best for you. Plus, by taking all of these things into consideration, you can ensure that you're getting all the benefits of remodeling your bathroom.
5. You Need to Add Safety Features
Remodeling bathrooms is one of the popular home renovations to make during retirement. For homeowners who are remodeling their homes in retirement, it may be a good idea to consider additional safety concerns that may be present in the bathroom areas of the home. Safety features can be a good, and at times necessary, addition to the bathroom.
Handrails, a shower stall with a bench seat, etc. can all be good options for older homeowners or homeowners who might find themselves providing care for an elderly family member. When these needs arise, it is a good time to look at a more comprehensive bathroom upgrade that will improve safety and provide many other benefits to the residents of the home.
A bathroom remodel adds value to your home. Keep an eye out for these common signs it's time to remodel your bathroom. If you find yourself commonly thinking about any of them, it's a good indication that you should begin planning a bathroom remodeling project. Bathroom remodeling projects are great ways to improve your home and can help to add market value as well. To get started on your next home improvement project, give us a call at (717) 399-4708!