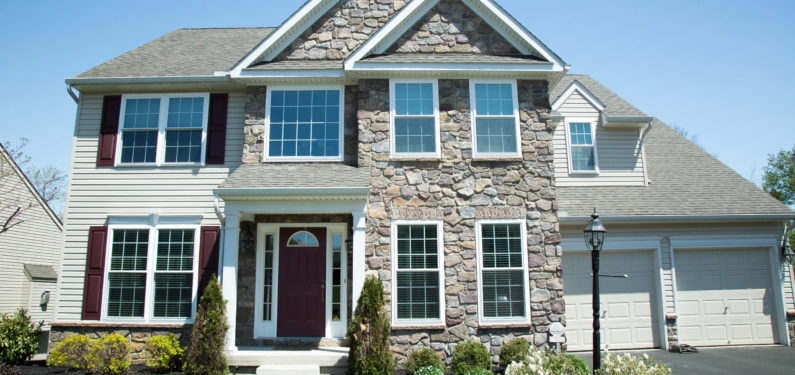 8 Home Improvement Projects with the Highest ROI
Posted on February 21, 2019
A good home improvement project is one that reduces your frustration with an area of your home, repairs or upgrades something that just isn't working, and improves your day-to-day experience in your home. It also should provide a return on investment (ROI) by increasing the value of your home, reducing energy bills, preventing future expensive damage, etc. Here are a few home improvement projects with the highest ROI:
1. Kitchen Remodel
One of the home improvement projects that tends to have a high ROI is kitchen remodeling. Granted, "return on investment" depends on a lot of factors like your neighborhood, overall kitchen design, the housing market, design trends, and more. In general, minor and major kitchen remodels deliver an average 60-80% return on investment.
These numbers tend to be based on resale value alone and do not take into account the benefits of kitchen remodeling for the homeowner. If remodeling your kitchen replaces outdated energy-sucking appliances with newer energy-efficient versions, then you'll likely see a reduction in your energy bills as well. Plus, getting the kitchen you want and need makes your daily life a lot easier and makes your home that much more enjoyable.
2. Bathroom Renovation
Renovating your bathroom is another project that improves your experience at home. It also tends to give a good return on investment. In general, bathroom remodeling tends to average a 70% return on investment.
Although 70% is the current average, individual cases will vary and can offer a much higher ROI, sometimes even over 100%! Plus, bathroom remodeling allows you to get exactly what you want in the function of the bathroom and often results in energy savings as well.
3. New Siding
New siding can make a big difference in the look and feel of your home. Not only does it increase overall curb appeal, but it can also result in energy savings, especially if it's replacing old, outdated, or damaged siding that does not insulate well.
In addition to the potential energy savings, a siding replacement also provides an average ROI over 75% upon resale and over 100% in some cases! In addition to better energy efficiency, new siding also protects your home from damage, which can prevent expensive repairs in the future. These and more are all benefits of vinyl siding.
4. New Roof
Similar to new siding, a new roof also protects your home from damage and can help prevent expensive future repairs. Plus, provided you're choosing the right roof color and material for your home, a new roof also increases curb appeal and home value. Replacing a roof extends the life of your home and can also contribute to lower energy bills by providing better insulation for your home. The average return on investment for a new roof hovers around 70%.
5. Attic Conversion
Converting your attic into a living space usually means adding some extra insulation as well. Not only does an attic conversion increase the usable square footage of your home and increase energy efficiency, but it also can have an average ROI above 90%! Additionally, once this home improvement project is done, you can use your attic for way more than just storage.
6. Finished Basement
Much like an attic conversion, finished basements add more usable square footage to your home. They also often result in energy savings. Plus, finishing your basement can also protect your home from water damage in the future. This helps you avoid expensive repairs. It also extends the life of your home by protecting its foundation and structure. On top of that, remodeling or finishing your basement can average a 90% ROI.
7. Replacement Windows & Doors
There are plenty of benefits of new windows and doors. At the very least, they insulate your home better and tend to result in reduced energy bills. In addition to looking better & increasing comfort, replacement windows & doors tend to deliver a 75-90% average return on investment.
In the current housing market in the Mid-Atlantic, replacement doors tend to offer a higher ROI than replacement windows on average. But, this will vary from house to house. Both options are home improvement projects that offer a substantial improvement to your home, which is just one of the reasons to replace your doors and windows.
8. Deck, Patio, or Sunroom Addition
Adding a deck or patio to your home tends to improve the overall appearance of your home. It also gives you a new way to enjoy it too. A deck, patio, patio enclosure, or sunroom addition gives you a new space to enjoy the outdoors and entertain. An enclosure or sunroom addition also adds usable square footage to your home. This options also increases the value of your home. Depending on the area and type of addition, the return on investment for these projects can average 90%.
Return on investment is an important consideration when thinking about home remodeling ideas. But, it really only takes into account the current resale value of the project. It varies widely depending on the region, individual neighborhoods, individual homes, the current housing market, and more.
You should keep ROI in mind when considering a home improvement project. However, the improvements the project can provide for you personally are more important when it comes to home upgrades that add value. If there is something bothering you about your current home, contact Zephyr Thomas at 717-399-4708 to talk about your next home improvement project!