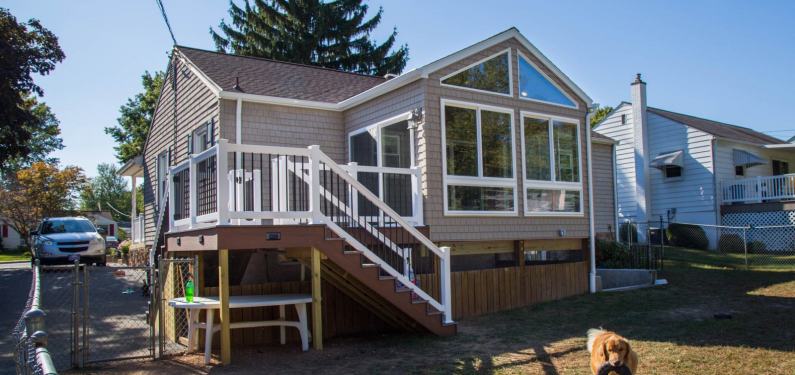 5 Home Remodeling Ideas to Inspire Your Next Project
Posted on September 23, 2021
Some home improvement projects are done to solve a specific problem or repair something while others are done to add something you want to your home. If you're not sure what fun home improvement project to tackle next, here are some home remodeling ideas to inspire you:
1. Add a Sunroom
If you want a wonderful, bright, and sunny indoor space, consider adding a sunroom. Not only does a sunroom increase your home's value, but it also adds square footage to your home and provides a place for you to enjoy an outdoor view with protection from the weather.
Sunroom additions are available in three-season varieties or as a four-season room that you can enjoy using year-round no matter what the weather is like outside. This is just one of many benefits a sunroom can provide.
Plus, sunrooms can operate as more than just a place to relax. You can use it as a craft room, a game room, an exercise room, a place to entertain, and more! Knowing how you might want to use the space can help you plan for your sunroom addition, but you'll still have a flexible, versatile space even if you don't have specific uses in mind.
Take a look at the Zephyr Thomas team building a four-season sunroom addition!

2. Put in a Home Addition
Although a sunroom is a type of home addition, sunrooms are different from room additions. Another one of the home remodeling ideas is to put in a home addition. These room additions provide a lot of flexibility and options for your home.
Home additions can add space on the ground floor or can be constructed as an upper floor addition. This can be a popular choice for homeowners with space available above their garage.
If you want to use it specifically as a bedroom, there will be some requirements to follow for it to be considered as such.
Aside from that, a room addition adds livable space to your home that you can use for almost anything you want! There are plenty of home addition ideas and ways to use a home addition that can help you get the space you want.
In the timelapse video below, the Zephyr Thomas team builds a home addition with a deck!

3. Finish Your Basement
There are many reasons to finish your basement. One of the biggest reasons to finish a basement, and also one of the benefits, is that it adds more comfortable, usable, and livable space to your home.
In addition to more livable space, a finished basement can also be used in a variety of ways. Whether you need more storage, want to create an entertainment space, or something else, a finished basement can help you do it while also adding value to your home.
Check out this video of the Zephyr Thomas team remodeling a basement!

4. Upgrade a Bathroom or Add One
Remodeling your bathroom to upgrade it is one of the home improvement projects with the highest ROI. Not only does it add value to your home, but it also often makes the bathroom easier to use and more enjoyable to be in.
A bathroom remodeling project could also be adding another bathroom to your home. In some cases, this could be part of finishing a basement. For other homes, it could be adding a master bathroom, adding a guest bathroom, or adding a powder room.
Check out this video of the Zephyr Thomas team completing a bathroom remodel!

5. Update the Flooring
Updating the flooring in a room can make a big difference in the atmosphere and the look and feel. It's a project you can do any time of the year, but is also one of the popular fall and winter home improvement projects. Replacing outdated or damaged flooring can make a room seem completely new.
You can also upgrade to a different flooring type. For example, removing carpet and replacing it with hardwood, luxury vinyl, or another type of flooring can help elevate the look of your home. In addition, you will help cut down on dust and other allergens that tend to get trapped in carpet.
Take a look at this timelapse video of the Zephyr Thomas team installing a new tile floor!

These are just a few home remodeling ideas to inspire your next project. When it comes to prioritizing home improvement projects, anything that needs to be repaired or fixed should be done first or at least at the same time as anything that isn't as urgent.
If you're ready to get started on your next home improvement project, contact Zephyr Thomas at 717-399-4708 to start your free quote!