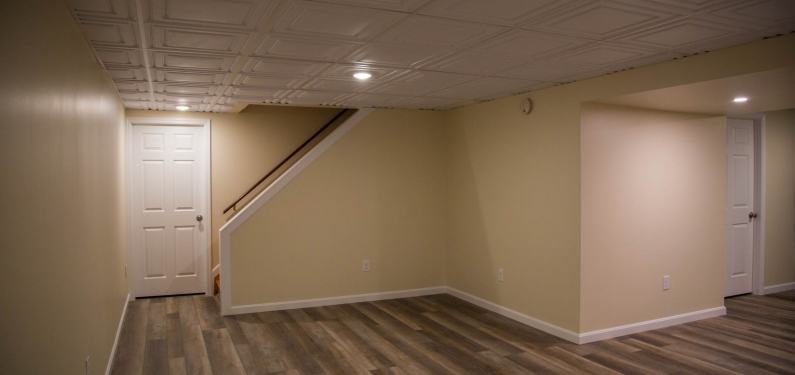 14 Popular Winter Home Improvement Projects
Posted on January 7, 2021
With the right home improvement contractor as your partner, you remodel and improve your home at any time of the year. Still, there are some projects that tend to be popular during certain seasons. Here are a few popular winter home improvement projects:
1. Finish the Basement
Finishing the basement is a fantastic winter home improvement project. It's a great project to complete any time of the year because there are a ton of benefits of a finished basement. But, doing it in the winter is as good a time as any.
Not only do finished basements improve the interior of a home, but finishing the basement also often creates a more insulated, warmer space. So, you get more livable, usable, and comfortable space in your home, increase your home's value, and also get some potential energy savings out of it too. These are just a few reasons why winter is a great time to finish your basement.
Take a look at this video of the Zephyr Thomas team remodeling a basement!
2. Remodel or Add a Bathroom
Bathroom remodeling is another one of the popular winter home improvement projects. Also popular is adding another bathroom to your home.
Both of these options increase comfort and also increase the value of your home. Plus, interior work is perfect for colder months, which is one of the reasons why winter is a great time to remodel your bathroom.
Check out this timelapse of the Zephyr Thomas team remodeling a bathroom!

3. Renovate the Attic
One of the popular winter home improvement projects is attic renovation. Renovating the attic is often done to help repair damage from leaks or to improve insulation and ventilation. But, you can also do it just to get more livable and comfortable space in your home. In some cases, you can turn your attic into another bedroom for your home.
Even if it doesn't meet the requirements for a bedroom, you still end up with a usable bonus room in your home. Not only is this convenient for you, but it also increases the value of your home and can help make your home more energy-efficient.
Just make sure you plan ahead and have a good contractor as your partner to help avoid common attic renovation mistakes. With the right home improvement contractor, all the details are covered, mistakes are minimized, and you get what you want with the peace of mind that comes with quality work.
4. Replace or Upgrade Windows
Some people may be tempted to shy away from replacement windows in the winter because they think it will cause their energy bills to skyrocket and their homes to become uncomfortable. However, this is not an issue when you're working with an experienced home improvement contractor.
Choosing the right home improvement contractor means the job gets done right and also that energy loss is minimized. If you need to replace your windows because they are outdated or damaged, doing so sooner rather than later is far more beneficial to you than waiting for winter to be over.
At the same time, you can also choose to upgrade your windows in the winter just because you want better windows or even bigger windows. Upgrading to a bay or bow window is a popular option and is a project that can be done in the winter too.
In this video, the Zephyr Thomas team helps a homeowner upgrade to a beautiful picture window:

5. Replace or Upgrade the Entry Door
Like windows and other projects, replacement doors are a benefit any time of the year including winter. Your entry door is one of the first things people see on your home, which makes it essential for curb appeal. It also has a big effect on your home's energy efficiency as well as its security.
Because of these reasons, it is important to prioritize replacing your entry door if it is damaged or outdated. You can also choose to upgrade your entry door to take advantage of higher quality materials or a design that better suits the style of your home.
Take a look at this video of the Zephy Thomas team installing a French Door for this homeowner!

6. Add a Storm Door
One of the many benefits of installing storm doors is that a storm door protects your entry door. They also add another layer of insulation to your home's entryway, which can help increase energy efficiency. This can be a big help during cold winters and hot summers and can help extend the life of your entry door.
7. Replace Flooring
The flooring in your home can have a big effect on your comfort and enjoyment in it as well as the overall look and feel of it. Replacing carpet with something easier to maintain and something that doesn't trap allergens is a popular choice. Another popular option is to upgrade what you have with something newer or something different to switch up the interior design of your home.
In this video, the Zephyr Thomas team install a tile floor for this homeowner:

8. Upgrade the Plumbing Fixtures
With freezing temperatures, it's important to make sure your plumbing is in good working order and the fixtures fit the look and feel you want in your home. Not only will these updates benefit your plumbing internally, but they can also add new visual appeal.
Newer plumbing fixtures are much better at using water more efficiently. These updates will help you save money and water in the long run. Not only can fixtures be updated anywhere in your home that you use water, but also upgrading fixtures is one of the best ways to update a bathroom. And since winter can be a slow time for plumbers, scheduling this work could be easier than at busier times of the year.
9. Update Your Lighting
Another great winter home project is to update your lighting. New lighting can bring new life into your home. You can simply just change your light fixtures for a new look, or you can add more lighting.
If you feel like your kitchen is too dark, consider adding track lighting above workspaces. In other rooms, think about layering your lighting. You can even consider skylights or sun tunnels to let in more natural light.
Adding a few different sources of light allows you to control the lighting. You can choose dimmer lighting for evenings or brighter lighting for tasks that require better lighting.
Take a look at the Zephyr Thomas team installing skylights for this homeowner.
10. Critter-Proof Your Home
Wintertime is a prime time for critters entering your home. This is a great time to check that your windows and doors are also properly sealed as insects and small pests can enter your home this way. No one wants an infestation of pests at any time so taking care of it early is a smart choice.
11. Take Time to Organize
Another great winter project is to get your home organized. There are many ways to make storage work for your home organization. You can either ask for built-in storage or use bins and baskets to keep things in order.
Add more cabinets or drawers to your kitchen. Or build out a pantry for more food and kitchen equipment storage. Adding these features to your kitchen will drastically change the look and feel of your kitchen. You can also think about remodeling other rooms in your home for better layouts, better use of space, and more storage.
12. Consider a Mudroom Addition
Although additions usually don't top the list of popular winter home improvement projects, they can still be a good idea. Winter also is a great time to consider adding a mudroom space to your home. There are so many benefits to having a mudroom in your home. This room is perfect for containing dirt and storing cleaning supplies. It also helps organize your home as it adds extra storage and space.
13. Freshen Up Your Walls With Paint
If you're looking for a simpler winter project, maybe think about painting your walls. Winter is typically a slower season for painters so it might be easier to have your pick of dates that works best for you.
Adding fresh paint is a great way to bring some new life to your home! Make sure to pick colors that go well with the current design and furniture so you don't need to swap out decor if you don't want to.
14. Look Over Walkways and the Foundation
Shifting temperatures and the cycle of freezing and thawing can wreak havoc on your walkways, your home's foundation, and anywhere you have concrete or masonry. Although you don't want to tackle replacing these until the temperatures are a bit warmer and more stable, it's still a good idea to look over walkways and your home's foundation to make sure there are no cracks or other signs of structural damage you should not ignore.
If you do see anything concerning or that needs repair, you can get a quote and get your project on the schedule before things pick up again after winter so you don't need to worry about delays. With concrete work being a popular project for spring and summer, and home improvement in general picking up during those times, it's not a bad idea to get ahead of the rush and make sure your project is at the top of the list.
Check out the Zephyr Thomas team redoing the concrete steps and walkway for this homeowner!
These are just a few popular winter home improvement projects and home remodeling ideas to inspire your next project. They can be a good choice for any time of the year, but completing them during winter can help offer some immediate benefits and make sure you can fully enjoy them once spring and summer roll around. If you're ready to get started on your next home improvement, give Zephyr Thomas a call at (717) 399-4708 to get started on a free quote!