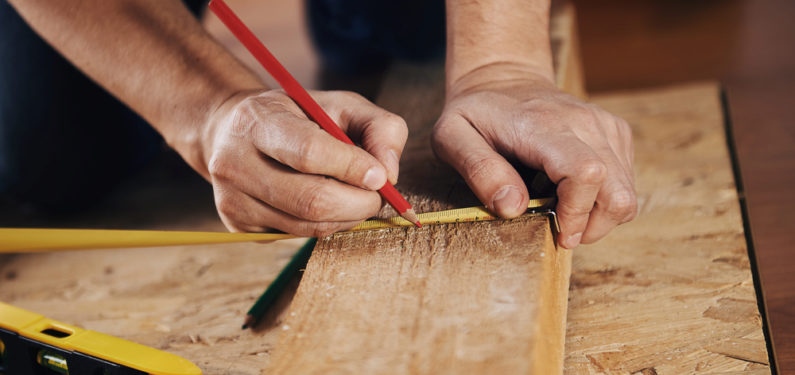 11 Tips for Choosing a Home Improvement Contractor
Posted on January 14, 2016
It can be kind of nerve-racking to embark on a home improvement project when you don't know who your contractor will be. Choosing the right home improvement contractor is paramount to the success of any home improvement project. Whether you're getting a new deck, home addition, or getting some remodeling, the right home improvement contractor makes the process a win-win.
In fact, choosing a contractor is probably the most important decision you'll make. You will want a contractor who is established, who has built a great reputation in the area, and who you know has taken on projects similar to the one you are planning.
If a contractor is not prepared for the project you hire them for and is not responsible enough to tell you this, you are playing a dangerous and high-stakes game. Bad contractors may leave a project before it is completed, which leaves an expensive mess for you and the task of finding someone to finish the job.
They may do a bad job that looks terrible or install something that will hold together for the time being but falls apart after a few weeks of use. Another danger is when a contractor underestimates the cost of a project and then has to charge you multiple times what they told you it would cost.
How do you know which contractor is right for you? With so many options, it can be overwhelming. Here are a few tips to pick the right contractor to help you out:
11 Simple Tips to Pick the Right Contractor
Here are some important things you may want to consider when choosing a home improvement contractor to ensure you are getting the best quality work for your dollar:
1. Know Your Home Improvement Goals
A good contractor can help you figure out exactly how you want to accomplish your home improvement goals. But, before you settle on a contractor, have as specific an idea as possible of what you have in mind. This will allow you to get accurate assessments from various contractors and will enable you to choose the one who offers the fairest price. Also, don't be shy when getting bids from contractors; ask them for a breakdown of costs.
2. Find Contractors with the Best Reputations
Start by asking friends and family for suggestions on which contractor to hire. You can also check out the National Association of the Remodeling Industry to find good, high-quality contractors around you.
Ask a municipal building inspector which contractors normally meet code requirements, or go out to a local lumberyard to find out which area contractors buy top-quality materials and pay their bills on time. You can also go to a local hardware store and ask employees which contractors in the area might be the best to work with. These are all good tips to find a home improvement contractor for your list of options.
3. Interview the Candidates
Once you have a list of potential contractors, spend some time interviewing them to get more information and see who will be the best fit for you and your project. To be sure you're getting someone reliable, who has a solid history of being good to clients, paying their bills, and who conducts their business in a way that makes sense, ask targeted questions during an in-person or phone conversation.
Having a list of questions to ask a home improvement contractor prepared for your interviews ensures you get the information you need and that you are asking the same questions to each candidate. This will make it easier for you to compare contractors post-interview to narrow down your list to the one(s) that could be a good fit for your needs.
You can also ask the contractor to provide financial references – suppliers or banks they've worked with before. Ask them how long they've been working with their subcontractors, if they have them, how many projects they normally juggle at one time, and how they handle things that could delay your home renovation project. You can even ask them for a list of previous clients, and then call those people for insight.
4. Consider How Long the Company Has Been in Business
Does the company you're considering have a proven background of stability and service? If someone tells you they have 10-20 years in the business, find out what they mean. Even if someone has had a job in remodeling sales or installation, it does not necessarily mean they have any background or financial backing to run a business or make you a happy customer.
A good home improvement company can show that they can weather the changing environment of home improvements and have the satisfied customers to prove it. With over 60 years in the business in the home improvement industry, Zephyr Thomas has strived to build an award-winning reputation to be proud of.
Over 50% of our annual business comes from repeat and referral customers. That statistic speaks for itself! Zephyr Thomas is backed by membership in the Lancaster County Builders Industry Association, Better Business Bureau, and The Lancaster Chamber of Commerce.
5. Consider the Warranty Offered on the Company's Products
Many companies offer lifetime warranties on their products. However, there are pitfalls associated with this. The lifetime warranty of a company that has been in business for a couple of weeks or months is very different from the lifetime warranty of a company that has been in business for over 50 years.
With new companies going out of business all the time, will your warranty with them stay in effect? With a long-standing, established company, such as Zephyr Thomas, you can rest assured that if you need a warranty issue taken care of, we will be here.
6. Does the Company You Are Considering Use Employees or Subcontractors?
While there are certainly some reputable subcontractors out there, there are also many that are not so reputable. A company that uses its own employees typically is always sending the same dedicated installation crews to its job site, rather than having a different subcontractor every day.
Employees often also specialize in certain areas of home improvements, such as vinyl siding, replacement windows, or home additions, which improves the quality of the work you are receiving. Employees are also covered by the company's liability insurance.
7. Does the Company Have Liability Insurance?
It is very important for the company you choose for your home improvement needs to have liability insurance. This not only protects the company but also protects you as a homeowner.
8. Does the Company Have an Office or Showroom You Can Visit?
"Oh, where, oh where has my contractor gone!" Have you ever noticed a lot of job signs and newspaper ads for home improvement companies with just phone numbers on them? And, then when you try to look for them on the internet, in the Better Business Bureau registry, and in the telephone book, you can't find an address? Disappearing contractors or companies you can't find anywhere are some red flags and avoiding them can help you avoid home improvement scams.
Do you really want to hand over hundreds or thousands of dollars to someone you can't find? The same as you like to test drive a car before you buy it, it is always nice to "test drive" home improvement products before you have them installed in your home. A showroom gives you that opportunity. At Zephyr Thomas, we have a state-of-the-art showroom and design center. We encourage you to visit us and try out our products. You can tilt in windows, open and close entry doors, slide the patio doors, or just relax in our cozy sunroom to your heart's content.
9. Quality Versus Dollar Value
Cost is always an important consideration when choosing a home improvement contractor. However, cheaper is not always better and not all deals are worth it. "Pickup truck" type companies will sometimes be cheaper in price than some of the established companies but what is the sacrifice in quality? If it sounds too good to be true, it probably is. This is something to keep in mind when evaluating whether home improvement coupons are worth it as well.
It's sometimes difficult for the untrained eye to compare apples to apples but our knowledgeable sales staff can explain the reasons why some of the cheaper products may not give you lasting quality. At Zephyr Thomas, our products are not only backed by us, but also by our manufacturers. Our windows even have a transferable lifetime warranty on them.
10. Don't Get Stuck – Get Full Service
Is the home improvement company a full-service company? You should hope so. Unless you want to be stuck with loads of paperwork, work with an architect, and deal with your township's permit process and requirements on your own. This type of added value and convenience is something to consider when comparing home improvement quotes.
Getting this kind of support and having a company that's able to handle all of your project needs is one of the reasons to use a whole home improvement contractor. Zephyr Thomas is a full-service remodeling company. If your project requires inspections, architectural drawings, and township permits; Zephyr Thomas will take care of all the "dirty work" for you.
11. Make Sure You are Comfortable with the Contract
Another one of the tips for choosing a home improvement contractor is the make sure you are comfortable with the contract they offer. The contract should be detailed and you should be able to understand all parts of it. After all, it's your home and your money!
You want to be completely in the know about what the contractor is about to do, and every aspect of the project should be documented in writing. If the contractor isn't willing or able to draw up such a detailed contract, this indicates a problem.
With these tips, choosing a home improvement contractor doesn't have to be complicated. From replacing windows to building decks to installing sunrooms, Zephyr Thomas offers the best home improvement services in the Lancaster area.
You can tell by our long-standing reputation, and by what our business associates and former customers have to say about us. So when you need work done on your home, look no further than Zephyr Thomas Home Improvement. Give us a call at 717-399-4708 to talk about your next home improvement project and to get a free quote!