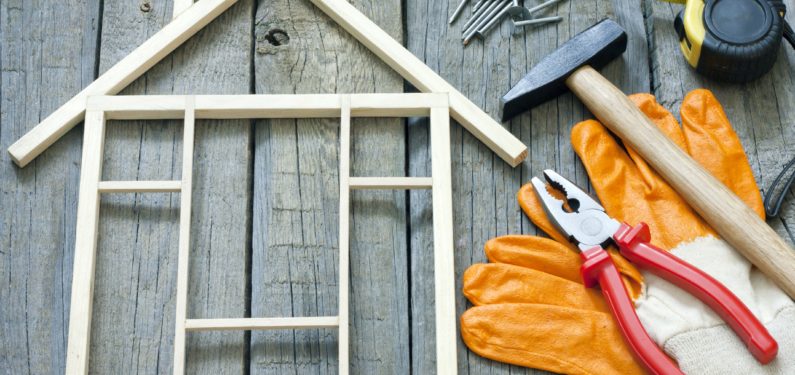 8 Common Home Improvement Scams to Avoid
Posted on October 19, 2023
Home improvement projects can help you turn your house into your dream home while also increasing comfort and home value. However, getting quality work and the results you want depends on who you work with. There are plenty of experienced and reputable contractors that can help you, but there are also people who deliver sub-par work in addition to outright scams that you might encounter while trying to find a contractor for your project. Here are a few common home improvement scams to avoid:
Scam #1 – Fake Company
Some of the most common home improvement scams to avoid all filter back to a fake company or even to someone who is using someone else's license number. This scam shows up in a lot of ways and can end up being deposit scams, insurance scams, etc. However this scam plays out, it usually begins with an unexpected phone call or an unannounced visit to your home from a company you have not reached out to.
They may offer a special service or deal that is only available that day to pressure you into agreeing to something and may pressure you into an upfront deposit. Then, the "contractor" disappears and you can't find their company website, there are either no phone numbers or the phone number doesn't work, phone numbers could actually belong to someone or somewhere else, messages would be left unanswered, etc.
How to Avoid the Fake Company Scam
If a company or contractor that you are unfamiliar with calls you out of the blue or drops by your house unannounced, be wary and keep your guard. If a contractor you have contacted previously is coming out for a quote, you should be aware of that beforehand.
Surprise visits are not necessarily a guaranteed scam, but they are definitely a sign to be aware and potentially beware. If, during the course of a surprise call or visit, a contractor is pushy and pressuring for a deposit as soon as possible, that is a major red flag. You don't know them and you haven't been in contact with them, so there is no reason for them to be trying to force an agreement or payment for anything.
Before working with a contractor, or even getting a quote from them to consider in the first place, always ask for their credentials and verify that you are dealing with a real business. Checking local building associations can help you find a home improvement contractor in the first place and can also help you verify contractor license numbers.
Scam #2 – Surprise Free Inspections
With this home improvement scam, a "contractor" may show up unexpectedly at your home and offer a free home inspection. During the process, the contractor may use industry terms and jargon you are not familiar with to pressure you into projects you don't need. They may even intentionally damage your home to be able to include that damage in their inspection so that you will hire them to repair it.
How to Avoid the Inspection Scam
The free home inspection scam could be run by actual licensed contractors, scammers that are casing your home, or as an entry point to work up to a deposit scam or something else. If it is a surprise and unexpected visit from a contractor you don't know and haven't been in contact with previously, beware.
If you are already talking with a contractor about a quote for a particular project and they need to stop by your home for any reason, you'll know they are coming and why they are there. During the quote process, they may offer to take a look at other things you have brought up as potential projects while they are there, especially if they are a whole home improvement contractor, but it still shouldn't be a surprise or something that comes up out of nowhere.
Scam #3 – Verbal Agreements With No Documentation
In this home improvement scam, contractors may offer a quote verbally and ask you to agree to the price. Often, there is no official contract or documentation that provides protections for you and usually results in a price at the end of the project that is larger than what was initially agreed upon.
How to Avoid Handshake Deals
Handshake deals can be common among community members who have known each other for a long time, but lack of documentation leaves you unprotected and is unacceptable in professional agreements. In addition to verifying the company or contractor you're working with, also always get a quote in writing and a signed contract before any money exchanges hands.
Scam #4 – Upfront Cash Deposit
In upfront deposit home improvement scams, the "contractor" will ask for payment upfront before any work begins. After they receive your payment upfront, then they disappear, you can't contact them, and your project is never completed.
In these situations, there is often not a contract in place and payment is demanded upfront before work begins. Usually, the demand is for payment in cash because cash has fewer protections than a credit card or other forms of payment. Scammers may also demand full payment for the project upfront.
What to Look For With Legitimate Agreements With Deposits
A deposit at the start of a project is not necessarily a scam. Many legitimate and reputable contractors may require some sort of deposit at the start of a project; however, this is communicated as part of the quoting process and is included along with a contract that clearly lays out the agreement, project, terms, etc.
In these cases, it's generally 10-30% of the project and is within state guidelines. Depending on the state, there may be limits in place for how much of a down payment a contractor can ask for. You can check this by looking up contractor laws and down payment requirements in your state.
Again, all of these costs should be clearly explained during the quoting process and should be in writing. They are things that should be in a home improvement quote and should align with any contract you sign for the project.
Scam #5 – The Homeowner Has to Pull Permits
It is a big red flag if a contractor is asking you, as the homeowner, to pull permits for your home improvement project. Ethical contractors will not do this. If a contractor requires you to pull permits, be aware that they may not be licensed, or may have even had their license revoked.
They may even try to tell you that you can save money by doing it yourself, which is a lie. Also, be aware that whoever pulls the permit is usually considered liable for the project, including any inspections or failures; so, if a contractor is pressuring you to do it, they are also trying to place those responsibilities and liabilities on you as well.
What to Look For When It Comes to Contractors and Permits
First and foremost, you should be able to verify your contractor's license number with local building associations. Also, a reputable contractor will handle permits themselves and assume associated responsibilities for the project and their crew.
They will also know the different permitting requirements and regulations for the area and have experience in pulling and applying for them. Also, their experience will help ensure that you don't get charged with permit extensions or overpay.
Scam #6 – Insurance Middleman
After a storm or natural disaster in an area, these scammers will drop by damaged homes and offer repair services to the homeowners. They offer to handle the insurance claim and payment for the homeowner, then take the money and run. Scammers may also paper an area with flyer advertisements to try and drum up contacts.
How to Avoid the Insurance Middleman Scam
These home improvement scams are effective because legitimate contractors are able to step in and help handle claims and payments in some insurance situations, so they mirror real situations. Depending on your insurance company and policy, they may have you pay the contractor and then reimburse you, may require a quote from the contractors and pay them, or another arrangement.
To avoid this scam, make sure you are familiar with your insurance company and policies so you know what is normal for your situation. If a contractor is offering something else or pushing you to do something else, beware. Also, be wary of contractors who drop by unannounced or without an appointment with you. If you're considering a contractor from a flyer advertisement, make sure you research the information and company to ensure you're dealing with a real, reputable business.
And, before you agree to anything or make any sort of payment, make sure you do your due diligence on the contractor, get a quote, and review the contract carefully. Verify their contact details, ask for referrals and credentials, and get answers to other questions to ask a home improvement contractor you're considering for a project.
Scam #7 – Financing Middleman
In these home improvement scams, scammers will offer a deal that, again, seems too good to be true on a large project and will recommend financing through a specific source in order to get the deal.
However, when it comes to the application or contract, there may be blank spaces or spots that could be filled in with things later. Or, there may be large sections filled with legal jargon that a homeowner may not read correctly.
Next thing the homeowner knows, the contractor has disappeared and there is a line of equity that has been taken out on their home. Because this mirrors legitimate situations and seems to take some work off the homeowner's plate, it can seem like an attractive offer, but when it is a scam, it ends up leaving the homeowner in trouble.
How to Avoid the Home Improvement Loan Scam
With the rise of third-party financing partnerships and BNPL (buy now, pay later) options, there are several legitimate ways to pay for home improvement projects. It's important to make sure that you are dealing with a real, reputable contractor and a real, trusted financing source.
Although some contractors may offer financing options that make referrals to lenders, those are referrals and you should be dealing with that lender directly even if your contractor is the one who introduced you. You should also shop around for loan options to make sure you're working with a lender you want.
Make sure you review all documents fully and carefully to ensure there are no blank sections that could be filled later, that you fully understand everything you are signing, and that your financial application and agreement are being filed directly with the lender you're working with. If anyone is pressuring you to sign a document without being able to carefully read and review all of it, walk away.
Scam #8 – Super-Low Quotes or Deals That Are Too Good
Other home improvement scams to avoid are deals that are way too good to be true. Super-low quotes could come from inexperience or could be a scam. A scammer could drop by unexpectedly and offer a great deal on leftover supplies from a nearby project. This could result in hidden or surprise charges that increase your cost throughout the project, if it even gets completed or started in the first place.
Special deals and coupons can sound amazing, but you need to verify whether home improvement coupons are actually worth it. In the case of a scam, you may be offered a deal on the front end and the company may be upcharging you to make up for it in the quote you receive. In other cases of a scam, there may be subpar materials being used to be able to offer super-low prices or deals that sound incredible.
How to Avoid This Home Improvement Scam
Although good deals do exist, you want to be cautious with quotes that are really low and anything that seems too good and make sure you are actually getting what is being promised to you without strings attached or hidden charges that come later.
Getting multiple quotes from reputable contractors you're considering and accurately comparing home improvement quotes can help ensure you are being quoted realistically and that you are actually getting whatever deal you were promised. Reputable contractors will also be upfront with you about their materials, processes, and quotes. If you are asking basic questions and they are unwilling to answer, beware.
Also, review the quotes and the contract carefully to make sure everything is included and accounted for. Some contractors will pass along additional costs that come up during the project to their customers. If this is the case, it should be crystal clear to you what that expectation is in writing and there should be a clause in the contract that would require a change order that both parties agree upon before additional costs are incurred.
Get Work You Trust From a Partner You Can Rely on With Zephyr Thomas
These are just a few common home improvement scams to avoid. Knowing what to look for in a home improvement contractor, doing your due diligence, interviewing potential contractors, and asking the right questions can help you qualify potential partners and make sure you're working with someone you can trust.
With over 60 years of experience, Zephyr Thomas delivers the quality work you need along with peace of mind that your project will meet your needs. If you're ready to get started on your next home improvement project, contact us at 717-399-4708 to start a free quote!