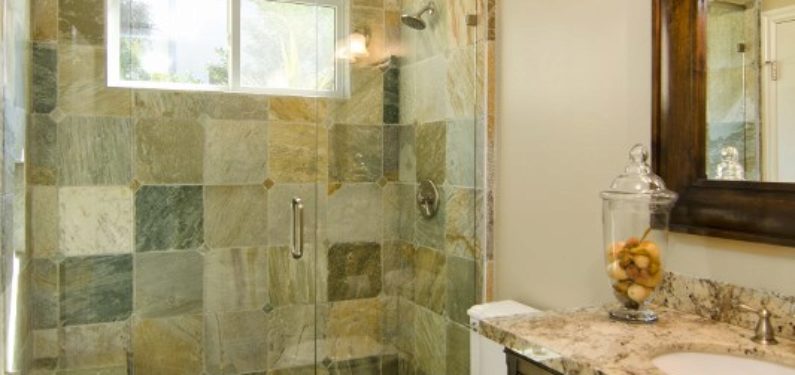 7 Home Upgrades That Add Value
Posted on March 15, 2018
Whether you're intending to sell your home now or in the distant future, it makes sense to keep your property value in mind. The right home improvement projects are one of the surest ways to add value to your home while also improving comfort while you're still living there. If you're thinking about your next home improvement project, here are a few home upgrades that add value:
1. Renovate the Bathroom
If your bathroom is more than a decade old, has some functionality issues, or just feels outdated and isn't what you want, it might be time to consider remodeling your bathroom. Replacing staples like toilets, sinks, and showers with newer, more efficient models will boost the value of your home.
Not only that, but it can also help you save on your water and energy bills! Other common improvements include new flooring, varied sink features, and more ornate mirror installments. These are all some of the best ways to update a bathroom and can help you create a more comfortable, more functional space.
Check out the Zephyr Thomas team remodeling this bathroom!

2. Overhaul the Basement
Unfinished basements may be good for storage, but not much else. There are several reasons why keeping an unfinished basement could be a mistake, and a lack of usable space is just one of them.
An easy way to add more space to your home, and value, is to transform this storage space into a livable area. Whether you turn it into a den, an extra bedroom, a game room, a wine cellar, or something else is up to you, but your home's value will increase with a finished basement no matter what you choose.
Take a look at the video below of Zephyr Thomas remodeling a basement!

3. Replace Windows and Doors
Over the years, doors and windows have gotten much more secure, efficient, and insulated. If your current windows let in swathes of cold air, it's time to get new ones! Not only will your new doors and windows look better and keep you more secure, but they'll also help keep your home insulated better.
With the extra insulation and any energy-efficient window options you choose, you can make your home more energy-efficient and save on your energy bills over time. Plus, you'll be able to recoup some of your costs later because new windows and doors are one of the home improvement projects with the highest ROI.
Check out the Zephyr Thomas team installing French Doors for this homeowner!

4. Enclose Your Patio or Build an Addition
More home upgrades that add value are enclosing your patio or building a sunroom addition or a home addition. These projects tend to add a lot of value to your home because they add more livable, usable space to your home.
There are several ways to enclose a deck or patio. Whether you go with a patio enclosure, a sunroom, or another type of home addition, this is a great way to add more space to your home, improve curb appeal, add value, and increase your comfort in your home.
You can also choose between a three-season or four-season room. A three-season room is a great option if you want protection from the weather, bugs, etc., but don't want to use it year-round. If you want to use the space year-round, a four-season room has more insulation and a heating and cooling unit that is separate from the main house for all-year comfort.
No matter which option is best for your needs, there are many benefits of a sunroom or patio enclosure that you'll receive and get to enjoy once your project is completed.
Check out this time-lapse of the Zephyr Thomas team building a home addition!

5. Add a Deck
There are many reasons to add a deck to your home and one of the biggest is that it's one of the home upgrades that add value. Not only do you get a great outdoor space and more comfort while enjoying the outdoors, but you also improve the curb appeal of your home and increase its value. Plus, if you opt for vinyl, you get a durable deck that is virtually maintenance-free!
Adding a deck or patio is one of the backyard makeover tips to improve your home. Take a look at the Zephyr Thomas team adding a deck to this home!

6. Replace Your Garage Door
When it comes to home improvement projects or remodeling, your garage door is probably not the first thing that comes to mind. But, replacing it is one of the home upgrades that adds value and tends to pay for itself over time. Improvements like this are also popular home renovation trends year after year.
In addition to increased home value and improved curb appeal, there are other benefits of replacing your garage door as well. Usually, it improves the energy efficiency of the garage itself and also of your home if it's an attached garage; this is especially true if you opt for an insulated garage door.
7. Update and Improve Your Home's Exterior
There are several curb appeal ideas to improve your home that also help increase its value. Big home upgrades, like adding a deck or patio, building an addition, replacing siding, and more, make a big difference. But, there are smaller things that can add up as well.
Simply updating and improving your home's exterior can help boost curb appeal and add value. Updating house numbers, cleaning up landscaping, replacing railings, repairing walkways, and more are all relatively small updates that can add up to a lot of added value.
These are just a few home upgrades that add value; many of which are timeless curb appeal trends as well. If there is a home improvement project your home needs, call Zephyr Thomas at 717-399-4708 to start a free quote!