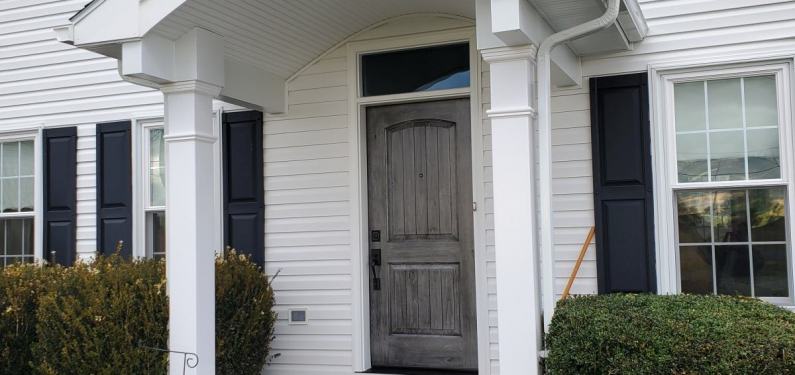 6 Curb Appeal Trends of 2023
Posted on August 10, 2023
Investing in your home's curb appeal isn't just something to consider when you are looking to sell your home. An attractive curb appeal is beneficial for you, too. Many curb appeal trends can improve your home and help you enjoy your living space. Here are a few curb appeal trends of 2023:
1. Moody and Earth Tones Paint Colors
If you start seeing more moody grays and dark blues as exterior paint colors, don't be surprised. These shades are replacing brighter colors. This is still a bold look for a home, but with an entirely different aesthetic.
Earth tones are also having a moment. Colors like beige, brown, sage, and off-white are good options if you prefer a more earthy look. Exterior upgrades as simple as color changes are classic curb appeal ideas and can make a big difference in the appearance of your home.
2. Mixing Textures
There's a trend of earthy and organic materials becoming more popular in siding and other architectural details. Stone, brick, wood, and metal are all starting to pop up on home exteriors.
Mixing these textures allows certain architectural details like porticos and gables to really shine. Stone cladding with architectural timber is another popular look. When these are used vertically, they create a board and batten look. Mixing textures together creates something new and is a stylish house siding idea to try.
Check out the video below to see the Zephyr Thomas team installing new siding for this homeowner!

3. Metal Roofing
Your roof is a critical component of your home. Not only does it protect your home from the weather but it also adds character and style. If your roof is over 20 years old and you're noticing sagging or water damage, these are signs your roof needs to be replaced.
Metal roofing continues to grow as a popular type of roofing, especially in darker colors. Steel gray and black offer a modern look to a home. You can either use metal roofing just for a porch or awning or use it for the entire roof.
Metal roofing is extremely durable and can be energy-efficient, too. With the right care, installation, and ventilation, they can last 30 years! They can even last up to 50 years under the most ideal conditions!
4. Native Landscaping
Another popular curb appeal trend is using native plants when landscaping. Using native plants ensures they are properly adapted to the climate, meaning they should be easier to take care of.
Native landscaping saves you time and energy, making native landscaping a much more economical solution. It also increases biodiversity as it offers a habitat for birds, bees, and butterflies.
5. Copper Fixtures
Metal is not an unusual choice for home exterior fixtures. However, the popular interior design trend of copper is making its way outdoors. Copper is popping up on many homes' exteriors with lighting fixtures, house numbers, and even downspouts.
Not just a pretty metal, copper is a durable material known for its longevity. It's also water and weather-resistant, making this material a smart choice for exteriors.
6. Wood Accents
Wood accents continue to rise in popularity. Paired with earthy hues, your home will achieve an attractive dimensional texture. Popular places to accent with wood are with different types of doors, like front or garage doors, window frames, and porch beams.
Be sure to pick weather-resistant woods if you plan to add some wood accents to your home. Certain woods like cedar, redwood, and cypress are naturally weather resistant and can hold up to different types of weather.
However, your best bet is to go with vinyl or stamped concrete manufactured to look like the wood you want depending on the location and application. Truly weather-proof and virtually maintenance-free, these materials can give you the look you want without the headaches that often come with natural wood.
Take a look at the video below to see the Zephyr Thomas team completing a barn door replacement for this farm owner!

Upgrade Your Home With Zephyr Thomas
These are just a few of the popular curb appeal trends of 2023. Even just implementing one or two of these curb appeal trends are home upgrades that add value to your home. If you're ready to start planning your next home improvement project, give us a call at (717) 399-4708 to start a free quote!