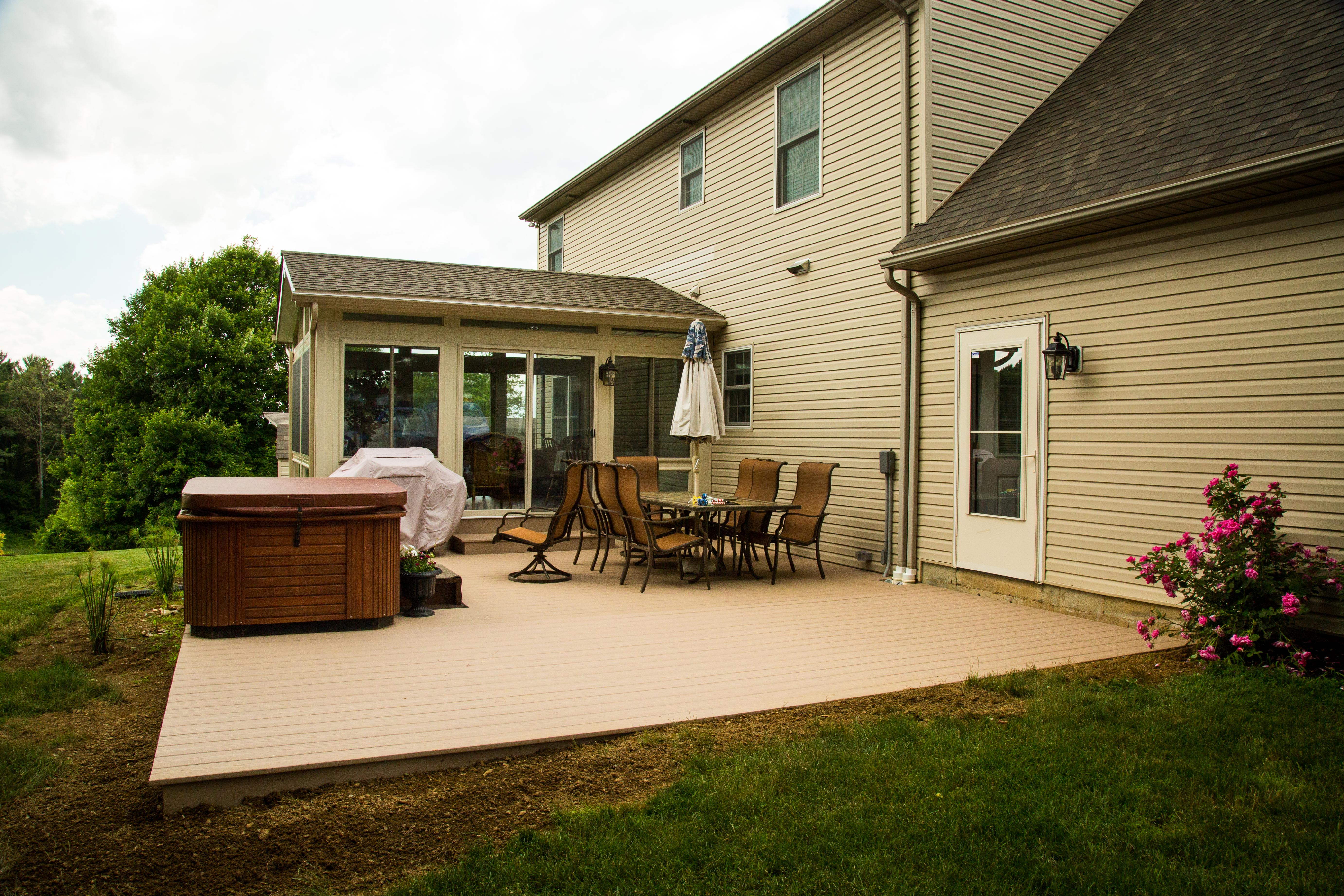 4 Ways to Improve Your Backyard
Posted on June 27, 2019
Most backyards present homeowners with a perfect place to affordably improve their property. This area of the home often finds itself overlooked for renovation because it is not as visible to pedestrian or vehicle traffic. So, it is placed lower on the priority list. The backyard of a home is, nevertheless, an area that often receives a significant amount of use and is a place for quality family time or entertaining to take place. Improving your backyard for reasons of aesthetics, functionality, or convenience can all add value to your home property. Here are a few ways to improve your backyard:
1. Add a Deck or Patio to Your Home
One of the ways to improve your backyard is to add a deck or patio. There may not be a single renovation project that increases the "usability" of the outside of your house more than adding a deck or a patio. Most homeowners discover that these types of additions become some of the most frequently used areas of the home. If you wish to start doing some entertaining, a deck or patio makes summer get-togethers or block parties much more feasible to host and much more enjoyable for your guests.
During the milder months of the year, a deck not only enhances the functionality of your backyard but, in a practical sense, it also serves to "increase" the square footage of your home. A feature such as a professionally installed vinyl deck can add to the aesthetics of the back of your home and add to your property value as well.
2. Get a Pool or Build a Pool Deck
Having a pool right out of your back door during the dog days of summer is a luxury that's hard to beat. Pools are great additions to a home and provide plenty of recreational opportunities. Homeowners with children can especially see the benefits of putting a pool in the backyard as it gets kids a great amount of valuable "outside time" and healthy exercise during those long summer days when school is not in session.
Pools do present an inherent liability risk when they are present, and this should be taken into careful consideration. If you have young children, it is imperative to have fencing installed around the pool with a latching gate. In many municipalities, this is a building code requirement. If your property already features a pool, you may consider sprucing up the area with a vinyl deck. Vinyl decking boards provide superior performance in areas that receive excessive or repetitive moisture and they come in a variety of colors and styles to match your home or pool area.
3. Install a Privacy Fence
Another one of the ways to improve your backyard is to add a fence. Good neighbors are often an under-appreciated aspect of home living. Having a good relationship with the folks next door is a quintessential aspect of American life. Still, that doesn't mean that your privacy isn't valuable. Depending on the layout of your backyard and the location of your property, installing a privacy fence can be a great way to increase its comfort and coziness.
Homeowners with houses that sit on corner lots in towns or subdivisions may find privacy fences to be especially beneficial in order to shield the back of their property from the view of pedestrians walking down the side-street sidewalk. Privacy fences are also often installed in conjunction with pools. In these situations, a fence can provide both a visual barrier, some extra security, and an aesthetic enhancement to the greater pool area.
4. Upgrade Your Landscaping
Landscaping upgrades do a lot to change the look and feel of a backyard area. Landscaping that is incorporated into other backyard features such as decks, patios, or pool areas can provide additional benefits to the homeowner. Ornamental grass and other types of shrubbery can create a visual barrier around those aforementioned backyard features. With the right landscaping, you can achieve a certain style or "look" in your backyard. You can also enhance your gardens with stamped concrete walkways that create a designated path throughout your backyard.
In this way, the landscape architecture is more than just a few growing plants; it becomes an integral part of the property and how it functions for the homeowner. You will also want to plan for appropriate spacing for new plantings in relation to the size of the plant species at maturity. Without proper planning and layout during initial planting, you may have to take on a new, (and perhaps unwanted), project of transplanting shrubbery in just a few short years as they outgrow their current space.
When it comes to home improvement, the beauty of the backyard area is that it is often a blank palette of untapped potential. There is also usually enough room to get creative and let your imagination run a bit. As such, there are several different ways to improve your backyard and plenty of backyard makeover tips to help you get what you want. Backyard enhancements can truly be some of the most enjoyable and rewarding home improvement projects. Backyards are where so many memories stand to be made, so it is naturally a great area to prioritize in regard to renovation, additions, and improvements.
If you need assistance with deciding how to maximize the usefulness of the back of your property, call us at 717-399-4708 and we can help you discover what options are available, which are the right ones for you, and provide you with a free estimate!