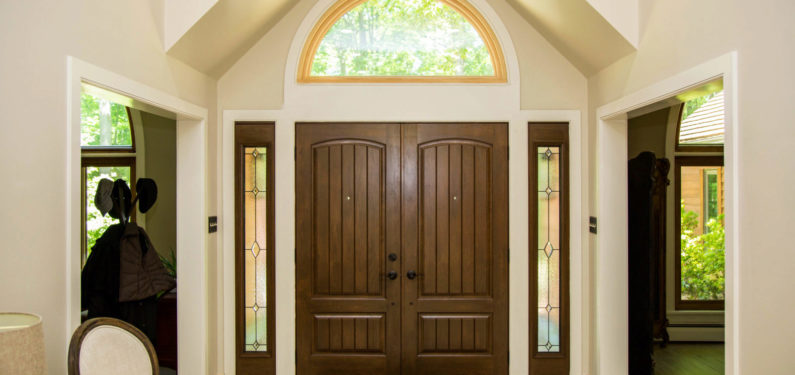 4 Common Window Options for Entry Doors
Posted on March 11, 2021
One of the best ways to spruce up the exterior of your home while simultaneously increasing energy efficiency is to replace your front door. A new entry door is an effective way to enhance the curb appeal of your home. Plus, there are many options available to match the style of your home, including window options. Here are a few common window options for entry doors:
1. Glass Panels
One of the most popular door style trends is adding glass options to allow for more light. Many entry door designs feature glass paneling within the door itself. The glass panes may be clear, etched, or frosted.
Glass panes work well in a wide variety of types of doors. Clear glass panels can let in an abundance of natural light, and offer more visibility to the exterior. However, they also offer less privacy, especially at nighttime.
Etched or frosted glass are a few ways to add privacy to your windows and can do the same for the glass panels in your doors. Etched glass panels feature designs that are incorporated within the glass panes and can give a more ornate and decorative feel. The etching on the glass can also serve to provide more privacy without obstructing natural light.
Frosted glass, and other types of opaque glass, are good ways to achieve an even greater amount of privacy. Like etched glass, frosted glass panels in an entry door can allow some light in while also adding some privacy and still enhancing the look and feel of your entry door.
2. Sidelights
Sidelights, also referred to as side lites, are vertical panes of glass oriented on the sides of your entry door. They offer a more luxurious look to your entryway and also help increase the curb appeal for your home. They are effective in letting an abundance of natural light into the entryway of your home.
Sidelights are available in a variety of styles with different glass options. This makes it easy to find a style that works with your home and also coordinates with the style of your new entry door. Adding design details like this is one of the popular curb appeal trends.
Take a look at this timelapse video of the Zephyr Thomas team upgrading this homeowner's front door and sidelights!
3. Transom Windows
Transom windows are positioned above an entry door. They are decorative, but are also functional because they allow natural light into the entryway of your home. They often come in a triangular or arched shape and are one of the ways to incorporate windows into your home.
The exact type and style of transom window you choose will largely depend on the style of your home's interior and exterior. Beyond aesthetics, another great benefit of a transom window above your entryway door is to add more natural light to your home without sacrificing privacy.
4. Full-View Storm Door
Adding a storm door to your entry door creates several benefits. One of the big benefits of installing storm doors is that they protect your entry door from the elements. They can also help to increase the energy efficiency of your home.
A full-view storm door is also a great way to capitalize on natural lighting when the temperature outside allows for the front door to be open. You can open the front door while keeping the storm door closed to get a great, unobstructed view of the outdoors.
In this timelapse video, the Zephyr Thomas team installs a full-view screen door!
There are many reasons to replace your doors and these are just a few common window options for entry doors to consider when you do. Adding glass options to your front door is a simple way to enhance the exterior of your house and is one of the front door decor ideas. Exploring the many options that are available for replacement doors is a good way to ensure that your new door fits the look and feel of your home.
Give Zephyr Thomas a call at (717) 399-4708 to get a free quote for your new entry door or visit our showroom for some in-person inspiration!