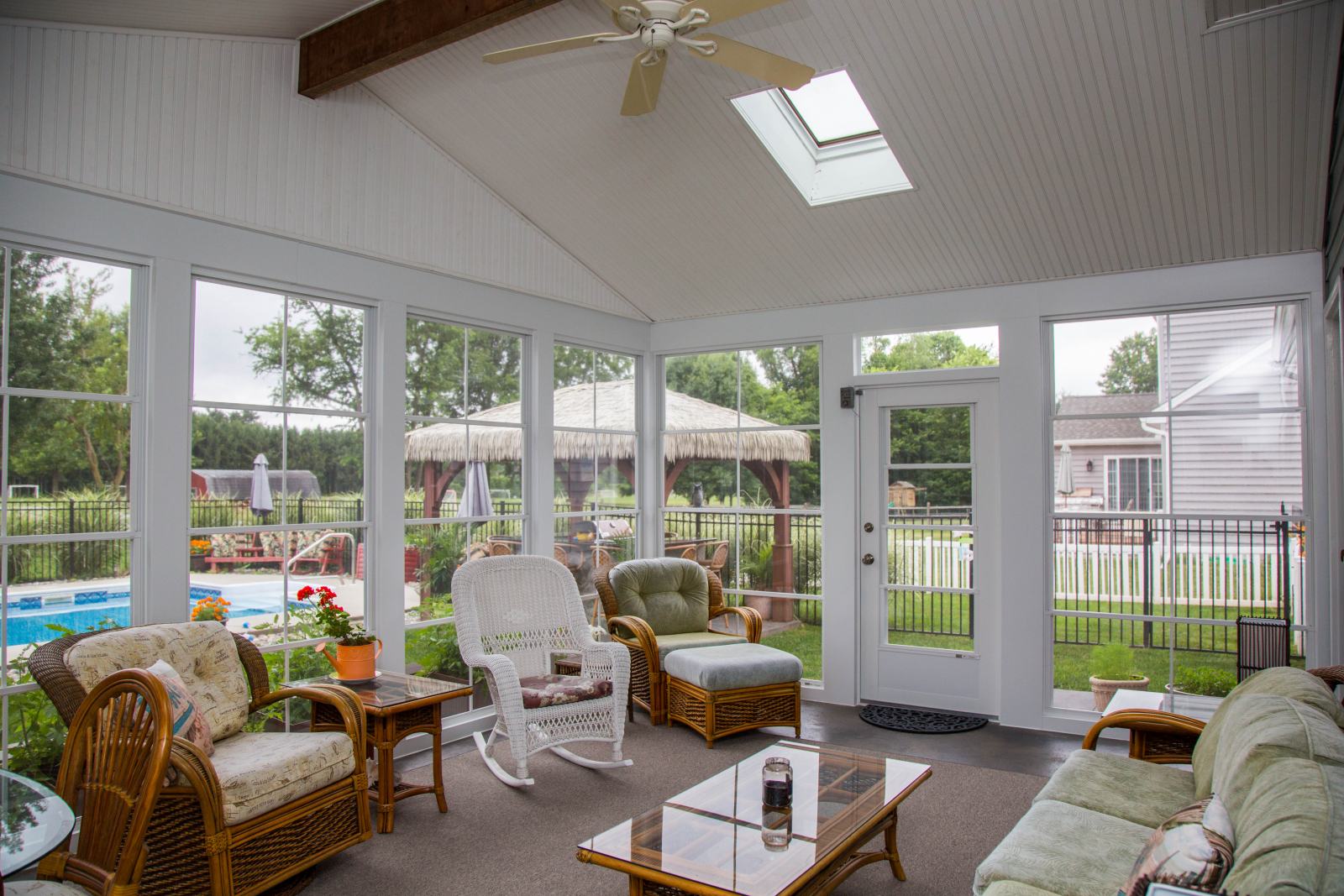 How to Add More Natural Light to Your Home
Posted on August 8, 2019
One of the best ways to make your home a more inviting place is to increase the amount of natural light sources in it. There are many benefits of adding additional light to the rooms in your house. One that cannot be overstated is that a well-lit home, especially one that has adequate amounts of natural light, can actually increase your sense of well-being and your general mood.
There are several ways to maximize rich, natural lighting in your home. The best way to do this is the increase the glass surfaces in your home that allow natural light to shine through. Here's how to add more natural light to your home:
1. Upgrade to a Bay or Bow Window
A bay or bow window is a great upgrade to consider. It is a relatively simple project that can work within the interior and exterior design of almost every home. Today, bay and bow windows come in a wide variety of styles and designs that can be uniquely tailored to integrate with the existing style of the home.
Plus, there are many ways to use a bay window. Whether you go with a bay window or a bow window, there are many options available for customization. Bay and bow windows are popular options for living and family room areas of a home, where the most daytime activity is spent, and privacy from neighbors is not as big a concern. They are also popular kitchen window styles.
2. Add Skylights or Sun Tunnels
Another effective way to add natural light to your home is by adding skylights and sun tunnels. This is also one of the living room remodel ideas that pay off.
Skylights
Skylights can be installed in almost any upper-level room of a home and sun tunnels can be installed in almost any room in the house. Due to the fact that they allow the home to receive natural light through its roof, they are popular options for bathrooms and bedrooms.
Skylights are very popular in homes that already feature cathedral or vaulted ceilings and in homes without vaulted ceilings. In these instances, a skylight is essentially a specialized type of window that is integrated into the roof line of the home, thus allowing sunlight to enter the home. Plus, there are many benefits of skylights. The biggest one is, of course, adding more natural light to a home.
Sun Tunnels
Like skylights, sun tunnels allow natural sunlight to be filtered into the home from the house's roof. However, there are several key differences and specific benefits of sun tunnels. Sun tunnels are narrower chutes extending from the roof of the home to the ceiling of the room below.
Often, the sun tunnel will feature a reflective material to maximize the amount of light that reaches the room. Sun tunnels will typically be smaller in dimension than skylights and may blend into the ceiling of the home more naturally; so, for homeowners who do not prefer the look and style of a skylight, this design becomes a viable alternative while still allowing them to maximize natural light sources.
Another huge advantage of sun tunnels is that the final placement of the interior opening does not necessarily have to be directly below the opening in the roof. Due to the way a sun tunnel is designed to reflect light through its structure, placement of roof openings can be evenly spaced, or even positioned so as to maximize the amount of light that enters the sun tunnel.
At the same time, the tunnel itself can be constructed around other structures within the home's attic space, such as HVAC components, and still provide natural lighting to the specific and desired area of the home. In this way, sun tunnels provide homeowners with a lot of options and flexibility.
3. Install Sliding Glass Patio Doors
Aside from providing the home with a great amount of natural lighting, there are a lot of benefits of installing sliding glass patio doors. The design of sliding glass patio doors creates a wide, near floor-to-ceiling, opening and is a great way to enhance the view of one's property from inside the home.
Sliding glass patio doors can also feature built-in blinds that allow you to block sunlight from the room during the heat of a summer day. They are highly customizable and it's one of the big benefits of French doors.
These doors are often seen installed off a dining room or family room area. Many homeowners upgrade their master bedrooms to include a sliding glass door that leads to a private, custom deck that can provide a perfect place for a morning coffee or a bit of solace and evening relaxation.
4. Replace Your Front Door
When you are looking to add sources of natural light to your home, do not underestimate the value of replacing your front door. Many older front doors are constructed of wood which may be less energy efficient than the quality, insulated front doors available today. When considering a replacement door, take some time to review the many styles and options that are available, including window options for entry doors.
Front doors can feature full-length glass panes. Some will have etched or frosted glass panes that can help maintain some privacy while still allowing additional light to enter the home. Additional panes of glass can also be installed adjacent to the door on one side or both. Likewise, a decorative glass pane can be installed above the door.
These additions serve to increase the overall square footage of glass and allow a greater amount of light to enter the entryway or foyer of the home. It is important that the entryway of the home receives enough light to provide an inviting first impression to visiting guests. These simple additions have the potential to enhance your home's general look and feel while also increasing its energy efficiency!
There are multiple benefits and multiple options when it comes to how to add more natural light to your home. When you are planning your next home improvement project, an increase in the natural lighting in your house should make its way to the top of your "short-list". It is a great way to incorporate creativity into the design and style of the home and can serve to increase your quality of life!
If you need help planning your next home improvement project, call us today at (717) 399-4708 or visit our showroom to get some in-person inspiration!