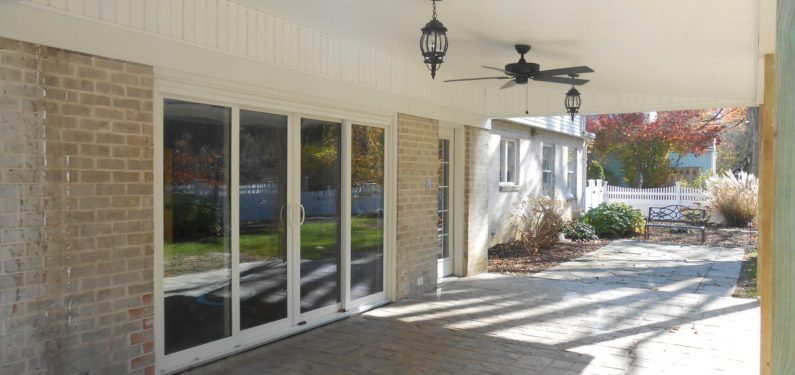 4 Benefits of French Doors
Posted on October 21, 2021
Front entry doors may get a lot of attention when it comes to curb appeal, but they are not the only doors to consider in your home. Patio doors are useful and can help improve the look and feel of your home as well. Plus, there are a lot of patio door styles to choose from. One type of patio door is the French door. Here's what you need to know about them and some benefits of french doors to help you decide if they are the right patio doors for your home:
What is a French Door?
French doors first appeared in France, which is how they got their name. These patio doors typically feature glass panes for most of their length and can have stylish grilles. Because of this abundance of light, they are sometimes also called French windows even though they are considered a type of patio door. There are two types of French doors – hinged and sliding.
Hinged French Doors
Hinged French doors break down into categories – single-hinged and double-hinged. A single-hinged French door is a single panel that is hinged on the side and swings open and closed.
Double-hinged French doors have two panels, or doors, that part in the middle and swing open and closed. In most designs, both panels, or doors, will swing open and closed. But, there are some designs where one panel is fixed so only one panel swings open and closed.
Sliding French Doors
Sliding French doors consist of four panels and slide open and closed instead of swinging. They are categorized as four-panel or multi-slide patio doors. With four-panel French doors, three panels are operable and can slide while a fourth panel is fixed and inoperable.
With multi-slide French doors, each of the four panels is operable and can slide open and closed. Depending on the type of installation, multi-slide doors will either disappear into the wall or stack together on an end of the track.
4 Benefits of French Doors
French doors are one of several types of doors. They are stylish and can enhance the look and feel of your home. Here are a few benefits of French doors:
1. They Provide Stylish Ease of Access
Not only do French doors offer easy access to your patio or outside, but they also look great. These doors can be perfect for letting in a nice breeze or simply providing a great view.
And, because they are often stylish patio doors, they can also help elevate the look and feel of your home. They may even help add value to your home!
2. French Doors Are Highly Customizable and Energy Efficient
There are plenty of patio door options in general and for French doors as well. This makes them a highly customizable option for your home. You can get a patio door that fits seamlessly with the style of your home while still meeting your functional needs.
In addition, these doors are energy efficient. On top of that, there are several energy-efficient door options available to further improve energy efficiency and better insulate your home.
3. They Don't Take Much Space
Although hinged French doors require some space to allow for them to swing open and closed, they don't require a lot of space. Plus, there are sliding French door options available that take up even less space because you only need enough space for the track and do not need to account for anything swinging open. This is one of the big benefits of installing sliding glass patio doors.
4. French Doors Provide Natural Light
Because these patio doors are known for being mostly glass panes, they let in a lot of natural light. Not only does this help brighten up a room by adding more natural light to your home, but it also provides a great view of the outside. In addition to helping with energy efficiency, this also helps create a stylish and attractive feature in a room.
These are just a few benefits of French doors to help you determine if they are the right style of patio door for you. If you need to replace your patio door or are interested in upgrading it, contact Zephyr Thomas at 717-399-4708 to explore options and start your free quote!
Check out this video of the Zephyr Thomas Team installing a French door for this homeowner!