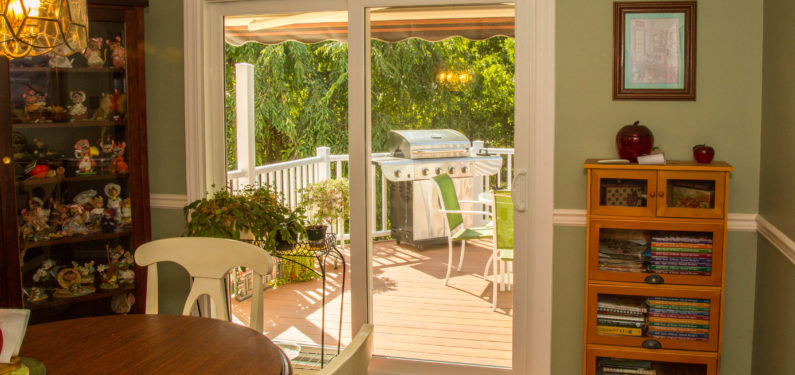 5 Patio Door Options
Posted on February 8, 2018
Is your patio door not quite up to snuff? With so many types of doors out there, trying to pick out a new one can be an overwhelming choice, especially when manufacturers pitch their own products. At Zephyr Thomas, our interest is in being the best at home improvement and providing exceptional service to our customers. Being the best means we only work with the best. When it comes to replacement doors, ProVia doors offer the highest quality and durability, in addition to several options. Here are a few patio door options to help you get started:
5 Patio Door Options to Choose From
ProVia patio doors come in five unique designs, each boasting a robust array of hardware customization options. Below is a short review for every type to help you choose the best patio door for your home:
1. Designer Hinged Door
The Designer Hinged patio door offers several style options, which makes them customizable and is one of the benefits of French doors. They're available in sturdy fiberglass or steel with a smooth or woodgrain texture. These doors are hinged and come in customizable sizes up to the ⅛ .
2. Endure Sliding Glass Door
The Endure sliding glass design brings flair to efficiency in your patio door. With a vast array of vinyl colors, hardware, and glass options, these patio doors are a vibrant display. The 5-⅜ Multi-chamber, insulated vinyl profiles ensure efficiency and noise control. In addition, the glass can be treated with performance-enhancing glaze to further control heat loss and condensation retention.
3. Aspect Sliding Glass Door
These doors are svelte vinyl productions for the minimalist. This sliding glass design focuses on durability and performance, with smooth motion and sound control. These patio doors come in sandstone, beige, and white.
4. Aeris Sliding Glass Door
The Aeris sliding glass design is the luxury car of patio doors. The real wood interior brings an extra something to your living room and is available in oak, cherry, and maple. Customization options include blinds, grids, stains, and paints along with glass tinting and more.
5. EcoLite Sliding Glass Door
The Ecolite is simple, but effective. It's a welded framed version of patio door with a firm handle on efficiency. Using a U-shape, adjustable wheels, and low-E coatings, this sliding glass design practically destroys the possibility of seal failures, squeaky rails, and drafty cracks developing over time. It even utilizes a bottom sill protector to prevent drainage problems.
The Advantages of ProVia Patio Doors
There are many benefits of new patio doors for your home, but the door needs to be high quality for you to be able to experience them. Why are ProVia patio doors the best? We like to do our research when choosing our partners. Here are some of the biggest reasons we go with ProVia:
ENERGY STAR Certified and Tested
Each of ProVia's door options is independently ENERGY STAR certified and tested. This means increased energy efficiency for your home, and less money spent on heating and cooling. Each door option also surpasses stringent industry standards for storm protection, helping to ensure your safety during bad weather.
Highly Customizable
With sizing in increments of ⅛, not only is customization greater, but installation is significantly easier. Shimming doors is time-consuming, and that time is better spent on other aspects of remodeling. Plus, there are several options available to help you increase your patio door security, energy efficiency, and more.
Get New Patio Doors For Your Home With Zephyr Thomas
Replacing or upgrading your patios doors is one of the ways to upgrade a patio or deck. With the array of customization options, superior efficiency ratings, and security testing, ProVia is the optimal choice for your patio doors. Call Zephyr Thomas at 717-399-4708 today for more information or stop by our showroom to see these incredible doors in person!