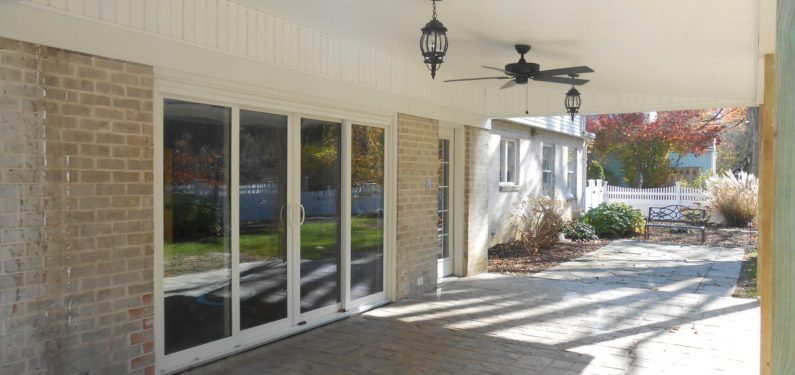 6 Benefits of New Patio Doors
Posted on February 9, 2023
If your patio doors are starting to look worse for wear or if you simply want to change them, it might be time to start thinking about new patio doors. Installing new patio doors can be very beneficial to your home. Here are a few benefits of new patio doors:
1. They Add Home Value
Installing new patio doors instantly boosts your home value. If you decide to sell your home in the future, an updated patio door is very appealing to prospective buyers. It can transform a room, making it more attractive, and is an easy way to upgrade a patio.
Old, outdated, or damaged patio doors are one of the ways you might be losing money on your energy bills. Since new patio doors can also help reduce energy bills, prospective buyers will be relieved they won't need to immediately replace them in order to keep costly heating and cooling in.
2. New Patio Doors Can Save You Money
If you have an older patio door, it may be costing you energy leaks and maintenance. Choosing a new patio door can help cut back on utility bills since there are many energy-efficient options. This is an important factor to keep in mind when choosing the best patio door for your home.
Look for triple-pane glass or Low-E glass. You can also get foam insulation, which will help with leaks. Once your door is properly installed, you will reap the benefits of energy savings throughout the year. This, along with the peace of mind, is why quality matters with patio door installation.
3. They Connect Outdoor and Indoor Living
A great benefit to patio doors is that they can bridge your indoor space to your outdoor spaces. There are many options available, including entire folding walls that give you the maximum space.
Opt for folding walls or patio doors on tracks to create a nice flow between indoor and outdoor spaces. These doors offer nice ventilation as well, which adds to the seamlessness of blending the two spaces.
4. Patio Doors Offer Natural Light
Natural light is a gift in any home. A new patio door can do wonders to brighten up your space by letting plenty of natural sunlight in. A lot of natural light and a great view are some of the benefits of installing sliding glass patio doors.
If you want to control the level of light, there are options available for built-in blinds or shades. These features also let you control some privacy as it keeps prying eyes out of your home. Check out the time-lapse video below to watch the Zephyr Thomas team replacing old patio doors with sliding glass patio doors for this homeowner from start to finish!
5. They Reduce Outdoor Noise
If outdoor noises bother you, it may be time to replace your patio door. A newly installed patio door will muffle noises from the outdoors as it will be well-insulated. Airtight sealing around the door also contributes to reducing noise.
Be sure to choose dual or triple-pane glass for even more benefits. All these factors need to work together in order for you to reduce loud, outdoor noise.
6. New Patio Doors Are Customizable
No matter what your home is like, there is a patio door option for you. Whether you want sliding doors or french doors, there are plenty of choices available.
You can choose the trim color and style, as well as the hardware. New patio doors can blend into your home style or they can add a bit of contrast.
Take a look at the video below to see the Zephyr Thomas team building a customized door and patio for this homeowner!
Get New Patio Doors With Zephyr Thomas
These are just a few benefits of new patio doors. If you need to replace your patio doors, call Zephyr Thomas at 717-399-4708 to start a free quote or stop by our office. Our friendly and expert staff will be glad to assist you in choosing the right style, color, and design when it comes to choosing a new patio door.
Check out the video below of the Zephyr Thomas team replacing the patio door and siding for this homeowner!