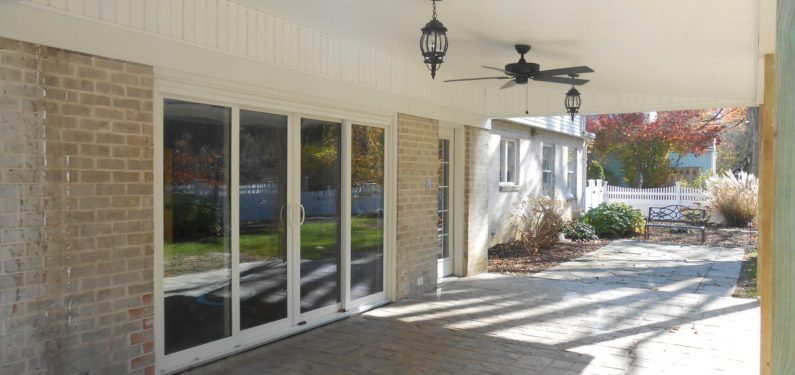 7 Benefits of Installing Sliding Glass Patio Doors
Posted on March 7, 2019
Sliding glass patio doors can seriously upgrade the look and feel of a room and even improve the day-to-day experience in your home. Here are just a few benefits of installing sliding glass patio doors:
1. Convenient View to the Outdoors
Sliding glass patio doors offer a convenient view to the outside of your home. Because they are larger than a standard window, you get a better view and can enjoy a relaxing view of nature without needing to go outside. Plus, if you're in a rush, you can determine the current weather with a quick glance.
2. More Options for Ventilation
When you have windows and sliding glass patio doors in a room, you have more options for setting up a cross-breeze, providing ventilation, or just getting some fresh air. Plus, you can customize what you need based on the weather and temperature that day by opening the doors a little bit, halfway, or all the way.
With sliding patio doors, you get a little more control over the temperature and comfort of your home for those moderate days when turning on the heat or air conditioner doesn't make sense. And, sliding doors are one of the ways to incorporate windows into your home that also gets you functional patio doors.
3. Provide More Natural Light
Sliding glass patio doors are a great way to have your patio access serve double duty by letting more natural light into your home and is also one of the benefits of French doors. Not only can more natural light make you feel more relaxed, but it can also brighten up and entirely energize a room. On top of that, you can give yourself some privacy and control over how much natural light to let in with window treatments like curtains or vertical blinds.
4. Added Security
One of the benefits of new patio doors is added security. Sliding glass patio doors can also add security to the entrance to your patio or deck. Not only do these doors have a secure locking system, but they can also be outfitted with additional keyed locks or foot locks to enhance overall security further. These are just some tips for increasing your patio door security.
5. Increased Curb Appeal
Sliding glass patio doors can also increase the curb appeal of your home. New patio doors can seriously upgrade a patio or deck. Because they often enhance both the interior and exterior of your home, they tend to be an attractive feature for potential homebuyers. Depending on your area and local market trends, they may even increase the value of your home!
6. Smooth and Easy Operation
Another benefit of sliding glass patio doors is that they are types of doors that offer smooth and easy operation, as long as they are installed properly. A well-fitted and properly installed set of sliding glass patio doors should slide open easily, smoothly, and quietly. This can be a great advantage when you have your hands full or are hosting a get-together outside.
7. Maximize Space
Sliding glass patio doors also maximize your available space. Because they slide instead of swinging open or closed, you don't have to plan for extra interior or exterior space to allow for extra clearance. This makes sliding patio doors a great fit for a room with limited square footage. Plus, they allow you more flexibility with how you arrange furniture inside the room and outside on the patio because you don't have to account for an inward or outward swing.
Looking over benefits and options can help you choose the best patio door for your home, and there are many benefits of installing sliding glass patio doors. They can enhance your experience using your patio or deck and they can also improve your home. If you think sliding glass patio doors are just what your home needs, contact Zephyr Thomas at 717-399-4708 for a free quote or stop by our showroom to get inspired!