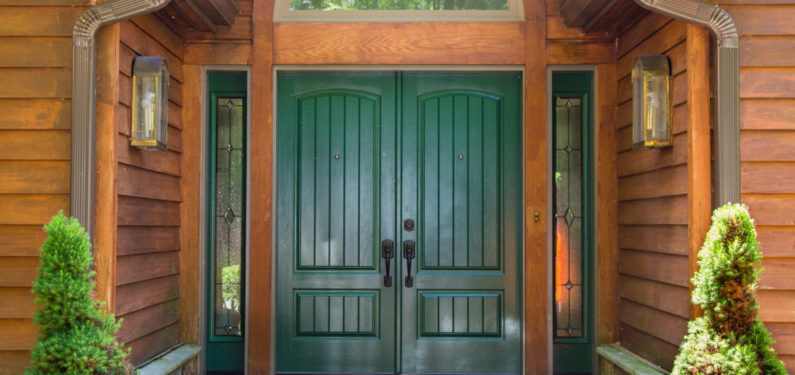 14 Types of Doors
Posted on January 19, 2023
Whether you are remodeling the exterior or interior of your home, you will need to consider doors if you're near any sort of entrance or exit. There are several types of doors and styles to choose from, so it's just a matter of finding the right look and type for what you want and where it needs to go. Here are a few types of doors to help you get started:
1. Flush Doors
Flush doors are interior doors that are designed to be flush with the wall. They feature simple construction, concealed door frames, and hidden hinges for a clean, minimalist look and a door that doesn't stand out as much or protrude as much from the wall.
Although customization options are more limited than other types of doors because flush doors are meant to be smooth and blend in, flush doors do have a few style options and can be built to be standard swing doors and can also be built to slide into the wall as pocket doors.
2. Paneled Doors
A paneled door is a standard door style. It features panels framed by stiles and rails. They tend to be thicker than flush doors and the paneled door style can be applied to doors for interior or exterior use. They are customizable in that there are various panel configurations available that can also be paired with window options for doors or other door style options.
A new front door is one of the common exterior home remodeling ideas. In the video below, the Zephyr Thomas team installs a paneled door with window lites to replace this homeowner's entry door!

3. Dutch Doors
Dutch doors are built for the top and bottom halves of the door to be able to open separately. Although it's an older door design, dutch doors are making a comeback and are one of the popular door style trends.
They tend to be more popular as interior doors or as secondary exterior doors. Although they can be used as entry doors, they are not as common as a front door or main exterior door.
4. French Doors
French doors are characterized by full-length or almost full-length glass panels. They can be hinged or sliding and also sometimes have decorative or stylish grilles. This abundance of natural light is one of the benefits of french doors and makes them a popular choice for patio doors.
Check out this video of the Zephyr Thomas team installing French doors for this homeowner!

5. Sliding Doors
Sliding doors are a category that can include several styles of doors; all that defines them is that they slide to open instead of folding or swinging on a hinge. Usually, sliding doors are built to slide open and closed seamlessly and easily along a track or a rail. This smooth and easy operation is one of the benefits of installing sliding glass patio doors that could also apply to other doors in your home.
6. Barn Doors
Barn doors are a popular choice for interior use. Although they mimicked the look of traditional barn doors or were repurposed barn doors in the beginning, now there are several style options for interior barn doors.
This type of door is now often characterized by the track outside the room that it hangs on and slides across. These sliding barn doors can be single or double doors and are usually used as a way to get more flexible coverage options on an interior entryway without having to deal with built-in door frames or limitations of the standard hinged interior door.
Take a look at the Zephyr Thomas team replacing traditional barn doors for this homeowner and their horses!

7. Pocket Doors
Pocket doors can be many styles or types of doors. What characterizes them as pocket doors is that they slide into a cavity or "pocket" in the wall instead of swinging open. Instead of sliding across the surface of a wall and remaining visible like sliding barn doors do, pocket doors slide into the wall and disappear from sight when they are open.
They also hang from a track mounted to the ceiling and slide open using rollers instead of sliding open using a track installed on the floor as standard sliding doors do. Pocket doors can be a popular option to save space for interior doors. They are also one of the bathroom design ideas inspired by hotels to separate a bathroom from the rest of the room or to create separate sections within a bathroom.
8. Bifold Doors
Bifold doors are doors that are built as panels slide and use rollers to fold open accordion style on hinges. Because this refers to how the door operates, many door styles can also be bifold doors. Although this style can be used on exterior doors, it is more popular on interior doors and especially as doors on closets that feature a large opening.
9. Louvered Doors
Louvers refer to the horizontal slats on some doors. Louvered doors feature these horizontal slates on panels that cover the entire door or just a portion of the door. This door style is found on interior doors and is a popular choice for closet doors.
10. Battened and Ledged Doors
Battened and ledged doors are a door style that harkens back to traditional barn door styles. Battens are vertical planks, ledges are horizontal planks, and braces are diagonal plans that run between ledges for support.
Battened and ledged doors feature the mix of vertical and horizontal planks and sometimes also feature braces. When they have diagonal planks as well, they are sometimes called battened ledged and braced doors. This style can be found on interior and exterior doors, but is more commonly found on interior doors as a residential design choice.
11. Cabana Doors
Cabana doors are hinged doors with glass panes. They can be customized as single or double doors and are usually available with single-hung window styles or fixed lite window styles. They are one of the popular door options for sunroom additions and tend to be the door of choice for vertical 4-track rooms.
12. Pivot Doors
Standard hinged doors have hinges on the side and swing outward from the side to open and close. Pivot doors have hinges that are mounted on the bottom and top of the door, which means they rotate on a vertical axis; essentially, they rotate on a spindle. Instead of swinging open from the side, they rotate open from wherever the spindle is placed.
Modern pivot doors do not require a frame and are usually designed so that the pivot hinge system and hardware are hidden once installed. They are designed to work with several door styles as well and tend to be a popular option for large, wide, and oversized doors to cover a wide entryway. These types of doors are manufactured for both exterior and interior use. Some versions are even weatherproof!
13. Storm Doors
Storm doors are essentially extra doors that are installed in addition to an entry door to provide an extra door or layer of protection. Added protection and energy efficiency are some of the benefits of installing storm doors.
These doors tend to be built to be durable and can help improve front door security. Although customization options are more limited than entry doors or interior doors, there are still plenty of options available to get the look you want, including full glass options.
Take a look at the Zephyr Thomas team replacing this homeowner's front door and installing a screen door!

14. Roller Doors
A roller door is often found in industrial settings and can pop up in residential homes as garage or shed doors. These doors are often made of a corrugated steel curtain that opens from the bottom, slides upward, and rolls around itself into a compact cylinder at the top as it rolls upward and unrolls or unravels as it is pulled downward to close.
These are also sometimes called shutter doors. Although they are not as common in residential homes, roller doors could be an option to consider if you are replacing your garage door, remodeling your garage, or adding a garage to your home.
Work With Zephyr Thomas to Get the Right Doors for Your Home
Sturdy entry doors with interesting details are popular curb appeal trends. These are just a few types of doors and styles to get you started as you think about your next home improvement project. All types of doors don't work for all situations and some are better suited for interior use rather than as entry doors or exterior doors. This is important to consider when replacing your front door or other doors in your home.
If you are looking to add, upgrade, or replace doors for your home, contact Zephyr Thomas at 717-399-4708 to start a free quote! You can also stop by our showroom to see a few door styles in person.