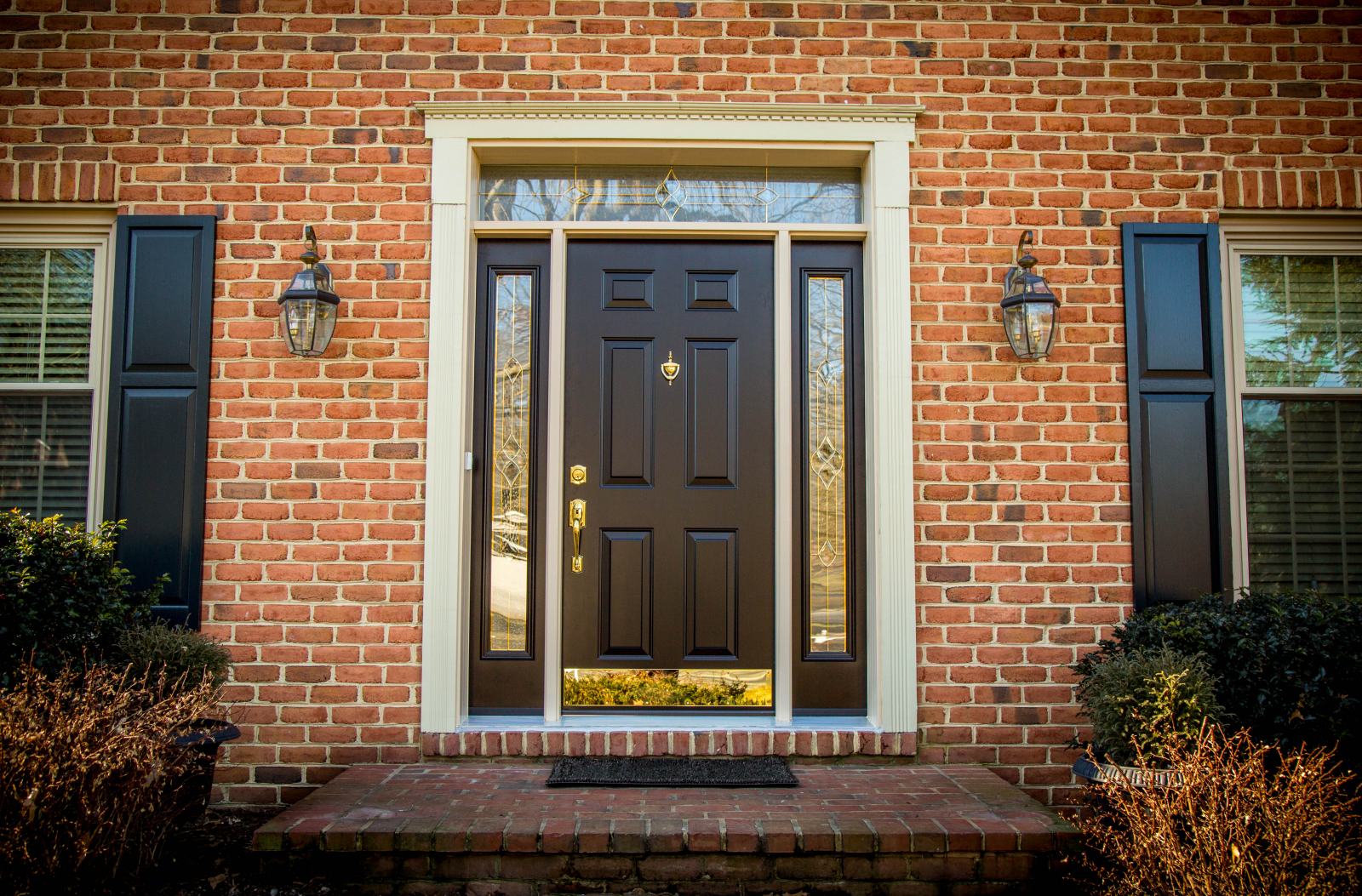 8 Ways to Improve Front Door Security
Posted on August 11, 2022
The front door of your home welcomes you and your visitors to your home, and it also protects your home. Because of this, it's important for your front door to be in good shape and secure. There are several options available to enhance security. Here are a few ways to improve front door security:
1. Upgrade Your Current Door
One of the best ways to improve front door security and one of the best home security tips is to replace your door when needed. If your front door is an old wooden door, check for signs of rot, cracks, splits, and other visible wear and tear. Visible damage like this is one of the top reasons to replace your doors.
You can upgrade to fiberglass or steel types of doors. Also, check if your door is solid-core or hollow-core. Hollow-core doors are usually for internal use and not exterior use. If your current door is hollow-core for some reason, it's a good idea to upgrade to a solid-core option for increased security and energy efficiency.
Take a look at the new front door and screen door the Zephyr Thomas team installed for this homeowner!

2. Replace Old Doorframes
You could have the best, most secure front door, but if it's installed into an outdated, weak doorframe, it won't do you much good. Look over your doorframes and check that it is secure and in good shape.
If your doorframe is older, has visible damage, shows signs of wear, or shifts or moves when the door is pulled, you'll want to replace the doorframe. If you're upgrading your door anyway, you can include a new frame.
3. Reinforce the Doorjamb
One of the ways to improve front door security is to reinforce the doorjamb. Metal reinforcement can help support and secure the door while making it harder to wrench outwards. Strike plates can help reinforce and add security to the deadbolt while hinge guards can add extra protection to the hinges.
With hinge guards in place, hinges cannot just be popped free. You can also look into door shields. Doo shields help prevent the door from being ripped loose if force is applied. All of these elements are small additions that can help reinforce the doorjamb, improve the security of your doorframe, and improve the overall security of your front door and entry. These are also tips to increase your patio door security.
4. Install a Deadbolt and a Door Chain
Modern replacement doors usually have a variety of options when it comes to energy efficiency, security, and more. Make sure your front door has a deadbolt and a door chain in addition to the regular lock. When you are inside your home, you can use the deadbolt and door chain to further improve your front door security.
5. Upgrade Your Lock
A deadbolt and door chain are great backups to support the lock on your door, but you can also replace and upgrade the existing lock as well. If you've just moved in or there have been big household changes, it's generally a good idea to rekey or replace locks.
Even if there haven't been changes, you can also upgrade the existing lock to something more secure, especially if the existing locks are old. Rekeying locks or replacing locks periodically also helps improve your front door security as it helps you keep track of and manage who has keys to the door.
If you don't know where all the copies of your keys are and who has them, it's a good time to rekey or replace door locks. You could even upgrade from your current lock to a keyless lock for increased security.
6. Reinforce Glass Panes in the Door
There are several window options for entry doors and glass panes can be a great addition to the door itself or as side lites. The potential downside with glass is that it can be a weak point in your door security if there are large panes of glass or they are not reinforced. Avoiding large expanses of glass and making sure any glass you have is reinforced with security film are ways to improve front door security.
7. Make Sure Your Entryway is Well-Lit
Another one of the ways to improve front door security is to make sure your entryway is well-lit. Good security lighting can go a long way in discouraging intruders, which is why it's one of the tips to burglar-proof your basement windows as well.
Look over your front porch at night. What lighting do you currently have in place? Do you have any lighting in place? Basic door lighting fixtures are a good start and can act as a deterrent on their own. If you already have lighting, clean the fixtures to brighten up the light and replace light bulbs as needed. Lighting inside the door is a good idea too.
In addition to lighting in these areas, you can also install motion-sensor lighting in your front yard, or in your backyard or side areas if there are potential access points in those areas that do not get much light. You can also make sure the lighting you install can be managed by a timer or even home automation devices or an app on your phone.
8. Consider a Video Doorbell
Although a video doorbell doesn't reinforce anything about your front door itself, it can be a great way to improve security in that area and for your home overall. The presence of a video doorbell often acts as a deterrent.
At the same time, you can receive alerts on your home when motion is detected near your door or when someone tries to access your home when you are not there. Plus, it can be a useful way to communicate with someone who is trying to reach you at home whether you are there or not.
Safety is one of the types of home improvement and these are just a few ways to improve front door security that also help improve security for your home. If you need a new door, contact Zephyr Thomas at 717-399-4708 to start a free quote!