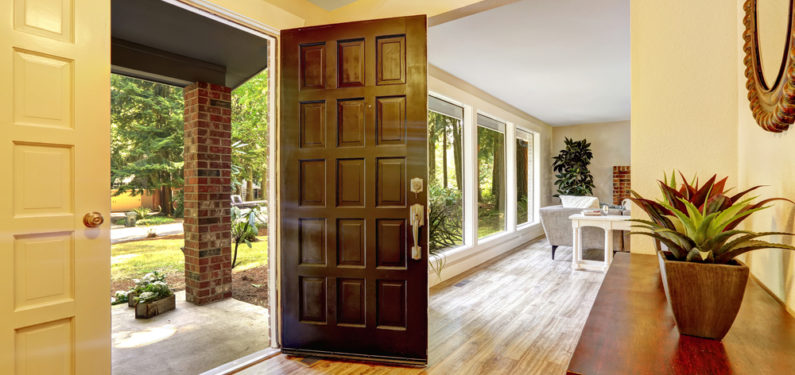 7 Reasons to Replace Your Doors
Posted on May 26, 2016
The doors in your house, especially the well-used ones, accumulate a lot of wear and tear over the years. Doors can last for years, but if a door is starting to become an annoyance, a source of drafts, or an eyesore, you might want to evaluate your house's door situation. Here are a few reasons to replace your doors:
1. Improve the Curb Appeal of Your Home
Replacing a door in your house is a great way to rethink the space and find ways to improve it. It's also well worth it, especially if you're planning on selling your house anytime soon. First impressions are key, and an excellent entryway wows potential buyers. This is why replacing doors is one of the top curb appeal ideas to improve your home.
On the other hand, showing potential buyers through a house with doors that look shoddy, let in drafts, or slam easily is a good way to turn them off. Even if you're used to the way your doors look and function, try to look at them with fresh eyes and determine how much room there is for improvement. With new doors being one of the home improvement projects with the highest ROI, it's worth evaluating your doors regularly to make sure they are helping your home and not hurting it.
2. Increase the Energy Efficiency of Your Home
A good reason to replace your doors is if they are an energy leak. There are several ways to find out if your door is letting in drafts.
Test the Door Function and Fit
Try opening and closing the door on both dry and humid days. Make sure all the door's components are working smoothly and the door fits securely. If it doesn't fit tightly on humid days, there's a high probability it's letting air in and out and adding to your energy bill. This is one of the many ways poorly insulated windows & doors affect your house.
Check the Inside Surface
Touch the inside surface of your door on both hot and cold days. If the inside surface feels like the weather outside — hot on a hot day, chilly on a chilly day — then it's probably not properly insulated. This is one of the things to consider when replacing your front door and when purchasing any door for your home
Invest in Energy-Efficient New Doors
Is it a well-insulated door? How well will it protect the internal temperature and comfort of your home? In addition to choosing a high-quality door with the basic features, you can also consider upgrades and other energy-efficient door options to get the best for your home and make sure your door isn't a source of energy loss in your home.
3. Enhance Your Home Security
Have you had trouble getting your door to fit in the frame, or does the way it hangs make it hard to open, close, and lock securely? These are some of the biggest signs your door needs to be replaced and good reasons to replace your doors.
Doors that are out of plumb are a safety concern as well as an inconvenience. A door that does fit or hang correctly, doesn't seal well and often sustains damage over time while also resulting in energy loss. Replacing damaged doors is one of the home security tips to protect your home and can also help you save on energy bills.
4. Take Care of Necessary Repairs
Are there scratches at the base of your front door from a beloved family pet? Peeling paint on an outdated wooden door? Cracks or chips along the door edges or frames? You're used to how your doors look, but if installing new doors would greatly improve the look of your home, it's a worthwhile investment.
Replacing your doors is also one of the ways to add value to your home. Plus, if the door is worn out, it's likely an easy target for intruders, could be letting insects into your home, and could also be the source of a heating/cooling leak. Visible damage and wear on doors are classic reasons to replace your doors and upgrade to a more durable, long-lasting material.
This is also a great opportunity to rethink the color of your doors. The wrong color can hurt your home value, but a fresh, new color that matches your home can increase curb appeal. Planning ahead, opting for a color that matches the style and color palette of your exterior, and other tips for choosing the best front door color can help you make sure you get what you want.
5. Reduce Required Maintenance
If the doors on your current home are outdated and require a lot of maintenance from you, you can free up more of your time by replacing them with more durable, lower-maintenance doors. Fiberglass and steel doors are the best types of entry doors on the market. Not only do fiberglass or steel entry doors resist warping and are not easily damaged, but they are also practically maintenance-free.
6. Improve Accessibility
If your current front door is hard to access and difficult to use, it's a good reason to look into replacing your entry door and perhaps remodeling your front porch. Wider front doors with zero-clearance thresholds are a popular option for people who use walking aids or wheelchairs, homeowners with young children who use strollers, and people that just want a bit more room when they are carrying things inside.
Another option that can help improve the accessibility of your home and make coming home a little easier include replacing concrete steps with a ramp. You can also expand your front porch for more room around the door and better maneuverability.
You can also change out the handle and lock options on your doors for easier use; lever handles, electronic lock systems, and more are all available options. These are some home remodeling ideas for aging in place that are also good ideas for any homeowners that just want easier access to their home for themselves and guests.
7. Upgrade Your Entryway
Another one of the reasons to replace your doors is if you want something different. If you don't like your current entryway and you want to upgrade it, replacing your front door is a great way to get what you want. This is one of the living room remodel ideas that pay off.
Plus, if you work with a home improvement company, you can overhaul your entire entryway. Do you want your new door to have sidelights? Do you want a transom window? There are plenty of window options for entry doors if you want to let in some more natural light and improve visibility.
If you're overhauling and upgrading your entryway, you have a lot of flexibility in width, height, and other door options. You can even take advantage of popular door style trends. On top of that, you can upgrade or change your front porch and walkways for the exterior and even remodel your interior entryway too.
If any of these things remind you of the doors in your home, it may be time to consider replacement doors. Call Zephyr Thomas today at 717-399-4708 or stop by our office to talk to one of our friendly experts about your replacement door options.
Check out this timelapse video of the Zephyr Thomas team building a custom patio and door for this homeowner!