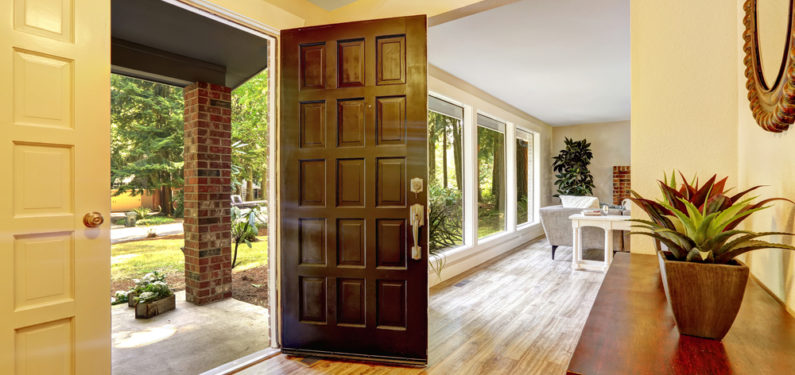 4 Reasons to Replace Your Doors
Posted on May 26, 2016
The doors in your house, especially the well-used ones, might take lots of abuse. Doors can last for years, but if a door is starting to become an annoyance, a source of drafts, or an eyesore, you might want to evaluate your house's door situation. Here are a few reasons to replace your doors:
1. Your door does not give a good first impression.
Replacing a door in your house is a great way to rethink the space and find ways to improve it. It's also well worth it, especially if you're planning on selling your house anytime soon. First impressions are key, and an excellent entryway wows potential buyers.
On the other hand, showing potential buyers through a house with doors that look shoddy, let in drafts, or slam easily is a good way to turn them off. Even if you're used to the way your doors look and function, try to look at them with fresh eyes and determine how much room there is for improvement.
2. Your door is an energy leak.
A good reason to replace your doors is if they are an energy leak. There are several ways to find out if your door is letting in drafts.
Try opening and closing the door on both dry and humid days. Make sure all the door's components are working smoothly and the door fits securely. If it doesn't fit tightly on humid days, there's a high probability it's letting air in and out and adding to your energy bill. This is one of the many ways poorly insulated windows & doors affect your house.
Touch the inside surface of your door on both hot and cold days. If the inside surface feels like the weather outside — hot on a hot day, chilly on a chilly day — then it's probably not properly insulated. This is something to think about when purchasing your new door: is it well-insulated?
3. Your door doesn't hang right on its hinges.
Have you had trouble getting your door to fit in the frame, or does the way it hangs make it hard to open, close, and lock securely?
This can be a safety concern as well as an inconvenience. If the door is not made to fit properly, consider hiring a professional remodeler that will measure and custom fit your new door to the opening, eliminating large gaps to fill in.
4. Your door looks bad and is worn out.
Are the scratches at the base of your front door from a beloved family pet who passed on years ago? You're used to how your doors look, but if installing new doors would greatly improve the look of your home, it's a worthwhile investment.
It's also one of the ways to add value to your home. Plus, if the door is worn out, it's likely an easy target for intruders, could be letting insects into your home, and could also be the source of a heating/cooling leak.
If any of these things remind you of the doors in your home, it may be time to consider replacement doors. Call Zephyr Thomas today at 717-399-4708 or stop by our office to talk to one of our friendly experts about your replacement door options.