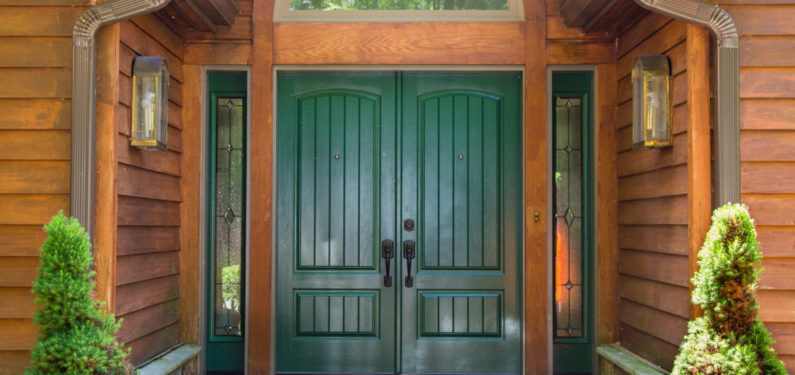 6 Popular Door Style Trends of 2022
Posted on September 8, 2022
Whether you need to replace your door for structural reasons or are looking to upgrade it and increase your home value, there are a lot of options and styles to choose from. If you need to replace your door, here are some popular door style trends of 2022 to inspire you:
1. Unique Design Details
Unique design details can elevate your entry door and are popular door style trends of 2022. Built-in details, like inlaid panels, unique glass panels, geometrics structures, and more, are popular as well as bright colors to help a door stand out. Going bright if you want to experiment or opting for a subtler color to better match your home exterior are some tips for choosing the best front door color.
2. Dutch Doors
Another option is going for a unique door structure. Dutch doors that open at the top and bottom separately are one of the types of doors that is becoming more popular. Although an older door design, dutch doors are making a comeback thanks to the ability to open the top of the door while the bottom stays in place to keep children, dogs, and other pets inside. They can also be useful for letting in some air on a nice day and creating some airflow inside your home.
3. More Glass for More Light
Allowing more natural light into your home can help make it feel more open and bright, which is why more glass is showing up in door style trends to provide more light. This trend is showing up in more window options for entry doors like glass panels, transom windows, sidelights, and more to allow more light in without exposing a full view of the inside of the home.
For patio doors or doors where the interior of the home would not be on full display, full glass doors are a popular choice. The view, natural light, and more are some of the benefits of installing sliding glass patio doors.
Check out the Zephyr Thomas team installing side lites to enhance this homeowner's front door!
4. Good Use of Moulding
Another one of the popular door style trends of 2022 is making good use of moulding to add an interesting aesthetic to your new front door. Bold or unique moulding is consistently one of the interior design trends and it's one you can apply to your home exterior too.
In addition to inlaid panels and glass panels, you can also add muntins or moulding to the glass panels in and around your door for an interesting look. Decorative muntins and grid work are some of the window style trends you can apply to the glass panels of your door. Outside of the door itself, you can also get creative with moulding in the door frame to complement your door and enhance the look of your exterior entryway.
5. More Door Options to Make Your Entryway Stand Out
Another one of the popular door style trends of 2022 is to make your entryway stand out and make the front door a focal point for your home. You can do this with design details, but this style trend borders more on going all out with maximalism.
This door style trend is showing up in complete entryway overhauls that feature unique doors that stand out in addition to a lot of details and also construction. For some homes, this could mean upgrading and widening the entryways to make space for a bigger door and bigger impact.
6. Double Doors
When it comes to bigger entryways that make a statement, it's hard to ignore double doors. Instead of sticking with a single entry door, a door style trend gaining in popularity is to go with larger, oversized doors or double doors for the entryway.
Take a look at this french door installation for double doors that let in a lot of light!
Get a New Door That Suits Your Home
There are many reasons to replace your doors and these are just a few popular door style trends of 2022 to inspire you and help you get started with options for your new door. If you need new doors for your home, contact Zephyr Thomas at 717-399-4708 to start your free quote!