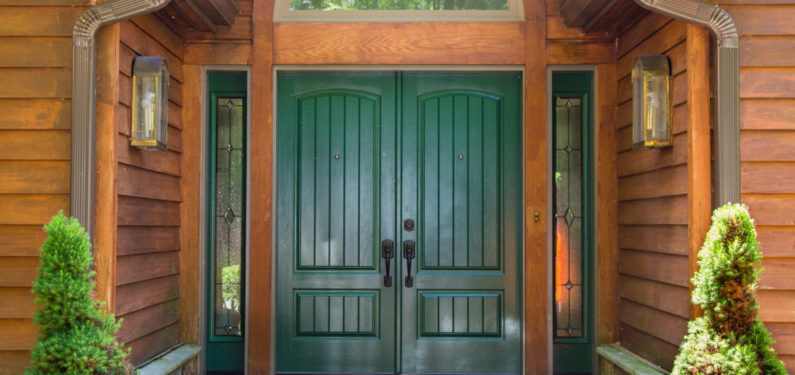 6 Tips for Choosing the Best Front Door Color
Posted on October 15, 2020
Choosing the right color for your front door has a big impact on the curb appeal of your home. There are some specific things you should take into consideration in order to get the color right the first time around. Here are a few tips for choosing the best front door color:
1. Determine Whether You Want Something Subtle or Something That Stands Out
We've all driven by that house that has a loud or vibrant front door color. You noticed it, so it worked! Some homeowners want something that stands out. Your front door is a focal point for your home's exterior. Not only does it welcome you home, but it also welcomes all of your guests into your home.
When choosing the best front door color for your home, you want to give some thought as to whether you want something that is vibrant and stands out or something that is more subtle. Both choices have their benefits, so the best choice for your home will depend on your taste and style as well as the style of your home.
2. Match the Color to the Atmosphere You Want to Create
When you are picking the color of your front door, give some thought to the atmosphere you are trying to create. To some extent, you may want to match the front door color with the energy and feel of the rest of the home – both the interior and the exterior.
For example, brighter tones give a more lively and energetic look while subdued hues may exhibit a more traditional feel. Darker colors can often give off a very formal and stately appearance to the home while lighter hues and pastel colors tend to give off a lighter, more playful vibe.
3. Stick With Classic, Timeless Colors if You're Unsure
If you're not sure what you want, classic and timeless colors are a safe choice. If you are having trouble deciding on a front door color, going with browns, blacks, grays, deep reds, navy blues, etc., is a good way to make sure that you have a beautifully finished front door that is easy to match with other colors and incorporate within your seasonal outdoor decorations.
Check out how these homeowners improved their home's exterior by replacing their front door with an upgraded version. They went with a classic, timeless color on their new front door that helped create an elegant and welcoming look.

4. Go Bright if You Want to Experiment
If you want to experiment with bright colors in your home, but you don't want to overhaul your decor or make a larger, more permanent commitment, it's a great idea to experiment with the front door. Painting the door a bright color is one of the fun front door decor ideas to explore. The front door is a smaller area and it's less of a commitment, which allows you to experiment and play with some color to see what you like!
5. Make Sure it Complements Your Home
An outdated door that doesn't match your home is one of the reasons to replace your doors. Before you select a color for your front door, you will want to take into consideration the existing colors around the exterior of your home as well as the style of your home. Certain colors will go better with certain home styles.
You want to make sure that the color you choose for the front door will complement the rest of the home rather than detract from the exterior design, your outdoor decor, or even the interior aesthetics of the home. Even if you choose a color that stands out, your front door should not look out of place or like an afterthought. This will help keep your new door in line with curb appeal trends and not something that hurts your home's exterior look.
6. Don't Forget About the Trim or the Storm Door
The front door trim is another opportunity for paint. White trim is a classic choice. But, dark, rich tones can offer a nice contrast. The color you choose for the front door trim can help create the atmosphere you want and it will also help your new front door stand out. Plus, unique design details are popular door style trends.
Protecting the entry door is just one of the benefits of installing storm doors. In addition to added protection and security, a storm door or screen door frame also offers another opportunity for the paint to match the front door color or to experiment with contrast for an interesting look.
There are a lot of things to consider when replacing your front door and the color is just one of them. But, with these tips for choosing the best front door color, you can help improve the curb appeal of your home. If your home needs replacement doors, give us a call at 717-399-4708 or make an appointment to visit our showroom for some in-person inspiration!