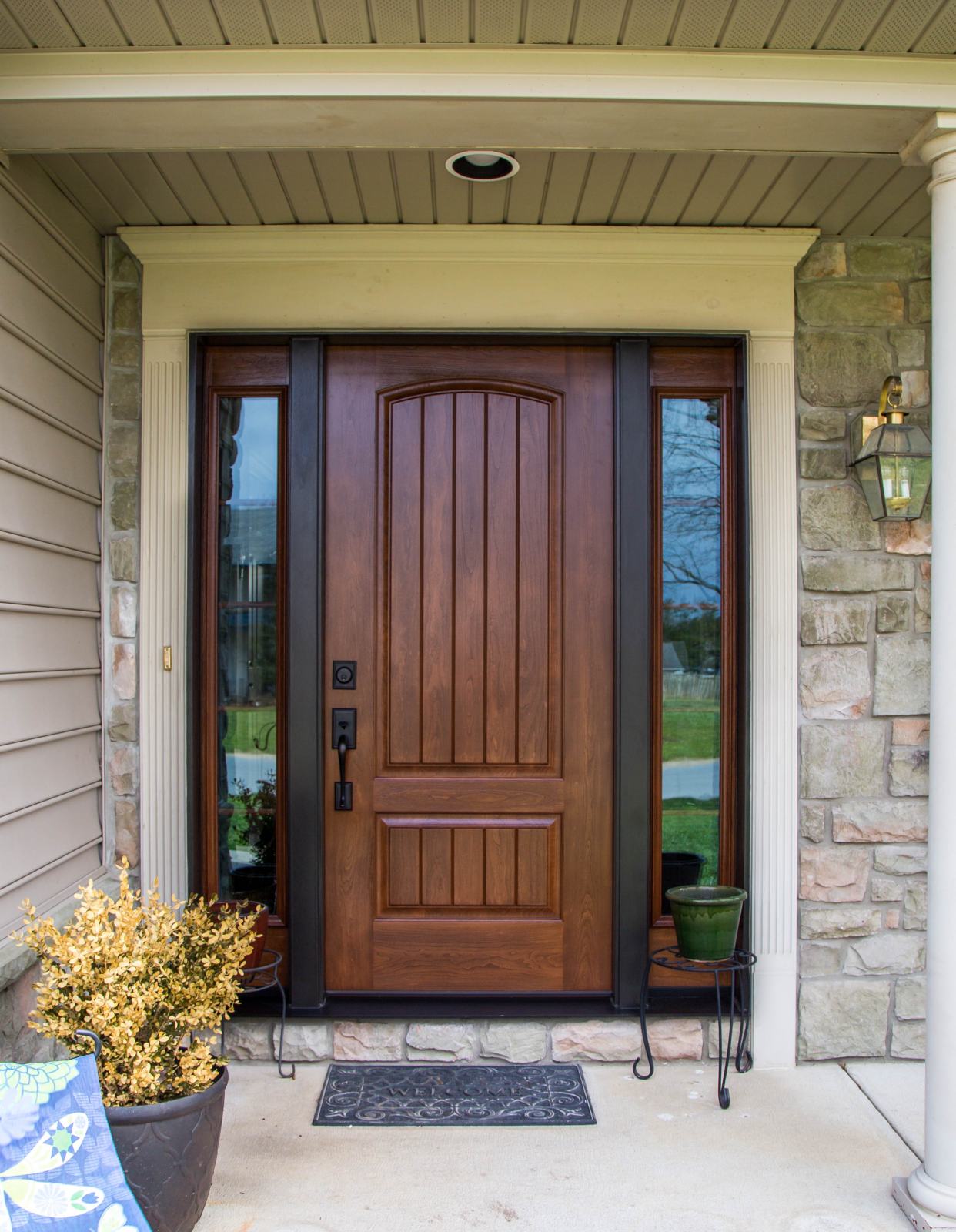 8 Front Door Decor Ideas
Posted on November 11, 2021
Your front door welcomes you and your guest into your home. It has a big effect on the curb appeal of your home, the energy efficiency of your home, and more. Whether upgrading your entry door entirely or just redecorating for the season, there are a lot of ways to improve the look of your front door. Here are a few front door decor ideas to inspire you:
1. Paint Your Door a New Color
If your door is in good shape, one of the most impactful front door decor ideas is to paint it a new color. You can go with something bright and bold or just something that is new to your home.
Often, a new color can make a big difference for your home, so it's important to get it right. Making sure the new color complements your home is one of the most important tips for choosing the best front door color.
2. Hang a Wreath on it
A wreath is a classic element of front door decor. It's also one of the most versatile and flexible front door decor ideas. Although you can always stick with a traditional wreath for Christmas home decor, you can also make a wreath out of almost anything and to fit any season.
Seasonal flowers and plants can make a great wreath for your front door. You can also get more creative and opt for pieces that use interesting items, like a monogram, wood cutouts, and more.
3. Put up a Basket
Hanging a wreath is one easy way to add some decor to your front door. Putting up a basket full of flowers is another easy addition. Plus, the basket can be just about anything. You can hang a standard wicker basket with a flat back so it lays nicely against your door or you can choose something more interesting, like a watering can, a rain boot, or something else.
4. Use a Decorative Address Plaque
A decorative address plaque is an easy addition above your front door, on it, or to the side of it. In addition to providing some stylistic flair to your entryway, there are also a lot of options available to help match the style of your home. You can also opt for something custom if you want a particular style, color, look, size, etc.
5. Opt for a Stylish Door Knocker
If you're interested in more subtle front door decor, turn your attention to your door knocker. A fun way to update your front door decor and upgrade your entryway's look can be to update your door knocker with something more stylish and ornate. It's a little change that can stand out and make a bigger impact on your front door than you think.
6. Place Something on the Sides
Front door decor can also include the things around the door and the rest of your entryway. An easy way to play around with decor in your entryway is to place something beside your door or on both sides of your door.
You can place planters with interesting plants on either side of the door for a symmetrical look. Another option is to create a full display that you can change for the season. A simple idea is to place a tall, welcoming sign on one side to add a little style and personality that's easy to change or remove.
7. Don't Underestimate a Doormat
Although it's not attached to the door itself, a doormat can still have an impact on your front door decor. A monogrammed doormat can be an elegant option. You can also add some personality by opting for something funny, cute, etc. Another option is to keep it simple and pick a doormat in a material or color that complements any other decor you have.
8. Upgrade Your Entry Door
If your front door is damaged, it needs to be replaced. If it's outdated or you just don't like it, you can opt to replace it with an upgraded entry door that you love. Material, color, style, etc. are just a few things to consider when replacing your front door.
In addition to a new color or style, you can also upgrade your front door to have different shapes and styles of windows. Not only does this allow for some natural light to enter your entryway, but it can also improve the look of your front door. Glass panels, sidelights, and more are all window options for entry doors that can enhance your front door and improve your home's curb appeal.
These are just a few front door decor ideas to inspire you as you think about decorations and options for your own. If you need to replace your entry door or are interested in upgrading it, contact Zephyr Thomas at 717-399-4708 to start a free quote!
Check out the Zephyr Thomas team replacing the entry door for this homeowner!