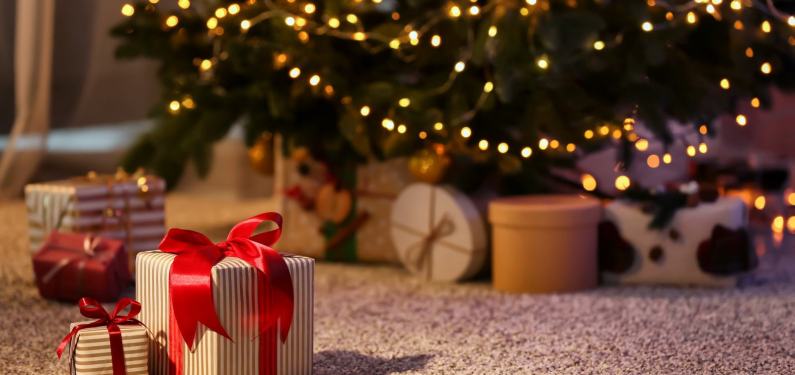 7 Christmas Home Decor Ideas
Posted on December 3, 2020
Decorating for the holidays is a great way to bring your home to life in a new way during certain seasons of the year. Holiday decorations help create a great, festive atmosphere. And, involving the whole family can turn the work of decorating into an enjoyable experience. Sometimes, it's hard to find inspiration, narrow down your ideas, or bring your inspiration to life. Here are a few Christmas home decor ideas to inspire you and will help to transform your home for the upcoming holiday season:
1. Make Your Christmas Tree a Focal Point
Whether you choose a real or artificial Christmas tree to place in your home, there is hardly a better choice when it comes to choosing a focal point for your holiday decorations. Your Christmas tree can help to set the tone for your other Christmas decorations by becoming a central piece in one of the most-used rooms in your home.
You could go with a specific theme or style when you decorate your tree that you can build off of and continue throughout the rest of the room or your home. Christmas trees are a fantastic blank canvas that will allow you to change your decorations from year to year and ensure that you have holiday decor that is trendy, current, and attractive.
2. Hang a Christmas Wreath on the Front Door
Seasonal wreaths are popular decor items for the front door of a home for various seasons, which is why they are one of the fun front door decor ideas. But, perhaps, none are more popular than Christmas wreaths. A Christmas wreath on the front door of your home helps to increase your house's curb appeal and also sets a festive tone and creates a great first impression for guests.
Decorating your front door is one of the easier winter decorating ideas to do and is a traditional Christmas home decor idea. An evergreen, holly, or ribbon wreath is a classic choice for a Christmas wreath, but you can also get creative and go with something a little different. Baskets, a winter-themed sign, a wreath made of small fake presents, and more can all help you decorate for your front door.
3. Wrap Your Railings
Wrapping your railings with holiday-themed decor such as garland, ribbon or even wrapping paper is a great way to use otherwise-unused space in the home for holiday decorations. Wrapping interior railings will help to serve as an accent to your other holiday decor.
You can also wrap exterior railings along porches, stairs, or walkways with weather-proof garland or strings of lights. This will complement a festive holiday wreath and also increase the curb appeal of your home.
4. Put up Stylish Stockings
Stockings are a Christmas staple and you can hang them almost anywhere. The fireplace mantel is a common traditional place for stockings. But, you can get creative with placement and with the fabric you choose for a unique twist on classic Christmas decor.
Staircase railings and windows are alternative options to the fireplace mantel for hanging Christmas stockings. If an otherwise plain-looking wall needs some sprucing up, temporary adhesive hangers can provide a great method to hang stockings and add some color and holiday spirit to the room.
5. Create Your Own Advent Calendar
Advent calendars can be more than chocolate or toys; they can be decor too. An advent calendar-style board can display Christmas trinkets, other small decorations, or pictures for an interesting piece of Christmas home decor.
You can place the Advent calendar on the fireplace mantel, hang it on the wall, or include it in a larger holiday display. In addition to still being fun for adults, advent calendars are also a great, interactive way to get children or grandchildren involved and excited about the holiday season.
6. Put Together a Classic Hot Cocoa Bar
Hot cocoa, apple cider, and tea are classic Christmas drinks. A Christmas-themed hot cocoa bar in your kitchen can be Christmas home decor that is functional too. And, if you like having a dedicated drink area in your kitchen after you've tried it, you can keep it around for everyday use and redecorate the area to fit the seasons and for other holidays.
7. Decorate with Christmas or Winter-Themed Antiques
Vintage decor is a popular trend even outside of the holiday season. Depending on the style and interior design of your home, incorporating Christmas or winter-themed antiques in your holiday decor is a great way to customize your seasonal decorations and take them to the next level.
Things such as antique runner sleds, toboggans, or even small sleighs are great options. Other smaller options like vintage hand-knitted hats, scarves, or gloves can be displayed in much the same way as Christmas stockings and create a great holiday aesthetic in your home.
These are just a few Christmas home decor ideas to help inspire you. There is hardly a better way to get in the mood for the holiday season than transforming your home's atmosphere with some simple holiday decor ideas. Let your creativity flow this holiday season. Once you get started, you will undoubtedly come up with some other great ideas and items to incorporate into your decorating this season.
As you're decorating, if you are inspired to tackle a new home improvement project, give one of our experienced reps a call at 717-399-4708 to discuss your next home improvement project and get a free quote for it!