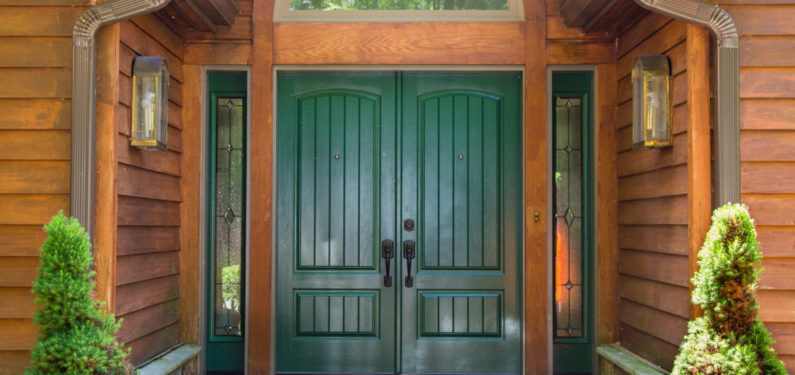 4 Things to Consider When Replacing Your Front Door
Posted on June 10, 2021
There are many reasons to replace your front door. It could be scratched up or damaged to the point that it's hurting your curb appeal, maybe it was poorly installed and doesn't hang right on its hinges, maybe it's drafty, or something else. Whatever the problem is, choosing a new entry door to replace your current one is an important decision, and there several things to consider. Here's what to consider when replacing your front door:
1. Think About the Material
The material of your door makes a big difference in performance. Fiberglass and steel are the most widely available and reliable options in front doors. In fact, they are considered the best types of entry doors.
These doors are highly durable and will not rust. These are just a few of the many benefits of fiberglass entry doors and steel doors. Plus, they come in a wide variety of finishes, colors, and more so you can get the look you want and all of the advantages these materials provide too.
2. Consider the Quality of the Door
The quality of the door is essential to consider when replacing your front door. There are many types of doors available and you want to make sure you are getting a high-quality door that will perform and protect your home as expected. Inexpensive, thinner fiberglass doors may crack, and not all steel doors are made the same.
Make sure you are getting a door that is at least 20-gauge thickness and that it is properly installed. Thinner doors may show wear and tear, won't insulate your home as well as thicker doors, and may be prone to cracks or damage. Plus, they won't be as energy-efficient.
3. Check Out Energy-Efficient Upgrades
Fiberglass and steel doors are impervious to moisture and are airtight when they are installed properly. This makes them a great energy-saver. On top of that, there are other energy-efficient door options and upgrades to consider that can take your new entry door to the next level.
4. Look for Flexibility and Customization
Another thing to consider when replacing your front door is the amount of flexibility and customization available. You need a door that performs well, but you also need it to fit in with the style and design of your home.
Matching the color or finish of the door to the atmosphere you want to create and the style of your home is one of the tips for choosing the best front door color. Fiberglass and steel are flexible materials with a lot of options for customization.
You can get a finish that looks just like wood or in a color that goes with the color scheme of your home. There are also window options for entry doors available to add light and color to your foyer or entryway. Also, these doors are available in varying heights to help you get exactly the look you want and the function you need.
Check out the Zephyr Thomas team installing a new front door for this homeowner!

There are many reasons to replace your doors and these are just a few things to consider when replacing your front door. Call Zephyr Thomas at 717-399-4708 to start a free quote on your replacement doors today or visit our showroom to see some door options in person!