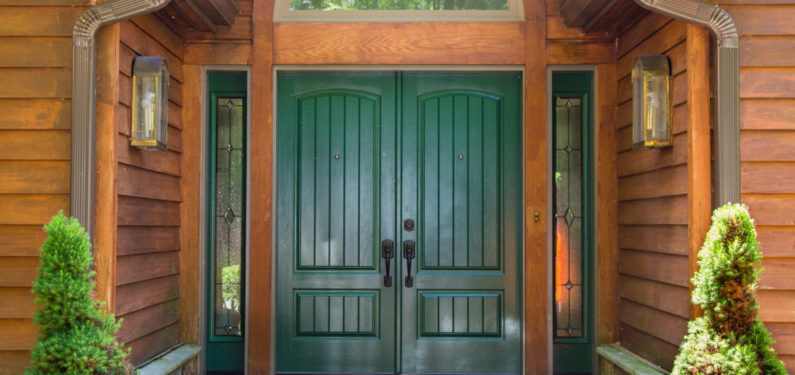 5 Popular Entryway Decor Trends
Posted on February 25, 2021
The curb appeal of your home is important. After all, it is the first thing that people will see – even those who aren't your house guests. However, it's important to remember that your home's entryway holds equal importance when it comes to a guest's first impression of the house. Here are some popular entryway decor trends for some added inspiration as you go about sprucing up this space in your house:
1. Combining Beauty and Functionality
The entryway of your home serves a purpose. Not only is it one of the first areas of the house that guests will see, but it also needs to be functional.
When choosing entryway decor, such as furniture pieces, consider both the aesthetics and the functionality of each piece. A piece of decor that is beautiful, but only serves to make the area less efficient might not be the right fit for an entryway.
When choosing things like coat racks, hall trees, shoe bins, accent items, and even lighting, consider how these pieces will work with the rest of the decor in your home. In addition, consider the purpose they will serve and how they will add to, or detract from, the functionality of your entryway.
2. Opting for Eye-Catching Front Doors
An eye-catching and unique front door design or color scheme can serve as a statement piece in a home. When picking a front door design, be sure to opt for something that will look good from both the outside and inside of your home.
Front doors with etched or frosted glass panes accomplish this nicely. If you are looking for something a little more unique, an arched front door can provide some added aesthetic appeal.
A pop of color can also make your front door stand out. One of the biggest tips for choosing the best front door color is to make sure it complements your home.
3. Adding Built-in Storage
Finding creative ways to incorporate built-in storage in your home's entryway is a great way to increase efficiency and capitalize on otherwise unused space. Built-in storage could come in the form of cabinets installed under a stairway or a built-in cubby with spaces for bins that hold shoes, handbags, hats, gloves, etc. These are also all things you can do when your home has no closets to add more storage where you need it.
A custom, built-in bench seat with a storage compartment underneath it is a great option if you are looking for a way to create additional storage that is out of sight. A bench in the entryway also provides a useful place to put on and take off shoes. Thinking about how to prepare your home for holiday guests can be an easy trick to get you thinking about how much storage you need and where you could add it into your entryway.
4. Making Your Entryway a Mudroom
Another on the popular entryway decore trends is making your entryway a mudroom. Homes that are equipped with mudrooms are noticeably easier to keep clean and tidy.
Mudrooms are the kind of place that can keep both dirt and clutter out of the home by creating a designated area for shoes, coats, hats, and other items to be stored. This is often one of the top reasons to add a mudroom to your home.
Even if you don't want to add a mudroom, you can still take some inspiration from them to improve your entryway. When looking to make your entryway more efficient and functional, consider incorporating some of the elements and materials of the best mudrooms into your new entryway layout and design.
Things like a durable, easy-to-clean, and waterproof flooring option, built-in storage, and even a closet with sufficient racks or shelving installed in it can all help you create the perfect entryway.
5. Personal Touches
When putting the finishing touches on your entryway's decor, don't forget to personalize the space. Personal touches are one of the popular entryway decor trends and can help add a unique touch to your entryway.
A chalkboard is a good way to add some flair to the entryway and can be a useful and practical tool for communicating and getting messages and reminders to the family. You can also decorate with an eye-popping color or put down a statement rug.
Large, framed photos or canvas prints of the family are also popular and commonly displayed items in the entryway. If you are looking for something a little different, a portrait of a past or current family pet can serve as a conversation piece when guests enter your home.
If you enjoy art, your home's entryway can be one of the best places to display your favorite pieces. Not only do you get to see them first thing when you come home, but they are also guaranteed to get noticed by your guests while also making a statement.
Your home's entryway is an important space in terms of both aesthetic impact and functionality. These popular entryway decor trends could inspire you as you decorate, or redecorate, this area of your home.
Functional and vibrant entryways that offer convenience and a good first impression of a house's interior are something that every home owner can benefit from. If redecorating inspires your next home improvement project, give Zephyr Thomas a call at (717) 399-4708 to start the conversation and get a free quote.