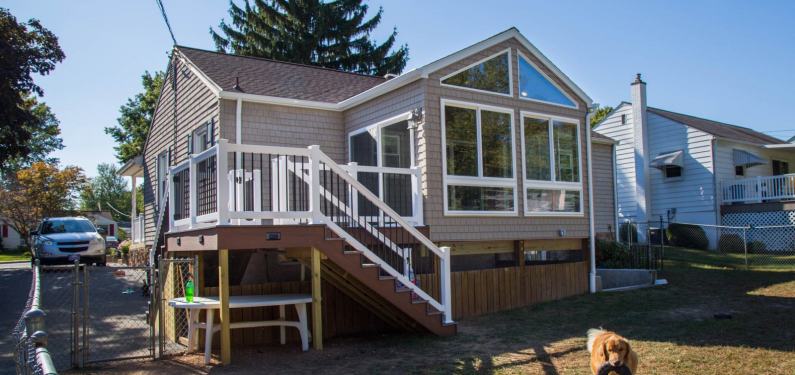 8 Home Renovation Trends of 2023
Posted on April 6, 2023
One of the more rewarding things about being a homeowner is implementing renovations to improve your home. Any changes like remodeling a kitchen or bathroom, updating flooring, or even adding a fence all improve the value of your home. So what are the most common renovations that are popular this year? Here are a few home renovation trends of 2023:
1. Implementing Energy-Efficient Upgrades
One of the most popular renovation trends that we will see in 2023 is implementing energy-efficient upgrades. As energy costs rise, homeowners are looking for ways to save money in the long run.
A few tips to make your home more energy efficient include upgraded HVAC systems, better insulation, and solar power. For something a little easier, you can simply upgrade appliances to a more energy-efficient model. Low-flush toilets are also a good energy-efficient option to save water.
Bigger home renovations can also make a big difference in energy efficiency. Outdated or damaged windows, doors, siding, and more are all ways you might be losing money on your energy bills.
Replacing windows, doors, and siding when needed or upgrading them to take advantage of new materials and technologies can help you insulate your home better, make it more comfortable, and improve energy efficiency while also increasing your home value.
Take a look at the Zephyr Thomas team installing new windows for this homeowner!
2. Checking Projects Off the Repair List
Are there any areas of your home that you've been meaning to repair but just kept pushing off? Now is the time to get those projects done. Putting off necessary repairs is one of the home maintenance mistakes to stop making. This is also why checking projects off the repair list is always a home renovation trend.
When it comes to prioritizing home remodeling projects, major repairs usually take priority, especially if not addressing them results in energy loss, potential water damage, etc. But, even minor repairs can add to the overall quality of your home. Simple things such as repairing flooring, trim, or even windows can do wonders for making your home feel more comfortable.
3. Upgrading the Bathroom
There are a few ways a bathroom remodel adds value to your home. Start by focusing on the practical and functional use of your bathroom. If your bathroom is mostly in good working order, you can do a few upgrades by changing countertops, hardware, or faucets.
For a more involved bathroom remodel, you can consider options of adding more square footage to your bathroom, completely redoing a shower or bathtub, or adding more storage. Upgrading the bathroom is a great way to boost your home value.
Check out this video of the Zephyr Thomas team remodeling a bathroom!
4. Improving the Kitchen
The kitchen is another high-traffic area that is often in need of upgrades. Focus on practical upgrades that add value to your home. This could mean replacing cabinets or countertops or updating the flooring.
A popular trend in kitchen remodeling right now is built-in appliances, like dishwashers and refrigerators that blend in with the surrounding cabinetry. This is also a great time to add more storage if you need it. You can ask for a butler pantry or simply add a few more cabinets to accommodate your needs.
5. Rethinking Interior Rooms
Not prioritizing function is one of the home decor mistakes to avoid and can be one of the reasons for remodeling down the road. This is why another popular home renovation trend is to rethink the rooms in your house. Do you have a room that is empty and not in use?
This could be a home office. A home office is a great addition to your home, even if you don't work from home. It's a great place to store family documents and can just be a nice space to study, read, or catch up on work at home if need be.
Do you have rooms that just don't work, a wall in the way, or a clunky layout? One of the home renovation trends that continues to be popular is to rethink interior rooms to increase comfort and to overhaul layouts that don't work by remodeling them into layouts that do. This is also a great way to add more space to your home.
If your basement isn't finished, this is a great upgrade to do as well and is the best way to warm up a cold basement. Even if your basement is finished but is in need of remodeling, implementing these changes is great for your home value. An extra family room, home gym, guest room, or a combination of any of these options are popular basement remodeling trends.
Zephyr Thomas can help you complete exterior and interior home improvements all around your home!
6. Adding a Mudroom
A mudroom is a very practical addition to a home. It's great as a catch-all space and can offer extra storage as well. Mudrooms are especially nice to store shoes, winter jackets, and other seasonal clothing, and even can be your laundry space. It can help keep your home clean, which is a great reason to add a mudroom to your home.
7. Maximizing Outdoor Spaces
More and more people are opting to maximize their outdoor spaces. Creating a space where indoor and outdoor living can transition well can make your home feel bigger and more open. This could mean upgrading your deck or a patio, which is one of the best outdoor home improvement projects for spring. These spaces can be designed to accommodate entertaining spaces or even outdoor kitchens.
Another worthwhile investment in your yard is doing some landscaping. Simply adding some nice outdoor features will make your yard feel more put together, which will encourage you to spend more time outside. A fence is also a good addition to your yard and there are many reasons to add a fence. Fences are great for keeping unwanted guests off of your property but they are also helpful if you have children or pets.
Take a look at the Zephyr Thomas team maximizing and improving outdoor spaces for this homeowner by adding a ramp!
8. Including Decorative Exterior Details
Upgrading your exterior is also one of the popular home renovation trends for 2023. If you feel like the outside of your home looks dull, consider updating your siding. It's also a good idea to check your windows and window frames for any leaks, and if there are any, upgrade those as well. If you want something simple, you can change your exterior window trim style or color, opt for new window frame colors, add shutters, and more.
Installing a new door is also a great option. New doors can help with heating and cooling loss and can be a fun statement for your home. Your new door could even come with fun embellishments like a stained glass window insert or could just add a fun pop of color to your home exterior.
Check out the new door, complete with side lites and other window options for entry doors, Zephyr Thomas installed for this homeowner!
Improve Your Home With Zephyr Thomas
These are just a few home renovation trends of 2023. Juggling multiple home improvement projects can sound like an overwhelming task, but Zephyr Thoms is here to help ease some of that stress! If you're considering starting a home improvement project, call us at 717-399-4708 for a free consultation.