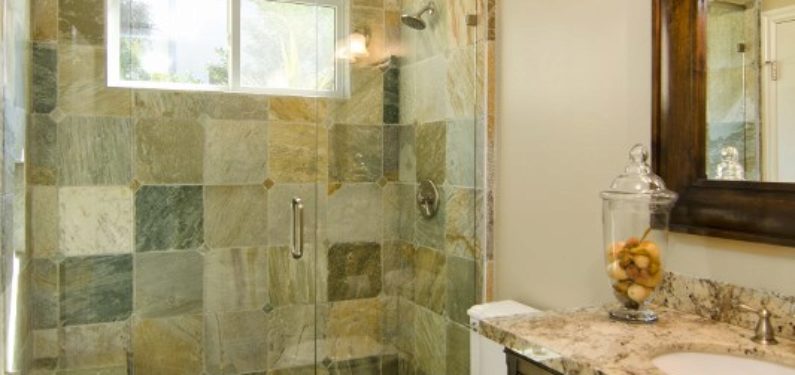 9 Popular Bathroom Design Trends for 2023
Posted on December 24, 2020
If you are thinking about updating or improving part of your home in 2023, a bathroom remodel or addition is a great choice. Bathroom remodeling remains one of the most popular types of home improvement projects. They don't tend to be extensive in scale, and their timelines tend to create minimal disruption in the home. If you are considering a bathroom remodel or addition, here are some bathroom design trends for 2023 to inspire you:
1. Glass Showers
Glass showers aren't a new concept. But, they are ever-increasing in popularity, especially with homeowners who want an ultra-modern, clean, and minimalist look from their new bathroom design.
The transparency of a glass shower helps to display custom tiling in the shower stall and transforms the shower from a simple utility item into a focal point of the bathroom design. Plus, there are several types of shower glass that can further elevate the look and feel of your new bathroom.
2. Geometric and Patterned Tiles
Custom tiling is most commonly found in the shower, but it is also showing up on tiled walls or floors. Creating a mosaic or using interesting shapes are popular bathroom flooring ideas. Tiling throughout the bathroom provides a way to accent a wall with hexagons, bricks, chevron shapes, etc.
Geometric and patterned tiles like this continue to be one of the bathroom design trends for 2023. And, using custom tile throughout the bathroom in smart ways is a great option if you wish to bring your bathroom walls or floors to life in a unique way. Plus, updating the flooring and walls is one of the best ways to update a bathroom.
3. White Marble
White marble is a popular material that is used commonly for bathroom countertops. However, it is also showing up in floors and on walls. Another popular method when it comes to incorporating the color and texture of marble in a bathroom design is to combine it with more contemporary materials, or even natural materials like wood, stone, or metal.
4. Chic Terrazzo
Terrazzo is a versatile material that features a fun pattern without overwhelming a room. Terrazzo tiles on the walls or floor can be a way to elevate the look and feel of your bathroom with a chic pattern with a retro vibe.
You can also play with how you use terrazzo; in addition to placement, the shape and style of the tile can provide different looks, textures, and depths. Plus, it fits in with several design themes and palettes. You can use terrazzo to create a bold look in the bathroom or as a subtle statement that doesn't overwhelm a neutral palette.
5. Elegant Bathtubs
Although walk-in showers tend to be more popular than shower/tub combinations or just a bathtub, having both a walk-in shower and a freestanding tub is a luxurious bathroom design trend and is one of the bathroom design ideas inspired by hotels and spas. Elegant freestanding tubs are a design focal point for the bathroom that also adds function.
A wide variety of styles, colors, forms, and types of bathtubs are popular, but oval-shaped bathtubs and custom, one-of-a-kind bathtubs are taking the top spot for 2023. Non-traditional colors and materials also continue to be on-trend for 2023. Bathtubs made of marble, stone, or wood, and even black matte finish tubs, are popular choices.
6. Creative Sinks
Contemporary sinks using unconventional materials, stunning finishes, and unique silhouettes are one of the bathroom design trends for 2023. One of the most popular options is a round sink that is colorful and has a matte finish for a graceful, elegant look. Considering details like shape, size, and color can help you choose the best vanity for your bathroom remodel.
Colorful sinks are also popping up in this trend. Getting creative with your bathroom sink can enhance your bathroom design, but getting wrong can create issues with function and flow and is one of the bathroom remodeling mistakes to avoid.
7. Muted Colors
Whites, grays, and neutrals are traditionally popular bathroom colors. They are still popular, but other muted colors are also gaining popularity as a trend. Consider colors such as mint, sage green, dusty rose, ocean blue, midnight blue, terracotta, organic red, and hazelnut for a trendy look in 2023.
These colors are frequently showing up as colorful accents, incorporated throughout walls, and used in other decor items. They also provide a great option to be used as a statement wall or an accent wall in your new bathroom design.
8. Bold Colors
Muted colors are a popular bathroom design trend and so are bold colors on the other end of the spectrum. Bold colors are popping up in bathroom designs as accents and also in bold tile on the walls or in the shower as statements and focal points.
9. Spa-Inspired Elements
Another one of the bathroom design trends for 2023 is to treat the bathroom like a wellness retreat in your home. This results in many spa-inspired elements popping up and being reworked for residential bathrooms.
There are many tips to turn your bathroom into a home spa and several options available, so you can mix and match, go small or big, and more to get the look and feel you want. From heated floors and towel racks to upgrading a walk-in shower or opting for a custom bathtub and more, there are plenty of ways to incorporate some luxurious relaxation into your bathroom renovation.
Work With Zephyr Thomas on Your Next Bathroom Remodel
You can remodel a bathroom at any time of the year, but getting a headstart on trends is one of the reasons why winter is a great time to remodel your bathroom. These are just a few of the bathroom design trends for 2023 to inspire you.
If you're not sure what you want, they can be a great place to start for inspiration. Your choices for your new bathroom design will be impacted by how you want the room to function and also by your personal preferences and aesthetic tastes.
If you are struggling with some of these decisions, it's a great idea to consult with an experienced home improvement contractor about the various materials, colors, and layout options that are available to you. The right partner for your project can walk you through the options and help you choose the ones that fit your needs and style the best.
If you're ready to talk about your bathroom remodeling project, give one of our experienced home improvement reps a call at 717-399-4708 to start a free quote!
Take a look at our team transforming this space to create a master bathroom addition!