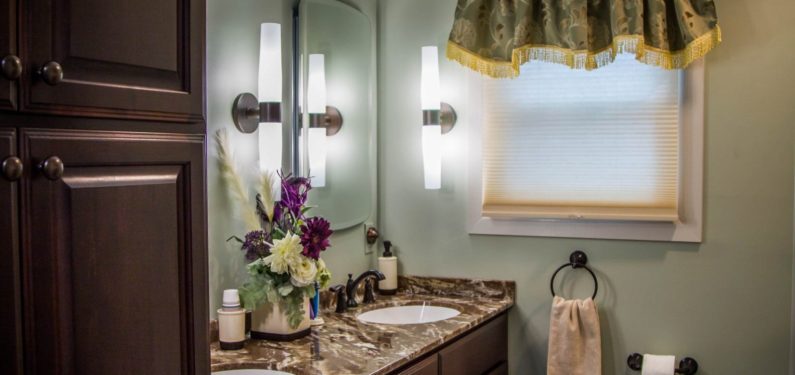 How to Choose the Best Vanity For Your Bathroom Remodel
Posted on May 11, 2023
If you're thinking about remodeling a bathroom, there are a few choices you'll need to make. You need to pick the right flooring, the right shower or bathtub, the right color scheme, and more. But it's also important to consider the type of vanity for the bathroom. Here's how to choose the best vanity for your bathroom remodel:
1. Think About Who Will be Using the Vanity
Think about the type of bathroom and who will be using it. Are you simply remodeling a half bath or is this bathroom one that is used by your whole family? If this bathroom is used by many members of your family, you probably want a larger vanity with double sinks.
This will make morning routines of brushing teeth and other hygiene routines much easier with extra space and extra sinks. This is also why opting for a larger, double vanity in shared bathrooms is one of the best ways to update a bathroom.
However, a half bath can get away with a much smaller vanity to save space in other areas. Or, if you live alone and don't share a bathroom with anyone else, even your ensuite bathroom may not need an extra large vanity. However, if you're someone who prefers the space for storage, you might want to go with a larger vanity. On the other hand, an open vanity and a lower counter height can help make your bathroom more accessible.
2. Consider the Location of the Plumbing Lines
Upgrading the vanity is one of the popular bathroom remodeling ideas, but your plumbing lines may dictate where your bathroom vanity can go and affect things like size, features, etc. It can be expensive to change plumbing lines so it's cheaper to stick with the already existing lines if you don't need to move them. It's not impossible to move plumbing lines, but it is a cost to keep in mind.
Plumbing lines will also have a say in what style of vanity you choose. For example, a floor-mounted vanity works easily with the already existing plumbing lines. But if you want a wall-mounted vanity, your plumbing lines may need to be moved to accommodate.
3. Pick the Placement
Before choosing your vanity, you need to choose where it will go. Plumbing lines will dictate some of that, but you still need to think about the layout of the room and what makes sense. It might take some trial and error with a walk-through of your bathroom to determine the flow of traffic.
Will the door hit the vanity when opening? Will it make a certain area of the bathroom cramped? Getting creative with doors, opting for a double vanity, and other bathroom design ideas inspired by hotels can offer some solutions to problems you might run into. The walk-through of your bathroom to determine the flow of traffic to see what placement makes the most sense for your space will also help you pick up the size of the vanity you want.
3. Decide How Much Storage You Want
One of the most important things to consider when remodeling your bathroom is how much storage you want. Vanities make an excellent storage option, so it's important to know how much storage you want when choosing a vanity. Depending on how much room you have and how much you want to store, you might need to make some compromises.
Opting for more storage in a vanity can be a good solution if your home has no closets in or near the bathroom. It might be tough to fit a double vanity sink with three columns of drawers or cabinets. It might take some mixing and matching to get the right layout for your needs. Don't forget drawers and cabinet doors also take up space. This needs to be factored into vanity placement as well.
5. Choose the Sink and Materials
There are so many options of sinks and materials to choose from and it can be overwhelming to narrow it down. Although getting creative with the sink is a bathroom design trend, you don't want to sacrifice comfort, function, or convenience.
When choosing a sink, it's important to keep in mind how much counter space you want. Smaller, under-mounted sinks will offer you the most space, while vessel sinks tend to offer less counter space.
It's also important to consider the materials used. Not choosing the right materials is one of the common bathroom remodeling mistakes to avoid. You want materials that will withstand heat and humidity to prevent rot.
You also want to take into consideration how hard the bathroom will be used. If it's a family bathroom, choose materials that can withstand a lot of wear and tear. There are many different options available, from natural stone or quartz, that will be able to hold up in the bathroom as well as look beautiful.
6. Figure Out Other Features
The best vanity for your bathroom remodel is likely going to include more than the sink, counter, cabinet storage, etc. You'll also want to think about other features that are either connected to the vanity or will be installed nearby to help you use it.
Bathroom vanities and mirrors tend to go together, so you'll want to think about what type of mirror you want to mount above the vanity. What you want here may also affect decisions you make regarding vanity size, configuration, placement, etc.
The lighting in your bathroom is also important. There are several bathroom lighting options available and you'll want to implement a good mix of overall and task lighting in your bathroom to illuminate smaller areas that you need to use. In addition to overhead lighting, you'll also want to consider lights around your vanity.
These are just a few tips for how to choose the best vanity for your bathroom remodel. If you're ready to start on your next home improvement project, contact Zephyr Thomas at 717-399-4708 to start a free quote!
Take a look at the video below to see the Zephyr Thomas team remodeling a small bathroom for this homeowner!