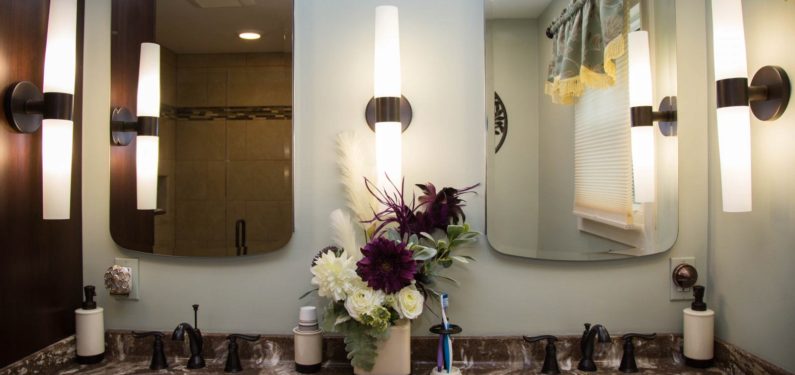 6 Bathroom Lighting Options
Posted on December 20, 2018
Depending on how you design and decorate your bathroom, it can simply be a room where you get ready or it can be a spa-like escape in your home. No matter what style and amenities you prefer, the lighting you use in your bathroom can make a big difference. Here are a few bathroom lighting options to inspire you:
1. Skylight
A skylight, or two, is a great way to add some natural light to your bathroom without having to worry about privacy. They are also highly customizable, so you can get exactly the look and function you want. You can add blinds that allow you to control the amount of light. Skylights can also be opened manually or automatically to add air flow to the room.
2. Sun Tunnel
Sun tunnels are a type of skylight that uses a reflective tunnel to allow light to enter a room. They can illuminate a room with natural light without exposing a view to the outside. You can use one for a spotlight effect or install multiple sun tunnels for full room coverage.
3. Recessed Lighting
Recessed lighting is a great way to light up a room without having lighting fixtures that take up space. Recessed lights, also called can lights, spotlights, or high hats, are built into a ceiling and can be used to illuminate a specific space or a whole room.
Recessed lights are available in waterproof options, which makes them one of the shower lighting ideas. They are a great bathroom lighting option for adding some light to shower stalls, walk-in shower units, or above bathtubs.
4. Textured Glass Window
Another way to add some light to your bathroom is to include a window. Privacy can be a concern with bathroom windows, but using textured glass or tinted glass can provide privacy while still allowing light to enter through the window. It's not usually recommended for a window to be the only bathroom lighting option you use, but it can be a great addition to your bathroom design.
5. Wall Sconces
Wall sconces can add some light to your bathroom while also adding an elegant touch to your decor. Plus, there are a ton of options available, so you're bound to find sconces that fit your style. Wall sconces can be placed next to mirrors to add some extra light, above a vanity to illuminate a countertop, or around the bathroom to create a specific look and feel. Just be sure to choose wall sconces that are rated for damp locations to ensure your bathroom lighting fixtures stay functional and looking great.
6. Other Lighting Fixtures
There are a lot of other bathroom lighting options available in varying styles. You can go with standard fixtures attached to a track, pendant lighting hanging from the ceiling, or rope lighting in various areas. You can even move lighting from above the vanity to each side of the mirror to add light in an interesting way. This can also help you figure out details and choose the best vanity for your bathroom remodel.
Getting lighting wrong is one of the bathroom remodeling mistakes. Thankfully, there is no shortage of choices when it comes to bathroom lighting options to help you get it right. Oftentimes, pairing a few different options together helps to create the best result. Your personal taste and style will determine the winning combination of bathroom lighting options for your home.
There is a lot to consider when it comes to bathroom remodeling. Whether you're adding a bathroom to your home or remodeling an existing bathroom, Zephyr Thomas can help! Contact us at 717-399-4708 to talk about your project or stop by our showroom to get inspired!