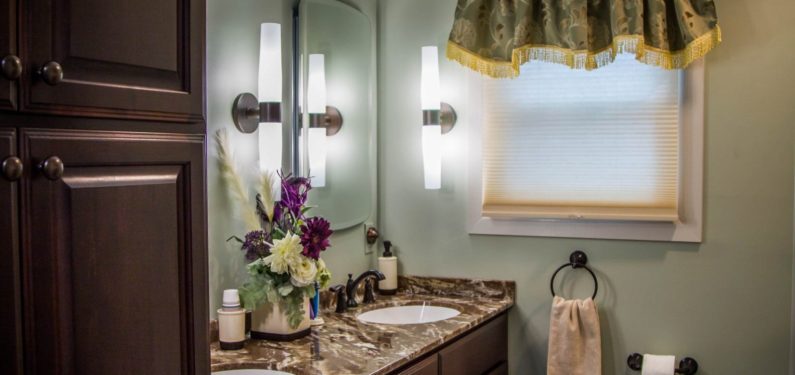 4 Things to Consider When Remodeling Your Bathroom
Posted on August 22, 2019
A bathroom remodeling project is an ideal home improvement project for any homeowner who wants to improve their home and also get a high return on their investment. Not only do updated bathrooms improve the quality of life within the home, but they also tend to increase your home's overall value and appeal to potential buyers. In order to get the best end result possible, there are several necessary considerations when you think about remodeling your bathroom. Here are a few things to consider when remodeling your bathroom:
1. Think About the Type of Sink and Vanity You Want
There isn't a lot of "furniture" in a bathroom, so your sink and vanity will naturally become one of the focal points in the room. Bathrooms that are designed properly avoid making the toilet a prominently placed feature, which will naturally cause the sink and vanity to be one of the more attention-grabbing features.
Since there are so many options available in terms of size, style, and design, this is one of the most important parts of the bathroom to give some additional consideration. The vanity provides potential space for extra storage and the style you choose should match the theme you are choosing for the rest of the room. Thinking about all of these things can help you choose the best vanity for your bathroom remodel.
For example, a Victorian-style vanity placed in a bathroom designed with a modern nautical theme may end up appearing out of place. You also should consider the available space in the bathroom and make sure that the size of the vanity does not restrict the functionality of the room or overpower other design features.
If the bathroom is spacious or connected to a master bedroom, you may want to seriously consider a vanity with double sinks. Not only is this one of the bathroom design ideas inspired by hotels, but this can also be a very useful feature, especially in homes where both spouses may need to get ready at the same time.
2. Do You Want a Walk-In Shower, Bathtub, or Both?
In the case of full bathrooms, you will need to decide what kind of shower or bathtub unit you want to have installed. There are multiple options and types of bathtubs available, with the most common being walk-in showers and shower/bathtub combos. The best way to decide what is right for you is by considering what functionality you want and need.
If you have a young family with children who still take baths, a combo unit or a walk-in shower and freestanding bathtub may be the most practical choice for your bathroom. If you enjoy a nice bath from time to time, you'll need to balance convenience and space to decide whether a combo unit or separate walk-in shower and freestanding tub is the right choice for you.
In bathrooms that have enough space, a walk-in shower can be installed for convenience and a stylish free-standing bathtub added in order to provide an additional bathing option while enhancing the design and decorating theme of the room. Each option offers its own set of benefits.
If you're not particularly fond of soaking in the tub, walk-in shower units offer many benefits and, as such, are a popular choice for many homeowners. If space is limited, walk-in showers can provide all the benefits of a full-bath without the space requirements of a bathtub or combo unit.
Even if the walk-in shower unit takes up just as much space as a combo unit, they offer other benefits and plenty of options for customizations. Multiple shower heads may be installed in customized walk-in showers and beautiful tiled walk-in showers add a look and feel of luxury to the bathroom.
3. Consider How Much Storage You Will Want and Need
One of the most important things to consider when remodeling your bathroom is storage. Often overlooked is the need for storage space in a bathroom. In fact, this is one of the most common bathroom remodeling mistakes. You want to make sure you consider how much storage space you need, and then make additional considerations about how much you may want.
A bathroom with inadequate storage space is difficult to keep clean and uncluttered. You'll need space for toiletries, towels, and cleaning items that you may want to keep out of view. A large closet or built-in cabinetry can provide ample storage room in the bathroom and help with organization.
Likewise, cabinets above or beside the sink vanity can be very convenient bathroom remodeling ideas. When selecting the vanity, shower stall, and other bathroom features, it's important to keep the available space and space requirements of those features in mind as you consider where to make space for extra storage.
4. Check Out Available Lighting Options
Another one of the things to consider when remodeling your bathroom is the lighting. You shouldn't overlook the lighting in your bathroom when you're thinking about remodeling it. It's an important aspect of your bathroom and it's important to give some careful thought to it. Lighting is one area that can dramatically enhance your design aesthetic. There are plenty of bathroom lighting options available, so you can get exactly the look you want.
Aside from the lighting fixtures you will need to select, consider whether you want to have a skylight installed or a larger exterior window that features privacy glass. Natural lighting has the ability to enhance a room in a very unique way and these features promise to take a bathroom design to a whole new level!
Bathrooms are often an area of the home that hold the most untapped potential. Bathroom remodeling projects commonly become some of the most appreciated once they are finished because they are guaranteed use! Plus, they are one of the home improvement projects with the highest ROI.
If you are searching for unique ideas that will totally transform your bathroom, give us a call today at (717) 399-4708 to start the conversation or visit our showroom to get inspired!