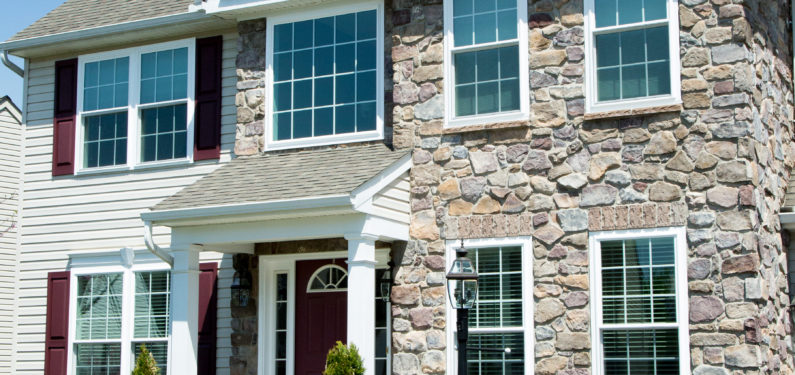 5 Popular Window Style Trends
Posted on June 25, 2020
Windows are one of the most important components of your home. Not only do they let natural light into your home, but they can also help improve energy efficiency, convenience, function, aesthetics, and more. Here are a few popular window style trends to help you decide on windows for your home:
1. Easy Opening and Cleaning
Windows that are easy to open and easy to clean are one of the most popular window style trends. A home that is well-ventilated can help reduce energy bills. For this reason, window styles that provide easy opening and/or large openings are becoming the new normal. Double-hung windows and vertical 4-track windows are two types of windows that meet this trend.
Double-Hung Windows
Double-hung windows allow for opening from the top or the bottom or both. This allows you to get some fresh air in your home and cool things off when it's not quite hot enough yet for the A/C to come on. Plus, you can open them from the top to allow warm air to vent out while you use fans to circulate the air to help regulate your home's interior temperature.
On top of that, double-hung windows also often have tilt-in capabilities. This makes cleaning your windows inside and out much easier and safer, especially when it comes to second-story windows.
Vertical 4-Track Windows
Vertical 4-track windows are a common choice for patio enclosures. They can be opened completely to the top or bottom of the window track, which allows you to create a floor to ceiling view when you want. They also allow in a lot of natural light and can give you some control over how much air you want to let in. On top of that, the window panels can be removed for easy cleaning.
2. High-Quality Vinyl Windows
High-quality vinyl windows are ever-increasing in popularity. This is due to their durability and their longevity as well as the fact that they are virtually maintenance-free. Vinyl windows are available in a variety of color options that can match any home design.
They don't require painting and are also less susceptible to the expansion and contraction that can occur with moisture, pressure, and temperature changes. Plus, there are many options to help increase energy efficiency like insulated windows, triple-pane windows, and more. These are just a few of the things to look for when it comes time to shop for new windows and why high-quality vinyl windows should be at the top of the list.
3. Millwork Window Frame Accents
A popular trend to spruce up the windows in a home is to add decorative millwork accents around the windows to frame them more ornately. These window accents can provide a classy aesthetic and create a more customized look within the home. In this way, they are a great way to upgrade a living space and can be a perfect finishing touch to complement the overall interior design theme of the home.
4. Grid Work and Texture
Grid work on windows is another popular way to create a little extra style and add a luxury feel to a home. Ornamental muntins are the thin pieces of wood that break up a large window pane and give the appearance of numerous smaller panes of glass.
Before larger glass panes were manufactured, larger window openings were achieved by using these muntins to assemble multiple panes to make one larger window. Today, they are used for aesthetics rather than structure and they can create a stately and classy appearance for the home. They are even used in glass options for doors as they are popular door style trends. Some double-pane windows are available with muntins installed between the panes.
5. Upgrading While Replacing
Another one of the popular window style trends is to upgrade windows when it is time to replace them instead of just replacing what's there. For some homeowners, this means upgrading the quality of the windows while keeping the size the same.
For others, this means remodeling and upgrading to a larger bay or bow window instead of replacing the old windows with new windows of the same size. If you are ready to replace older windows in your home, consider upgrading the type or style of window in some areas rather than just replacing the old window with a new one of the same kind. Thinking about things like this can help you choose the best windows for your home.
When considering new windows for your home, keep these popular window style trends in mind. If you would like to review the replacement window options that are available for your home, give Zephyr Thomas a call at (717) 399-4708!