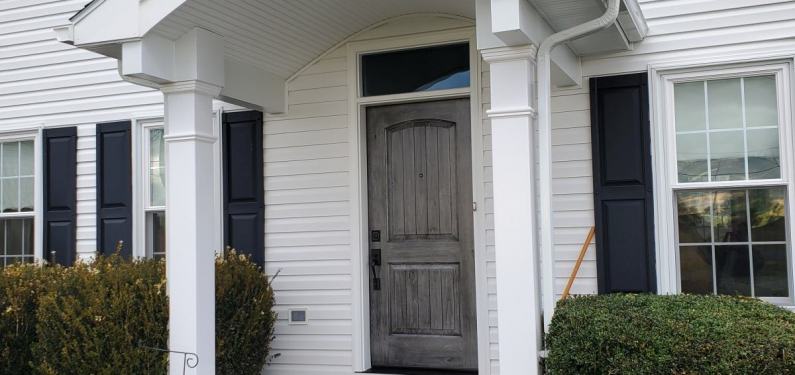 7 Home Security Tips to Protect Your Home
Posted on May 5, 2022
When it comes to your home, there are a lot of details to cover to keep it protected that go beyond standard locks. Regular maintenance is part of it and also overlaps with home security. Here are some home security tips to protect your home:
1. Maintain Your Windows
Your windows are a necessary part of your home, but they also tend to be a weak point in your home's security. Single-pane windows don't hold up as well as double- or triple-pane windows, even when they are in good shape.
The risks only become greater when your windows are older, getting out of plumb, or have damage. There are many common causes of window cracks. If any of your windows are broken or cracked, they leave your home exposed.
Not only do damaged or broken windows cause energy loss, but they leave your home exposed and vulnerable as well. This is why it's important to prioritize replacing windows when window panes crack or are damaged.
Maintenance, repair, safety, and more are all common types of home improvement. Aside from replacing windows when they need to be replaced or upgrading them if they are outdated, maintaining your windows and taking care of them can help keep them in good shape for longer.
2. Add Extra Security to Your Windows
Damage or wear and tear over time are reasons to replace your windows. If your windows are in good shape or you've just replaced them, there are also other things you can do to increase security for them. Adding screens, locks, window guards, safety glass, and more are ways to childproof your windows and they're also home security tips for protecting your home.
3. Replace Your Doors
As the main entry and exit points for your home, your doors are also a potential weak point in your home's security. Doors that are damaged or outdated, have outdated locks, feature a lot of glass, etc. are all potential vulnerabilities when it comes to your home security. These are all reasons to replace your doors.
If an entry door, patio door, or another door to your home is damaged, it's essential to your home's security to replace it as soon as possible. Delaying important repairs like this is one of the home maintenance mistakes to stop making because it leaves your home exposed and vulnerable while also increasing the risk and amount of damage to your home that you will need to fix later.
4. Upgrade Your Doors
Similar to windows, there are also door options available that allow you to upgrade your door for better security and better energy efficiency. Fiberglass or steel entry doors are stronger and more durable. On top of that, solid-core doors are heavier and more durable, and you can add a storm door for another layer of protection.
If you like the look of glass for your patio doors, you can choose double-pane patio doors with a fiberglass or vinyl frame for better energy efficiency and also more protection. This is one of the tips for increasing your patio door security.
In addition to upgraded, properly installed locks and deadbolts, opting for upgraded door options like this can help you strengthen the security of these entry and exit points and improve front door security.
5. Review Your Landscaping and Outdoor Lighting
Take a look around your property and take notice of what types of plants or structures you have and where they are located in relation to windows, doors, or other areas of your home.
Are there places where potential intruders can hide? Is it easy to access potential entry points? Are there areas of your lot that are not well-lit? If you have basement windows or an egress window in the basement, is there a well cover? Prickly bushes or shrubbery near windows can make them harder to reach and less attractive to potential intruders.
Using motion-sensor lighting, timed lights, and more in the right areas can deter intruders. These are tips to burglar-proof your basement windows that can also help improve the security of your home.
6. Make Sure Your Garage is Secure
The garage is another potential vulnerability in your home's security. Not only are garages known as storage areas, but they are also often attached to the home. Whether a garage is attached or detached, it has a door and may also have windows that can leave it exposed to intruders.
If there are windows in your garage, secure them, lock them, and use a privacy film to hide what is being stored inside. Make sure the garage door is locked and that garage door openers or codes are secure.
Also, if the door is damaged or out of plumb, replace it. One of the big benefits of replacing your garage door is increased security, so you don't want to ignore it if it needs to be replaced or repaired.
7. Use a Home Security System
One of the biggest home security tips to protect your home is to use a home security system. Depending on what you use, you can get video surveillance and an alarm system in addition to alerts related to flooding, fire, etc. At the very least, having some sort of security system or alarm system is a big deterrent and can help protect your home.
These are just a few home security tips to protect your home. Improving the security of your home and maintaining it well are home improvement resolutions for the new year that are worth keeping throughout the entire year. If you need new windows, doors, or other maintenance to upgrade your home and keep it protected, contact Zephyr Thomas at 717-399-4708 to start a free quote!