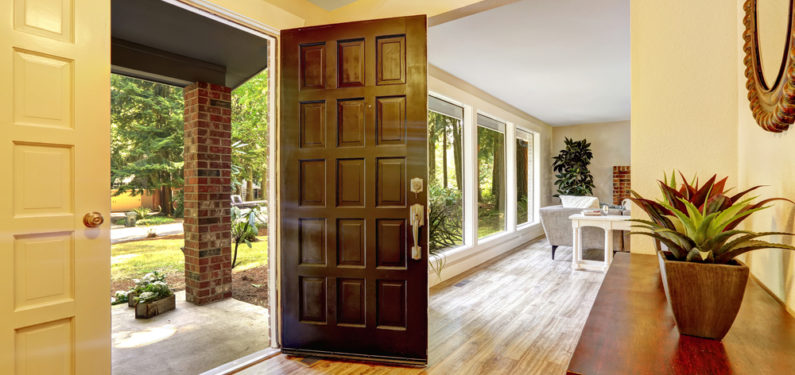 8 Living Room Remodel Ideas That Pay Off
Posted on August 4, 2022
The living room of your home is one of the rooms that tend to get a lot of use and it should be comfortable and relaxing. But, sometimes, the living room isn't structured to help create this atmosphere. If your living room is not quite where you want it to be, here are some living room remodel ideas that pay off to inspire you for yours:
1. Consider Upgrading Your Entry Door
If an entry door leads into your living room, it can have a big effect on how the room looks and feels. In addition to visible damage or wear and tear, one of the reasons to replace your doors is if you don't like them.
Not only is replacing your doors one of the home improvement projects with the highest ROI, but it can also improve your living room too. Consider upgrading to an entry door that looks great from the exterior and the interior.
Check out how a replacement entry door improved the interior and exterior of this home!

2. Expand it for More Space
One of the most common living room remodel ideas is to expand it for more space. This could just be making the living room a bit bigger or overhauling the space into a great room that includes the kitchen with an open concept floor plan.
How much you can expand your living room and the options available will depend on the layout of your home and which walls are load-bearing and which are not. Choosing the right home improvement contractor for your project can go a long way in determining those structural elements, the options available, and the best ways to get you the living room you want.
3. Upgrade or Add Windows for More Natural Light
Lighting can make or break a room and natural light can really enhance a room too. Natural light can help make a room look bigger and more open while also creating a more comfortable and relaxing atmosphere. There are several ways to add more natural light to your home.
You can add windows if you don't have many or you can upgrade windows to a picture, bow, or bay window. If you're replacing and upgrading windows anyway, you can also add some style options to further enhance the look and feel of the living room. Another option if you are lacking in wall space is to go vertical and install skylights or sun tunnels to allow light in from above.
Take a look at the Zephyr Thomas team installing a picture window for this homeowner!

4. Balance Built-In Elements With Decor
One of the biggest living room remodel ideas that pay off is balancing built-in elements with decor. Decor tends to be more temporary while built-in elements will be permanent structures. Anytime you remodel a space, there are things to consider like lighting, storage, layout, etc.
Additionally, adding more storage space is one of the ways to make your home more comfortable, so it's something to consider if you're remodeling your living room. If you know you want shelves in a particular place or have a space where it makes sense, built-in shelves can help get you extra storage while also enhancing the room.
In addition to the built-in elements that make sense for your needs and new space, you can further elevate your living room with decor like area rugs, statement pieces, etc. that is easier to change or update later.
5. Revisit the Color Palette
In addition to light, layout, and more, the colors you use in a room have a big effect on the atmosphere you create. A new paint color can often create what seems like a completely new room. If you're already planning a living room remodel, it's well worth revisiting the current color palette to make sure it's what you want and choosing a new color scheme if it's not.
6. Update the Flooring
The flooring in your living room should be comfortable and help create the look you want in the room. If it's outdated or you hate walking on it or looking at it, you can update the flooring to something that works better for you.
Some flooring options for sunroom additions could be a good fit for your living room remodel, but not all of them. If you're not already set on a flooring option that you want, a good home improvement contractor can help you identify the best options for your needs. Some interior flooring options, like tile or vinyl planks, can also be customized to create patterns or designs if you want something unique for your floor.
Check out the new tile floor Zephyr Thomas installed for this homeowner!

7. Update the Molding or Trim
The molding and trim around the room can often be overlooked. Usually, it's ignored unless there is some obvious damage or needs to be cleaned. If you're remodeling your living room, you don't want to ignore the molding or trim.
There are a lot of options available for ceilings, baseboards, wall trim, and more. Choosing some of the more stylistic options can add a decorative touch to these elements that usually fade into the background and make them stand out a little more instead.
8. Remodel the Fireplace
If your living room has a fireplace, one of the living room remodel ideas that pay off is to remodel it too. You may not need to do anything to the fireplace itself, but the base, mantel, and surround might need an update, especially if the material that is there is cracked or damaged. A contemporary fireplace is also one of the interior design trends and it can take your living room to the next level.
If you don't have a mantel or anything surrounding your fireplace, you can add some. Built-in shelves along the sides of fireplaces and a wider shelf as a mantel are popular options. Making interior upgrades like this can enhance any home and is one of the ways to bring life to an older home as well.
These are just a few living room remodel ideas to help inspire you as you think about remodeling your home. The right home improvement and remodeling projects can help you truly make your house a home that you love. If you're ready to get started on your next home improvement project, contact Zephyr Thomas at 717-399-4708 to start a free quote!