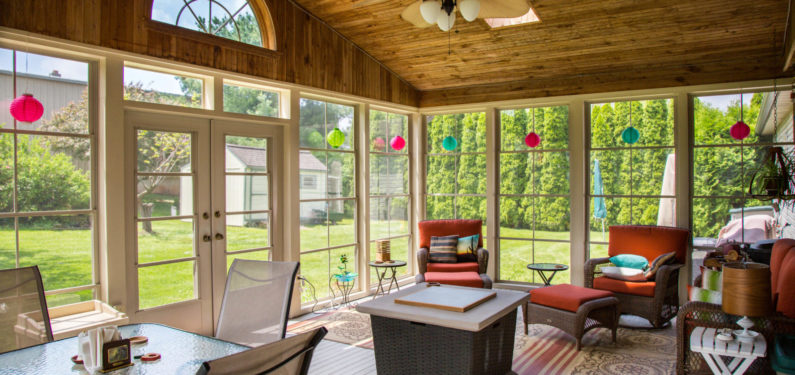 4 Popular Flooring Options for Sunroom Additions
Posted on April 2, 2020
Adding a sunroom to your home provides many benefits. They expand the useful square footage and footprint of your house while creating a living space that is perfect for casual entertaining or your own relaxation. One of the most important decisions you will make when it comes to your new sunroom addition is the type of flooring that you will have installed. There are many options and each has its advantages. Here are some of the most popular flooring options for sunroom additions:
1. Vinyl Plank Flooring
Vinyl plank flooring is, by far, the most common and popular choice when it comes to flooring options for sunroom additions. Sometimes referred to as Luxury Vinyl Plank (LVP), this flooring option is durable, easy to clean, low-maintenance, and highly customizable.
These planks are sturdy and give the stylish appearance of wood floors. Not only is this type of flooring more cost-effective than hardwood, but it is also often waterproof and quicker to install as well. This makes it the top flooring choice, and one of the best basement flooring options as well.
2. Tile
Tile is another great option for sunroom flooring. When it comes to tile, it generally falls into two groups, ceramic and porcelain or vinyl.
Ceramic and Porcelain Tile
Ceramic and porcelain tiles are durable. Plus, the wide range of choices in size, color, and texture allows you to get creative and also match the floor to the overall aesthetic of your home. Tiles can be installed in various patterns that give the sunroom a luxurious and custom look feel.
Luxury Vinyl Tile (LVT)
Luxury Vinyl Tile is another tile option that is extremely popular. Like Luxury Vinyl Plank, this vinyl tile is a durable option that provides many of the same benefits of other types of tile. On top of that, it tends to be quicker to install than other types of traditional tile.
Vinyl tile can be printed with wood patterns to give the look of a wooden floor while giving superior performance in areas of waterproofing and durability. LVT also comes in patterns of stone or other materials as well.
3. Concrete
Although it's more common in outdoor patios and walkways, concrete is also a simple and practical flooring option for sunrooms. At first, this type of flooring might sound like a rough and unfinished option, but stamped concrete floors are low-maintenance and still look great.
They are durable and they are relatively easy to clean. Numerous patterns are available, which allows you to pair the flooring color and texture with the overall aesthetic and theme of their new sunroom.
4. Hardwood
Because vinyl planks imitate the look of hardwood for less and with less maintenance, traditional hardwood is a less common flooring choice. Whether you get the look with vinyl or real hardwood, the appearance of wood floors is a classic flooring option that is always in style.
Hardwood floors are available in various textures, colors, and wood species. If you're set on traditional hardwood over other options, the look you choose and the finish of the floor should be determined largely by the interior design theme and style that you will choose for the rest of the sunroom.
Since sunrooms often are transitional areas between the outside and the rest of the home, it is a good idea to select a hardwood floor with a finish that will stand up to high foot traffic volume and even some moisture.
The wrong flooring is one of the things that can hurt your home value. Thankfully, there are plenty of popular flooring options for sunroom additions where you can't go wrong. Each homeowner will have different needs and wants from their sunroom addition, and these variables will steer their flooring choices for this new and exciting addition to their home.
It is a good idea to get the input of an experienced home improvement contractor who can provide some valuable insight into what materials will be best suited for your unique and customized home improvement project. Picking the right materials is an essential kitchen remodeling tip that you can use to get the sunroom you want and need as well.
If you would like to talk with one of our representatives about a new sunroom addition, call us at (717) 399-4708.