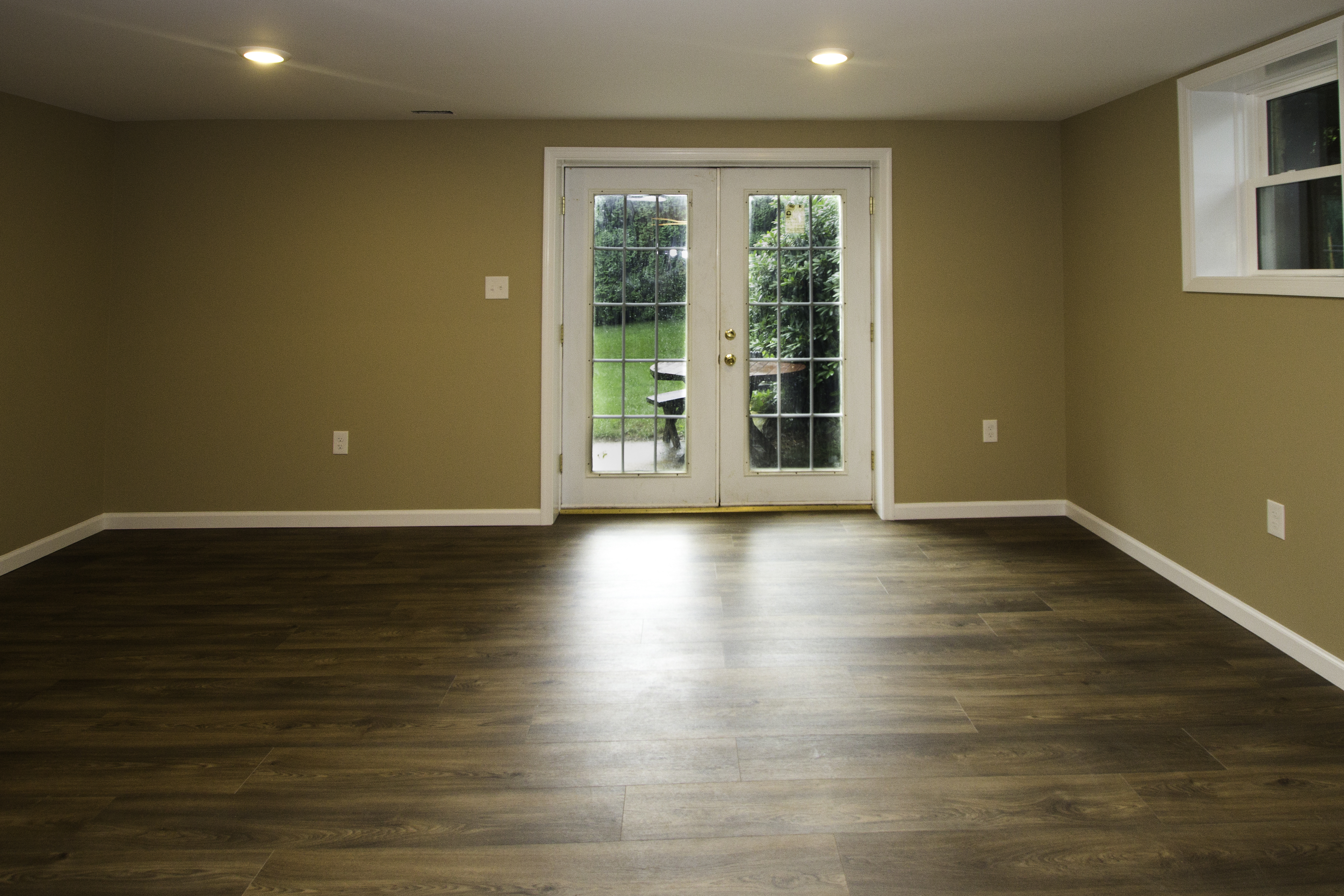 5 Best Basement Flooring Options
Posted on March 9, 2023
Remodeling or finishing your basement is an excellent investment in your home. It raises the home value and adds more livable space. As you make decisions about your basement project, You will need to be mindful that the flooring you choose is right for your basement. Here are some of the best basement flooring options:
1. Luxury Vinyl Plank or Tile
Luxury vinyl flooring is a resilient and durable flooring material. There are two subtypes of this luxury vinyl product – luxury vinyl plank (LVP) and luxury vinyl tile (LVT). Luxury vinyl tile is very durable, low maintenance, and affordable. They are a popular choice because it's similar to luxury vinyl sheeting, but with the benefit of mimicking stone tile or wood planks in a very realistic way.
These types of flooring are pieced together in a floating floor fashion. Luxury vinyl tile has a thick wear layer that helps with wear and tear. This makes it more durable than conventional vinyl flooring. These are also popular flooring options for sunroom additions and around other areas of the home.
2. Rubber
Rubber flooring is most often used in gym or workout spaces, but they work well in basements, too! Adding a home gym is one of the popular basement remodeling trends. If a home gym is part of your basement remodeling plans, rubber floors may be a great fit.
There are two options available. You can ask for roll rubber if you want a floor with few seams. If you want to be able to customize the floor every now and then, opt for interlocking tiles that fit together like puzzle pieces.
Rubber flooring will offer a nice cushion for weight training or other heavy workout machinery. Rubber flooring also is nice for home yoga studios. This type of flooring isn't exclusive to home workout areas, however. It is a nice, cushioned flooring that would be perfect for a play space for children.
3. Concrete
If you need a durable and water-resistant flooring option, concrete is a safe choice. Even though this material is associated with utilitarian spaces, concrete is becoming more popular in homes. Concrete can be painted or stained if you do not want the look of raw concrete.
Concrete does not need a subfloor for installation. In order for concrete to be truly water-resistant, it needs to be properly sealed. But if your basement is properly sealed, you might not need one. Making sure your basement has no signs of moisture is an essential basement finishing tip.
4. Ceramic or Porcelain Tile
Ceramic or porcelain tile will offer you plenty of durability and style. Durability is just one of the benefits of tile flooring. It also doesn't need another finish in order to look nice. Since this type of flooring can be rather cold, it can be nice to install radiant heating underneath the tiles. This way, you have the benefit of tile without the coldness, making your space much more inviting.
Ceramic and porcelain tiles easily air out in the event of flooding or water damage and will never rot. These tiles can be installed right over a concrete slab, but it's a good idea to lay down a membrane layer between the concrete and the tile.
5. Carpet
Some might say carpet in a basement is an unwise decision. However, if your basement has been properly sealed and finished, basements can actually have less moisture than your bathroom. And with a subfloor to combat water, carpet is one of the basement flooring options and a great option for a cozy family area.
Carpet is a great choice for home theaters because it provides good sound quality. It's also a nice choice if you plan to have a guest room or office space in your finished basement. These are all finished basement ideas that can give you the function you need from your newly finished space.
These are just a few of the best basement flooring options. Finishing or remodeling your basement is a great way to add more value to your home and add some comfort to your living space. It's also a great way to warm up a cold basement. If you're ready to remodel your basement, get the process started by calling us at (717) 399-4708!
Check out the video below of the Zephyr Thomas team remodeling a basement!