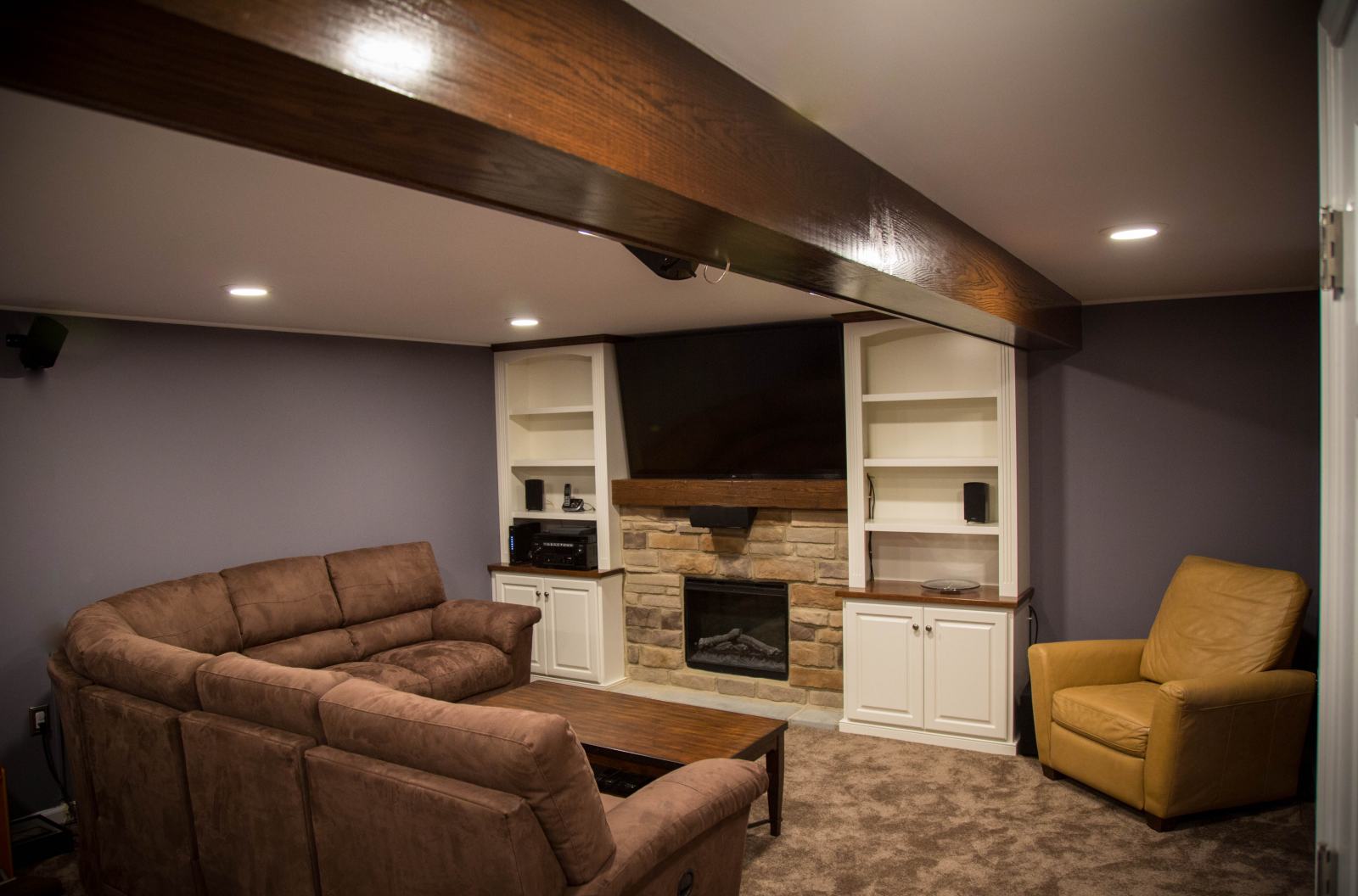 7 Finished Basement Ideas to Inspire You
Posted on July 8, 2014
Finishing a basement not only adds value to your home, but it also allows for a fun space where you can enjoy family or entertain friends. Sometimes deciding how to use your new basement comes easy. But, if you are looking for inspiration on how to design your finished basement, here are a few finished basement ideas to get you started:
1. Stylish Home Office
Having a home office in the basement allows you to "get away" from the chaos of home without really leaving the house. Line the walls with shelves to store books and other office supplies. Be sure to have ample ambient and task lighting since natural light may be limited. Add a touch of the outdoors with low or no light plants such as Aloe Vera and bamboo.
2. Vintage Wine Room
A basement's natural coolness lends itself well to wine storage. Adding a wine room allows you to attractively display your collection while creating an intimate space to enjoy your favorite variety with friends. Consider adding a bar as well as a pantry and refrigeration to complete your tasting room.
3. Personal Gym
Finding time to get to the gym can be difficult, but when the journey is just one flight down there's little to prevent you from getting a great workout. A home gym can mean different things to different people and a finished basement can serve as an exercise room for any member of the family. Not only is including home gym one of the finished basement ideas, but it's also one of the popular basement remodeling trends.
If you want your basement to be a traditional workout room, talk with your contractor about how to make it more comfortable and conducive to that use. This is an opportunity to be creative! If you were to open a gym, what kind of paint job would you give it?
If yoga and pilates are your things, but you don't have enough space to really spread out in the bedroom, a finished basement could be just the thing. Plus, you'll get more privacy than you'd have in the living room. A quiet basement may be the perfect space to put on some new-age tunes, relax, and do the mindfulness thing.
You'll be a floor or two below the spaces where you're likely to be interrupted or just preoccupied with your busy life. You could also create a space to practice meditation or just sit quietly and read. If you're into Zumba or if dancing is your preferred form of exercise, you can turn your basement into a dance floor–maybe even install surround sound.
No matter what your plans are, make sure you work with your contractor during the design phase to ensure everything will fit as intended. This includes the basement flooring options as well as any gym equipment you want to include! Make sure you measure it so you know it will fit in the basement, which tends to have a lower ceiling than the rest of the home.
4. Child's Playroom
When designing a child's playroom, think about creating a space that can grow with your child. Consider using chalkboard paint on one of the walls, which is popular with any age. Shelving and storage is a must, so be sure to have ample amounts of both. Consider storage benches, which can serve a dual purpose and keep the downstairs tidy.
5. Game Room
Think about turning your basement into a fun spot for games and social gatherings. Whether you want to make it a play-date spot for the kids or a fun place to hang out and play darts, a finished basement can make staying home a lot more fun (and hey, maybe that will save you money in the long run!).
An attractive game room, or any other possible versions of a finished basement, can add value and interest to potential buyers when it comes time to sell your home. On the other hand, unfinished basements often limit how you can use the space and can detract from your home's appeal and value. This is one of the reasons why keeping an unfinished basement could be a mistake.
6. Family Media Room
Many families opt for a media room where they can enjoy the feel of a theater in the comfort of their own home. In addition to the big screen and luxury seating, consider adding fun touches such a popcorn machine and vintage video games to round out the movie theater experience. Having an area like this is your basement is great for your family, for friends, and more. Plus, it's an attractive space for potential buyers should you decide to sell your home at some point.
7. In-Law Suite
Whether you have relatives visiting often or you're considering having them come to stay with you, you might find yourself wishing you had extra space for them. Maybe you do – in the basement!
You might never have considered your basement's potential as a nice living space and indeed, you might have to make some important changes to make it livable. If the basement is damp, or moldy, talk with your contractor to see what you can do to fix this besides using a dehumidifier – dampness can make an environment unsafe, but a renovation can often fix the problem.
Picture how you'd like your living quarters to look if you lived in the basement. This is a great opportunity to make a total transformation in a forgotten area of the house. Depending on the plumbing situation in your home and your basement's size, it may even be possible to put a bathroom down there.
Renovate Your Basement With Zephyr Thomas
Thinking about how you want to use the space is one of the things to consider before finishing your basement and these are just a few finished basement ideas to inspire you. There are many more ways you can add value, charm, and fun to your finished basement. Whether you know what you want or are still figuring it out, an experienced, reputable contractor can help you and walk you through what to expect during a basement remodel.
If you're thinking of finishing your basement, know that Zephyr Thomas is capable of realizing your vision. We will send our professional sales consultant to your home to assess your basement needs and walk you through any basement ceiling ideas, other design elements, and more that you might want. Our exceptional installation crew will then install sealer, insulation, drywall, lights, electrical outlets, construct walls, box out beams, install trim and molding, and take care of any other modifications your basement needs, including installing a bathroom or a laundry room.
If you are ready to finish your basement or remodel it, contact Zephyr Thomas at 717-399-4708 to schedule a free estimate!