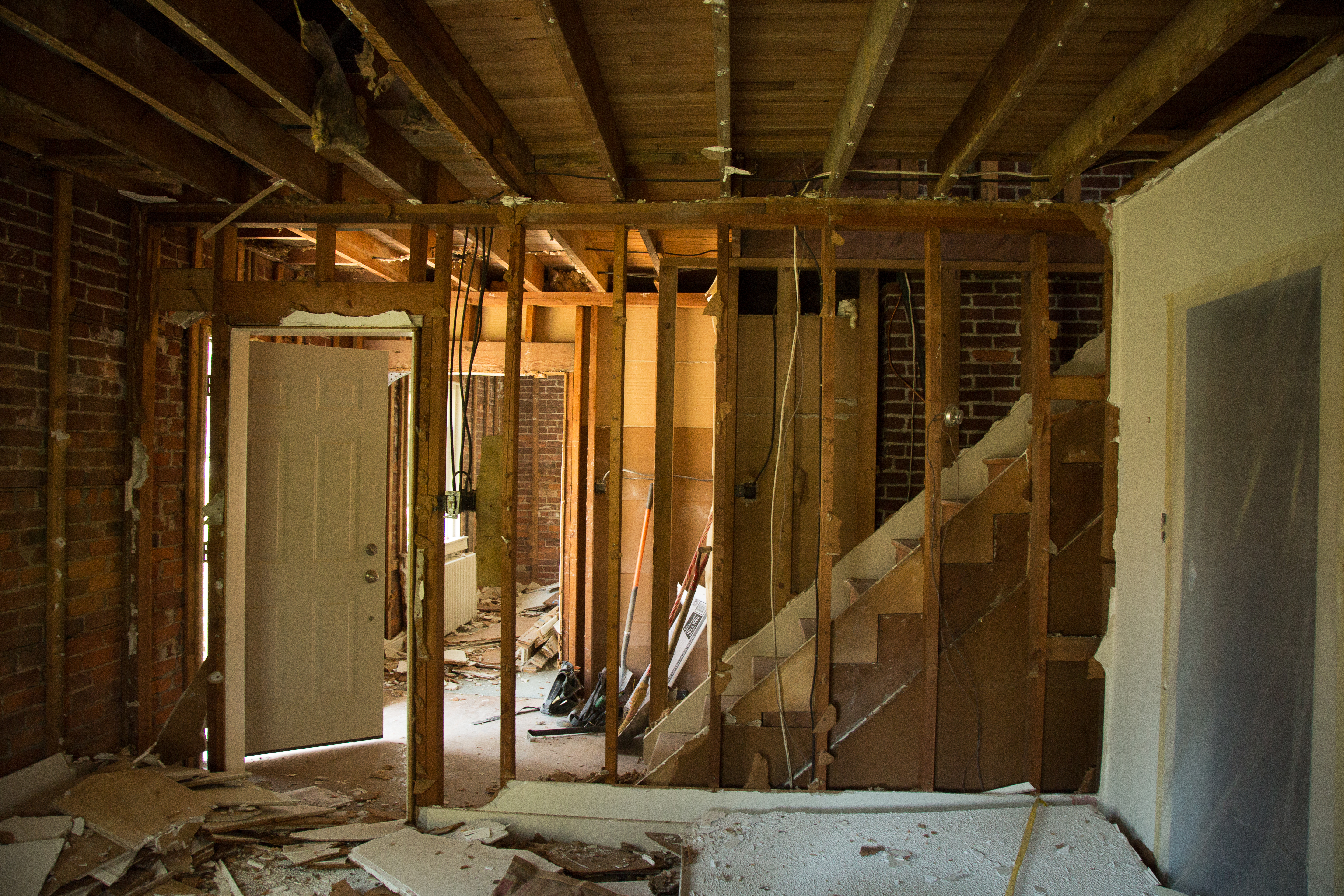 What to Expect During a Basement Remodel
Posted on July 20, 2023
Basement remodels can cover a lot of things. You could be turning an unfinished basement into a finished, livable space, you could be remodeling an existing finished basement into an upgraded space, or anything in between. There are a lot of reasons for renovating a basement and a lot of things to consider. In general, here's what to expect during a basement remodel:
Basement Remodel Checklist
Although individual projects may vary slightly and have other considerations, there are some general steps when it comes to basement renovation. Here is a general basement remodel checklist for what to expect during a basement remodel:
1. Start With a Plan
With any home improvement project, especially remodeling a room or building an addition, it's essential to have some sort of plan for how you want to use the finished space or the goal you hope to achieve with the project.
This information will help you and the contractor you partner with for the project determine the best options to make sure the project accomplishes what you want. Additionally, it will be important in making sure your contractor knows what needs to happen behind the scenes to support your goals.
Think About What You Want
There are a lot of things to consider with any remodeling project and several things to consider before finishing your basement. From plumbing and electrical to ceiling, walls, floors, and everything in between, what you're planning for your basement makes a big difference.
There are many ideas for finished basements and some of them may require extra consideration. If you don't know exactly what you want, a good home improvement contractor can help you work through the details. But, you do want to give some thought ahead of time about what you do and don't like about your current basement, issues you want to resolve, and anything about what you hope to experience with the renovated basement.
Not thinking about these things is one of the common mistakes to avoid with finished basements. Going in with some idea of a plan can also help you figure out a reasonable budget as well as evaluate contractors on the experience they have with projects similar to yours.
Evaluate Your Basement
Depending on your situation, evaluating your basement may be something that happens beforehand or something that happens with contractors that you are thinking of working with. Regardless of where it falls in the pre-construction process, it's important to evaluate your basement for renovation. This is an essential tip for finishing your basement.
Part of remodeling your basement should include some sort of foundation inspection. Before the remodeling process begins, your basement will need to be inspected for any signs of structural damage or water damage. Cracks, sagging beams, rust, mold, etc. will all need to be addressed before renovation or as part of the renovation.
Waterproofing, addressing drainage needs, adding an egress window if one is required, and more are all signs it's time for a basement renovation and are things that need to be considered for a basement remodel. If there are previous water damage or drainage issues, that will also need to be addressed. An experienced contractor can be a big help in outlining this process and making sure it is taken into account.
2. Find Contractors and Get Quotes
Once you have some ideas for your finished basement, then it's time to find home improvement contractors you might want to work with and start getting quotes. Asking people you trust for references, searching online and reading reviews, checking out local building associations, and more are all good places to get started.
There are many ways to find a home improvement contractor. Once you have a list, you can narrow it down by checking reviews, looking at the contractor's website, asking around, and more. When you have a few that you would like to get quotes from, reach out to them to schedule an estimate.
You will want to talk through your project with them and they will want to get an accurate scope of the project to be able to quote it accurately. Also, don't be afraid to ask questions about the company and your project. These are all questions to ask a home improvement contractor you're considering for a project and can be helpful information when you are choosing who you want to work with.
3. Compare Quotes and Choose a Contractor
It may take some time to get all of your basement renovation quotes in hand, but it's well worth it to take your time, compare home improvement quotes accurately, and make sure you're working with a contractor that has the experience you need and your best interests at heart.
The last thing you want is to spend the money and time on a basement renovation only to be surprised by extra costs during the process, end up with something you don't like, or end up with shoddy work that you have to pay to repair down the road.
There are several things that should be in a home improvement quote including price, scope of the project, project schedule, and more. Take some time to look over what is included in each one, compare the quotes, and also compare the contractors you're considering. Make sure you ask questions if you have them. A good contractor will be open to answering them.
There may be extra benefits that come with working with one contractor over another. You may also feel more comfortable with one contractor over another. All of these things are important and can help you choose a home improvement contractor that is right for you.
4. Get the Proper Permits
Whenever there is something structural or architectural, including many electrical and plumbing components, there are building codes, inspections, and permits involved. One of the reasons to work with a whole home improvement contractor is that they have the experience to know what goes into things like this and handle all of the aspects.
At Zephyr Thomas, we handle the drafting and permitting process for our customers so that they don't have to worry or stress about it. Less stress, more experience, and high-quality work are all benefits of working with a home improvement contractor on your project.
5. Prepare Your Basement For Renovation
The contractor you're working with will be able to provide any instructions specific to your project, but there will be some things to do to prepare your basement for renovation. If there are moisture issues, you may need to work with your contractor to dry it out before renovation begins or there may be other things that need to happen first.
You will need to do a full cleanout of your basement before your contractor can begin renovating it. Whatever you currently have stored in the basement will need to find another home while your contractor is working in the area.
Depending on the specifics of your project and if it focuses on one specific area of the basement and not the whole thing, there may be some flexibility here where a contractor can work around certain items or spaces. However, these are details your contractor will work out with you.
They will also be able to advise you on their plans for disposing of waste and anything you need to be aware of there. For example, if there will be a temporary dumpster at your home to handle waste, they will let you know.
6. Allow Time For Demo, Construction, and Installation
The time required for the demo, construction, and installation for your basement remodel will depend on your specific project. Your contractor should have gone over a projected schedule for the scope of your project so you know what to expect. During this part of a basement renovation, your contractor will take care of anything that is relevant to your project that could be related to:
Demolition
Fixing Pre-Existing Leaks or Cracks
Waterproofing Floors and Walls
Adding Proper Insulation and Sealing
Framing Up the Space
Running New Plumbing and Pipes
Updating Electrical
Adding or Replacing Windows
Installing the Flooring
Taking Care of Drywall and Ceilings
Whatever needs to happen to get your project underway and start creating the basement you want happens during this phase of the basement remodel. The scope of the project will determine how long this phase takes.
7. See the Finishing Touches Complete Your New Basement
Once all the heavy lifting is done, then it's time for the finishing touches to complete your new basement. This could include anything from painting and lighting fixtures to furniture, decor, and more. These are all the little details that finish off the space. You may have to wait for the paint to dry before you can fully enjoy it, but the finishing touches mean your basement remodel is almost finished!
8. Enjoy Your New Basement
The last step of a basement remodel is to simply enjoy your new basement. There are many benefits of a finished basement and now that your basement remodel is complete, you get to enjoy all of them!
Get the Basement You Want With Zephyr Thomas
This is just a general checklist of what to expect during a basement remodel. When you partner with a reputable contractor for your project and start the process, they'll walk you through each step and let you know what to expect for your specific situation.
They can even help you narrow down specific choices and help you define what you need from a basement remodeling project to make sure you get the basement you want at the end. If you're interested in finishing your basement or remodeling it, contact Zephyr Thomas at 717-399-4708 to start a free quote!
Check out the Zephyr Thomas team completing a basement remodel for this homeowner!