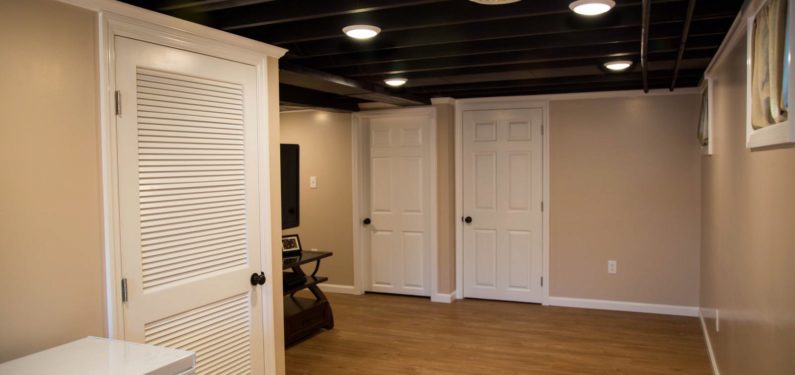 5 Essential Basement Finishing Tips
Posted on August 5, 2021
Finishing your basement provides more livable space for your home and also increases your home value. Here are some essential basement finishing tips to help you get the finished basement you want:
1. Make Sure You Handle Any Moisture Issues
Basements may have a reputation for being dank and damp. This is one of the reasons why keeping an unfinished basement could be a mistake, but moisture issues are definitely not what you want for your finished basement. Moisture and water can cause a lot of damage over time. One of the biggest mistakes to avoid with finished basements is ignoring moisture issues.
The last thing you want is to overlook or ignore leaks or other issues with moisture in your basement, finish it, and then end up needing to do costly repairs or deal with mold later. Before you finish your basement, make sure you don't have any issues with moisture or leaks.
If you find any concerning signs of water damage or issues with moisture, make sure you handle them before finishing your basement. Not only does this help protect your investment, but it also saves you from costly repairs down the line and creates a much more comfortable environment in your basement. This is why checking for moisture issues is one of the things to consider before finishing your basement.
2. Think About the Floor Plan and Layout
When you finish your basement, the overall layout and a lot of the details will depend heavily on how you plan to use it, specific things you want to include, and more. One of the most important basement finishing tips is to think about how you want to use your finished basement and about the floor plan. This will also help inform the best basement flooring options for your basement renovation as well.
Good design and layout are important for any room in your home, and are essential when it comes to a finished basement. If you want a bathroom in the basement, a bar, an entertainment center, more storage, a gym, or another one of the many finished basement ideas, the design and floor plan for your finished basement will need to take those functions into account.
Whether you have a specific plan for your finished basement, are opting for one of the basement remodeling trends, or are not sure exactly what you want yet, an experienced, reputable home improvement contractor can help you work through the details and figure it out. They'll also be able to work with you on the layout and determine the best placement for the hardware required for any specific features you want.
3. Make Sure You Address the Windows
As you think about your finished basement, you also want to address windows. An egress window is a great idea for basements. Not only do they offer a form of escape in an emergency, but they also let in some natural light.
Depending on your home layout and landscaping, you may be able to include a few more windows in your finished basement for even more natural light. If there are already windows in your unfinished basement, you want to make sure that they are inspected and replaced if needed.
4. Consider Extra Features and Comfort
Part of a good layout is making sure you have access to electrical outlets, important equipment, shutoffs, and more. In addition to those details, you also want to consider other features that will help you create a comfortable, relaxing environment, including basement ceiling ideas, decor, and more.
A big part of this is temperature control and other ways to warm up a cold basement. You'll want to have a plan in place for heating and cooling your finished basement to keep it a comfortable space that you want to spend time in. This also includes lighting. You may have some natural light available through windows, but you also want to make sure you have enough artificial light throughout the basement.
Another extra feature to consider is soundproofing. If you'll be using your basement as a game room, practice room, entertainment area, etc., adding some soundproofing can help contain that noise a little better and keep it from filtering up and disturbing the rest of the house.
5. Check the Basement Stairs
It's common to include the stairs in a basement renovation. Often, basement staircases tend to be narrow or steep. They may also be in need of repair or updating to current building codes anyway.
By checking the stairs and including them in your basement renovation, you can make them easier and safer to use and make any other improvements. In some cases, this includes widening the staircase or increasing headroom.
There are a lot of things to expect during a basement remodel. These are just a few essential basement finishing tips to help make sure your finished basement looks good and functions the way you want. Partnering with an experienced home improvement contractor makes the whole process smoother and ensures you end up with something you love. If you're ready to talk about finishing your basement, contact Zephyr Thomas at 717-399-4708 to start your free quote!
Take a look at the Zephyr Thomas team remodeling this basement!