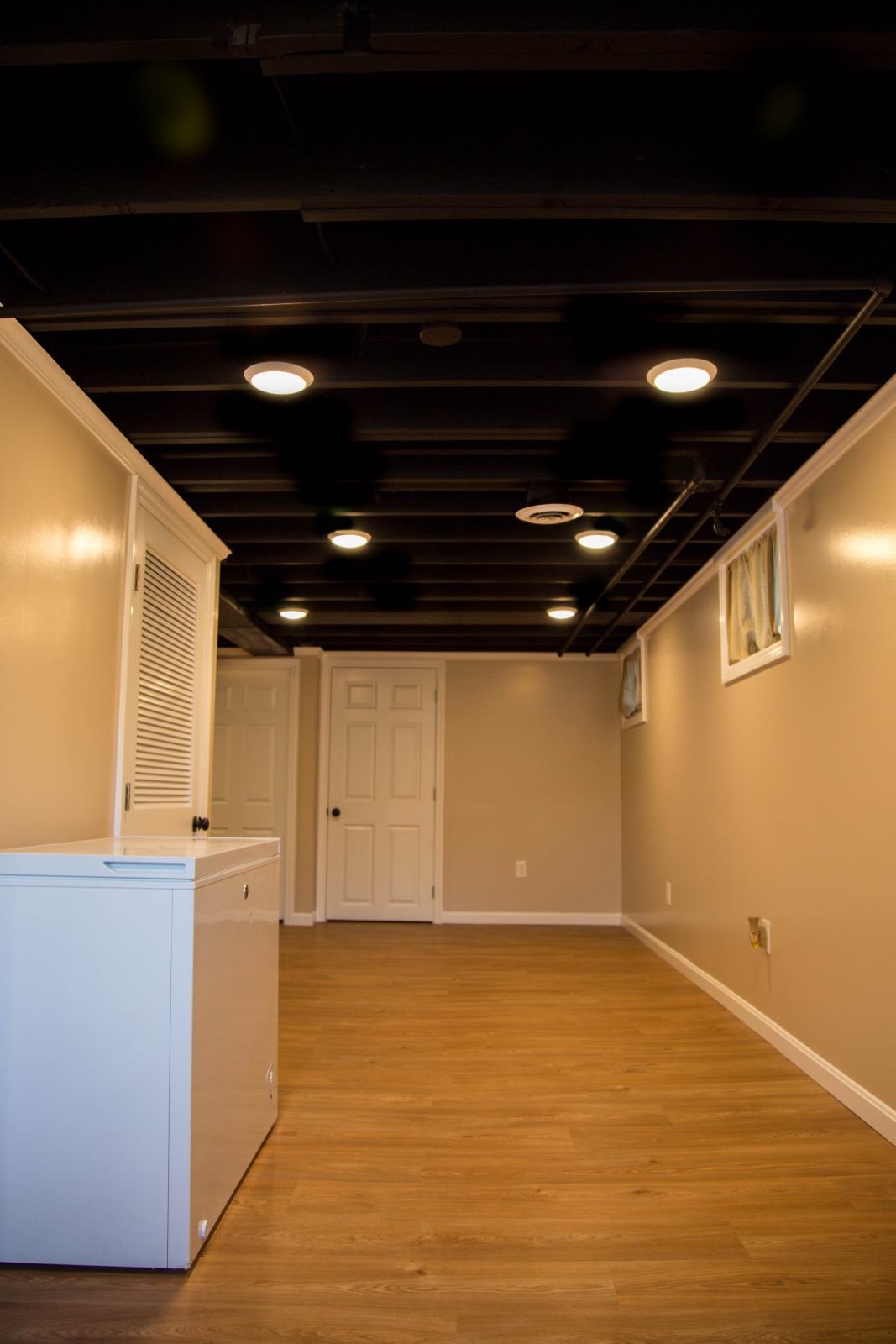 8 Basement Ceiling Ideas
Posted on September 14, 2023
If you're planning to remodel your basement, you might not have given much thought to the ceiling. It can be tempting to just keep the ceiling bare bones and plain, but there are some interesting options to try. Here are a few basement ceiling ideas to consider for your basement renovation:
1. Exposed Beams
Exposed beams are a popular architectural element in many houses. This style is rustic yet contemporary. You can stain the beams in any finish you like to match the rest of your decor. Leaving the beams exposed with staining adds some warmth to your basement decor.
If your basement feels cold temperature-wise, adding some plush rugs is an easy way to warm up a cold basement. If you want to give your basement a modern farmhouse look, pair bright white walls with lightly stained wood. Not only will this brighten your basement, but your beams will become a design feature of the space.
2. Drop Ceiling Tiles
An important thing to consider before finishing your basement is what to do with the ceiling. A classic option for a reason, drop ceiling tiles are often used in basement ceilings. These tiles are practical because they offer easy access to pipes and electrical wiring. Plus, the geometrical pattern creates a pleasing grid that catches the eye.
3. Paint the Rafters
For a modern vibe in your basement, consider painting your rafters. While charcoal can feel dark in a basement, it can work when paired with white cinderblock walls as well as gray concrete flooring.
Concrete flooring is one of the best basement flooring options and works well to complete an industrial look. The charcoal rafters add some warmth to an otherwise industrial look. These dark rafters also easily hide electrical wiring and plumbing.
4. Natural Wooden Planks
Consider trying natural wooden planks if you want an upscale bar vibe in your basement. Well-polished planks will look especially classy when paired with recessed lighting or lighting strips.
Making sure you have ample lighting is an essential basement finishing tip. The natural wood planks will add some warmth to your basement and the lighting will keep things from feeling too dark.
5. Painted Beams and Pipes
Simply painting the pipes and beams is another basement ceiling option. Paint everything white for a cohesive industrial look. This way, the ductwork, and beams almost act as sculptural pieces. Going this route is an easy solution if you're not planning on closing up the ceiling.
6. Tin Ceilings
Tin ceilings have often been found in old-school pubs in areas of the UK and Ireland and can add an interesting look to your basement. They add a charming element to your basement ceiling, especially if you plan to entertain.
Installing a tin ceiling would be a great option for a home bar. Tin ceilings also reflect light well, keeping your basement from feeling too dark. It's also a good choice for a game room. Having a game room is one of the popular finished basement ideas.
7. Coffered Ceiling
Another one of the basement ceiling ideas is to stick with something classic. If you prefer a traditional look for your basement, you may consider a coffered ceiling. In a coffered ceiling, upward indentations are created by beams placed in a grid pattern. This pattern consists of rectangles, squares, or octagons. The result can resemble a checkerboard.
Along with an interesting focal point, coffered ceilings absorb sound and give the illusion of a higher ceiling. This illusion is nice for basements as they usually have lower ceilings.
8. Corrugated Metal Ceiling
In low ceilings in places like basements, the area can often feel cramped and dark. To combat this, try a corrugated metal ceiling. The metal will bounce light off of the surface and add a textural element to your basement.
Finish Your Basement With Zephyr Thomas
These are just a few basement ceiling ideas for your finished basement. Finishing your basement is a popular home upgrade that adds value to your home.
If you're thinking of finishing your basement, know that Zephyr Thomas is capable of realizing your vision. Contact Zephyr Thomas at 717-399-4708 to start your free quote!
Take a look at the video below to see the Zephyr Thomas team remodeling the basement for this homeowner!