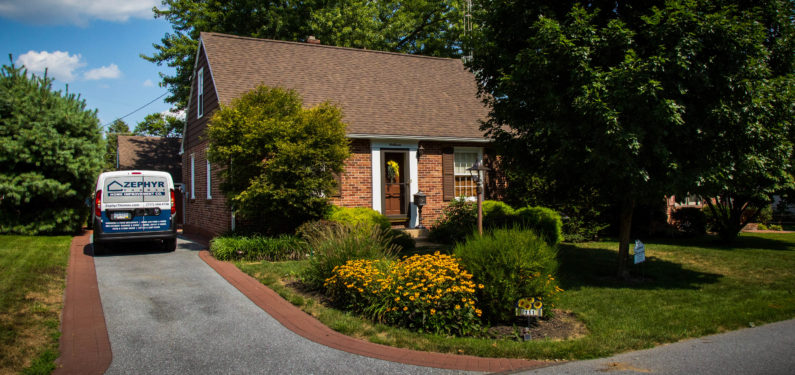 8 Home Remodeling Ideas for Aging in Place
Posted on May 28, 2020
As a house transitions from a home that raised a family into a place to live out the golden years of retired life, the focus of home improvement projects begins to shift. Things to be taken into consideration at this interval of life are more concentrated on comfortable and safe independent living. Even homeowners who aren't yet at retirement age can benefit from adequate foresight in regard to the type of home improvements they choose to pursue. It's a good idea to consider what you will need in the near future, instead of what home improvements you only need at the present time. Here are a few home remodeling ideas for aging in place:
1. Turn a First-Floor Room Into a Bedroom
Converting a first-floor room to a bedroom has many benefits. An ample master suite can be designed and customized so that basic sleep and hygiene needs can be met without the need to use stairs later in life.
Even if you don't use this master bedroom immediately, it can serve as a guest room for visiting family members or adult children who have moved out of the home and return for holiday festivities. Any time a home improvement can serve a dual purpose, it's a great option to consider!
2. Upgrade Existing Bathrooms to Have Walk-In Showers
Bathroom remodeling is a good home improvement choice at any point in life, but they can be especially beneficial when a homeowner is planning their home for safe aging-in-place.
Converting tubs to walk-in showers is a great start. There are many benefits of a walk-in shower. Plus, walk-in showers provide safer access and customized shower stalls can be constructed with built-in seats and railings.
3. Add Grab Bars and Non-skid Mats to Showers and Tubs
A fast way to help make a bathroom safer for older household members is to eliminate the risk of slip and fall accidents. The simple addition of grab bars in showers or tubs and non-skid mats are sure ways to reduce the possibility of falls. Additionally, these are also features of an accessible bathroom remodel. And, they are usually easy to add without necessarily needing to overhaul your entire bathroom.
4. Remodel the Kitchen for Convenience and Accessibility
Remodeling a kitchen can provide many benefits. One of the most useful is that it creates an opportunity to reevaluate and redesign the storage space in the kitchen. Consider different pantry options for food storage. For example, walk-in pantries can help to make food and kitchen supplies more easily accessible in addition to providing more storage capacity which can lead to less need for frequent trips to the grocery store.
Additionally, as you think about updating the kitchen, you can work with a contractor to take convenience and accessibility into account. This could mean adjusting or expanding the kitchen layout, adjusting the number and height of cabinets, and more.
5. Widen the Doorways
When planning home improvements, it is important to have a certain amount of introspection so that the project, materials, and designs you choose suit your lifestyle. This is also important as you look to the future and plan your home. Widening doorways are home remodeling ideas for aging in place and can be a wise investment so that the home can be navigated easily with a wheelchair or a walker. Improving accessibility in this way is one of the reasons to replace your doors.
6. Install a Stairlift or Elevator to the Second Floor
A stairlift or elevator installation is another useful home improvement when safety is of the utmost concern. Eliminating the need to traverse what are sometimes hazardous staircases in older homes is a certain benefit of these types of additions.
7. Update Outdoor Walkways and Add Ramps
Updating outdoor walkways that have become cracked or uneven over time is an important consideration for anyone. Likewise, converting porch or deck stairs to ramps is another great idea. Not only does this make the home wheelchair accessible, but ramps with built-in railings are typically safer for foot traffic as well.
8. Add Something You'll Enjoy
As you prepare to age-in-place within your home, not every home improvement must be centered around a purely practical application. It's also a great time to consider a home improvement or addition that you've always wanted and will now have the time to fully enjoy and appreciate.
A dream bathroom, granite countertops, a beautiful sunroom addition with vertical 4-track windows, an outdoor seating area, etc. – all of these are great options and no one knows what will bring you the most benefit and relaxation more than you!
These are just a few home remodeling ideas for aging in place. Turning your home into an abundantly comfortable and safe living space, regardless of your age, will help to ensure years of enjoyable and independent living. If you're ready to talk about your next home improvement project, give Zephyr Thomas a call at (717) 399-4708!