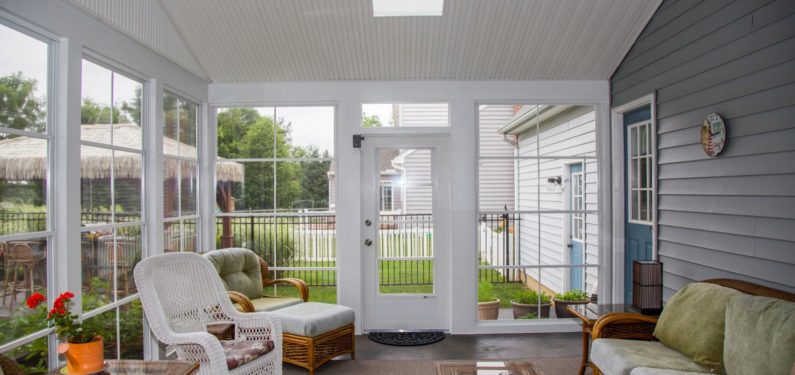 4 Door Options for Sunroom Additions
Posted on April 18, 2019
Sunrooms are a popular and economic addition option to many homes. Alongside the benefits of the additional square footage they provide, sunrooms offer homeowners a space that allows them to efficiently utilize natural lighting and capitalize on living space in their home. It also provides a unique feel and vibe while bringing them one step closer to the outdoors. Plus, there are even more opportunities to customize the look with all of the door options for sunroom additions.
Many sunrooms are designed with access to a backyard or patio, so they have both interior and exterior doors. When it comes to selecting doors for a sunroom addition, homeowners have a wide array of door options to choose from; each with its own unique features and style. Here are a few door options for sunroom additions:
1. Cabana Doors
Cabana doors are a stylish, simple, and sleek option for vertical 4-track sunrooms. These doors come with the vertical 4-track system built-in and are often characterized by large open panes which allow for a wide field of view and plenty of sunlight to reach the room. Cabana doors can come in single or double door options and they offer a homeowner an attractive and economical design option for their vertical 4-track room.
2. French Doors
French doors are another option for homeowners who wish to accent their sunroom with a regal pair of doors. French doors are characterized by their full-length glass and often feature window grids or grilles to provide an additional, more formal flair. French doors may also feature more ornate door levers and hardware. Because of their full-length glass panes, and the ability to open both doors, they are a door option that can provide an abundance of natural lighting as well as the benefits of increased air flow.
Sunrooms that are equipped with French doors and integrated with other outdoor features, such as a patio, allow homeowners to take advantage of a wide door threshold. This maintains uninhibited traffic flows when entertaining large groups of people. French doors may also be used as interior doors in order to stylishly accent the transition between the sunroom and the rest of the home.
3. Fiberglass Entry Doors
Fiberglass entry doors are a great option when homeowners are looking for maximum weather resistance. Some fiberglass entry doors have less glass surface areas than other door styles and so they provide high energy efficiencies. Glass panes in fiberglass doors may be either clear or frosted and oftentimes feature decorative etching.
Fiberglass doors are durable, robust and come in nearly endless color combinations including wood grain styles. Homeowners also have the option of choosing a fiberglass entry door as the exterior door of their sunroom and another door style at the interior transition between the sunroom and the house.
4. Sliding Patio Doors
Sliding patio doors have long been a popular option for sunrooms. Sunroom additions are designed in all different shapes and sizes, and smaller sunrooms can benefit from the space saving characteristics of a sliding patio door. When a homeowner wishes to take advantage of a cool spring or summer evening, they can open the sliding door without altering the available space in their sunroom.
Sliding patio doors can come with double pane glass and are often a very energy-efficient option. Plus, there are several benefits of installing sliding glass patio doors. Sliding screen doors are very popular to use with sliding patio doors. When the screen is not needed, it can simply be slid out of the way and doesn't require the homeowner to open and close it every time they pass through the doorway.
Some sliding doors even offer adjustable blinds that are inlaid between the door's panes of glass. This allows the patio door and blinds to slide out of the way of the door threshold in one motion and can provide a sleek and streamlined look to the patio door.
There are many available door options for sunroom additions. When deciding on types of doors for your sunroom, be sure to consider your unique style and taste. Sunroom doors have the ability to accent a room and create a lasting first impression when someone walks into the room.
Prioritize the things that are most important to you, whether that be functionality, aesthetics or efficiency, and use that list to narrow down door options in order to to be certain your selection will provide you with exactly what you are looking for.
If you're considering adding a sunroom or updating your current one, contact us at 717-399-4708 for a free quote or stop by our showroom to get inspired!