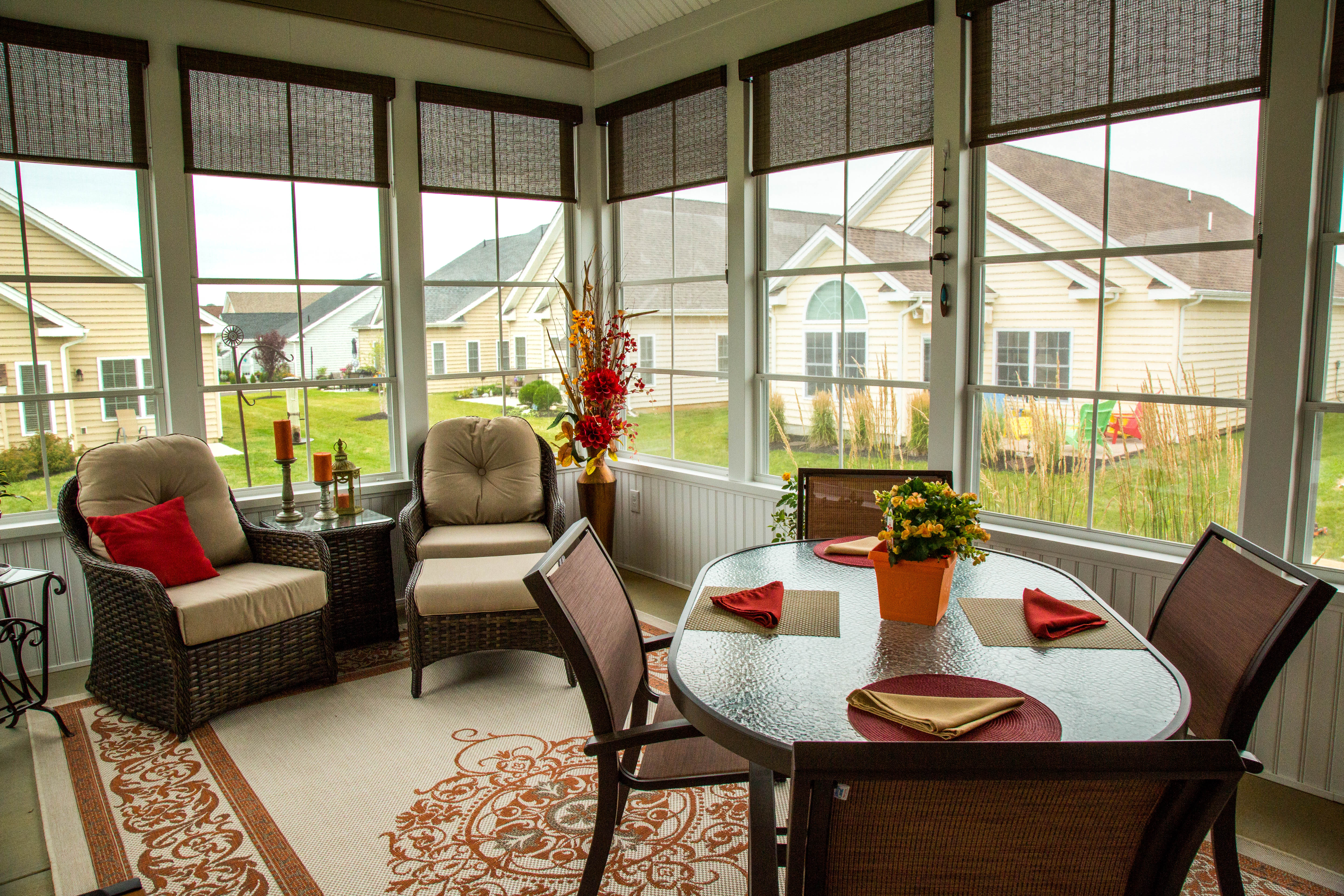 7 Ways to Upgrade a Patio
Posted on April 7, 2022
A patio can be a great outdoor space to help you enjoy more of your home and backyard. Whether you want to add a patio to your home or upgrade your existing one, here are a few ways to upgrade a patio:
1. Opt for Stamped Concrete
Part of any spring home maintenance checklist is to look over your walkways, porch, patio, deck, etc. If you don't like your current patio or it is looking a little worse for wear, it may be time to consider replacing it with a new patio. In this case, stamped concrete is a good option to consider. Stamped concrete patios are popular because they are durable, functional, versatile, and beautiful.
By upgrading your patio with stamped concrete, you can choose from a variety of colors, mimic other materials like wood or stone without the maintenance required of them, or even have a custom design etched into it. There are plenty of options with stamped concrete that can elevate, enhance, and upgrade the look of a patio and your home.
Adding or upgrading the patio is one of the backyard makeover tips. Take a look at how simply replacing the concrete patio upgraded this home's exterior:

2. Add New Patio Furniture
New, high-quality, weather-resistant, and comfortable patio furniture is an easy way to freshen up and upgrade a patio. Functional furniture that is as comfortable as it is easy to use, store, and clean is a great way to create an outdoor living space that you enjoy spending time in.
3. Include Some Plants
A little bit of greenery can go a long way in improving and upgrading a space, including a patio. You don't have to create a jungle if that's not the look you're going for, but a few plants here and there can help create a more comfortable and relaxing outdoor space.
If you like how open your patio is, but hate the bugs that can come with it, you can include some bug-repellant plants on your patio and around it. This is one of the ways to keep bugs away from your patio and help you enjoy more time outside.
4. Install a Patio Cover
Installing a patio cover or one of the other types of porch weather protection is one of the ways to upgrade a patio. This can provide some protection from the weather for you while using the patio and also for any furniture or other things you have on the patio in addition to some shade.
A patio cover or awning is one of the ways to beat the heat on your patio or deck in the warmer months. Depending on how you want to use the space and have it look, you can even extend the roof of your home over the patio for a more permanent cover. Retractable awnings are another option, and there are many other places you could add an awning around your home for shade where you want it.
5. Replace the Patio Door
The patio door can make a big difference in the look and feel of a patio and also how easy it is to access from your home. From hinged doors to sliding doors and more, there are plenty of patio door options to help you get the look you want.
Sliding glass patio doors are popular for several reasons. More natural light inside the home, ease of access to the patio, and more are just a few benefits of installing sliding glass patio doors.
Depending on the look and function you want for your home and patio, this could be the right type of patio door for you. There are many things to consider to choose the best patio door for your home. If you're not sure, an experienced home improvement contractor can be a big help in narrowing down the options that best fit your needs and your home.
There are many benefits of new patio doors. Replacing your patio doors can help improve the energy efficiency of your home and also upgrade the exterior. Check out the difference it made for this home:

6. Upgrade the Patio Lighting
Lighting can make or break a space, and the same is true for your patio. In addition to boosting the atmosphere of your outdoor space, the right lighting also makes it safer and easier to navigate when there is low light.
LED lights are a popular option for their energy-saving properties and for being less attractive to insects, especially if they emit more yellow light instead of bright white. The right lighting, along with other elements on your patio, can help you put your patio to good use and create the perfect backyard vacation.
7. Enclose Your Patio
One of the biggest ways to upgrade a patio is to enclose it. There are many ways to enclose a deck or patio. You can upgrade an existing patio to a screened-in porch, opt for a full patio enclosure, or even replace it with a sunroom addition or a different type of home addition.
Depending on the type of patio enclosure or sunroom you want, you can get one that is three-season or a four-season space that you can use comfortably year-round. There are a ton of benefits of a sunroom or patio enclosure, so this is a great option to add more usable space to your home if you want something more than just a patio.
Upgrading a porch or patio is one of the best outdoor home improvement projects for spring, summer, or fall. These are just a few ways to upgrade a patio to inspire you as you think about what you want for yours. If you're interested in a patio or patio enclosure for your home, contact Zephyr Thomas at 717-399-4708 to start your free quote!
Take a look at the Zephyr Thomas team enclosing this patio and converting it into a three-season room!