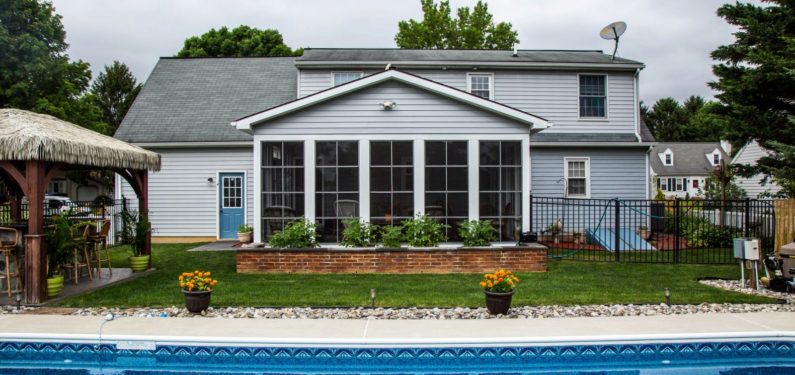 How to Enclose a Deck or Patio
Posted on March 28, 2019
A deck or patio is a great way for you to relax at home and enjoy the outdoors. They're also great for hosting parties and other get-togethers with friends and family. Their only drawback is that they are open outdoor living spaces, so their use is often dependent on the weather. Patio awnings can help provide some protection, but an open deck or patio is definitely a space only available for seasonal use. If you want something you can enjoy year-round, you can enclose your deck or patio to make it a more usable and versatile space. Here's how to enclose a deck or patio:
1. Vertical 4-Track Room
With a vertical 4-track room, you can enclose your existing porch, patio, or deck and turn it into a three-season enclosure. Not only does this extend the use of your deck for more than one season, but you'll also have extra protected space available for use. There are several benefits of a vertical 4-track patio enclosure.
The next time it rains, you don't have to worry about protecting all of your patio furniture or storing the cushions so they don't get wet – all you have to do is make sure the windows are closed! Plus, these patio enclosures are custom-built, so you get exactly the space you want. And, since vertical 4-track windows can open from the top or the bottom of the window track, you can have a floor-to-ceiling view if you want!
2. Sunroom Addition
Another way to enclose your patio or deck is to turn it into a sunroom addition. A sunroom addition can be built to be a three or four-season room. Sunrooms are also a great way to extend and expand your living space for year-round, or almost year-round enjoyment.
Plus, every aspect of them can be customized to your liking and to match the style of your current home. An addition to add more space to your home and to improve is one of the common types of home improvement.
3. Home Addition
Another option for enclosing your deck or patio is to turn the space into another full room with a home addition. There are several benefits of building a home addition. Turning your existing porch, patio, or deck into a full-blown home addition adds a four-season room to your home in addition to more usable, and livable, square footage. From a sturdy foundation to plumbing needs, electrical needs, and more, your home addition can be built to serve almost any purpose and fully customized to your needs.
Enclosing a deck or patio is one of the ways to upgrade a patio or deck, and these are just are a few ways to enclose a deck or patio. In addition to being home upgrades that add value, each option offers a lot of benefits to your home. Plus, enclosing your patio or building an addition is one of the best outdoor home improvement projects for spring. If you're thinking of a patio enclosure, a sunroom addition, or a home addition, contact Zephyr Thomas at 717-399-4708 or stop by our showroom to get inspired!