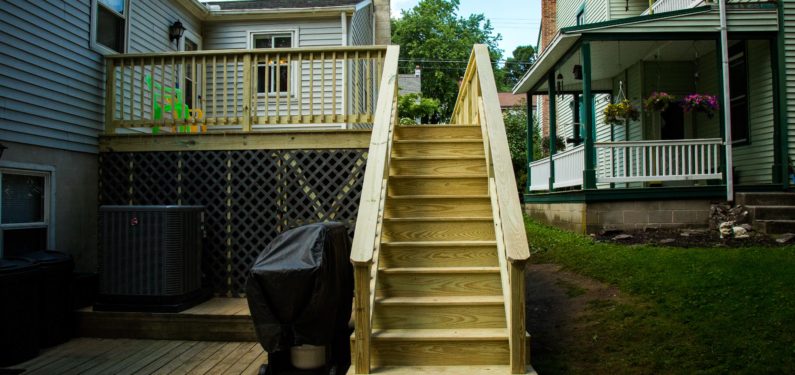 5 Tips to Create the Perfect Backyard Vacation
Posted on June 12, 2014
Everyone needs time to kick back and relax. Traveling can be a lot of fun, but you don't have to travel to have a great vacation. What if you could take a vacation every weekend in your own backyard? Here are some tips to create the perfect backyard vacation that you can use to make the most of your next "staycation" or backyard vacation from the comfort of your own home:
1. Put Your Deck to Good Use
A deck can be the perfect place to relax in your backyard. If you have a deck, it should be a staple of any backyard vacation. You can usually add whatever furniture and decor you want to help create a comfortable and relaxing spot.
If your deck has multiple levels, consider creating different zones for dining and conversation. A fire pit can help extend the entertainment into the night. Just make sure to add decorative shade in the form of an umbrella, pergola, or awning to keep yourself comfortable during hot summer days.
Whether on a deck or patio, some sun cover and a fan or mister can help keep things cooler and more comfortable. Fans, a clean area, repellant, and more are all ways to keep bugs away from your patio or deck so you can enjoy your time outdoors pest-free.
If you don't have a patio or deck in your backyard, it's a great time to consider adding one. Not only can a patio or deck addition add value to your home, but it can also help you enjoy your backyard more. The right set of patio doors can provide easy access while helping to complete the look and create the atmosphere you want.
Adding a deck or renovating one when needed is one of the backyard makeover tips to improve your home. Check out the Zephyr Thomas team renovating this deck for a homeowner in the city!

2. Add an Outdoor Kitchen
You don't have to have a built-in outdoor kitchen to enjoy cooking or dining outdoors. If you enjoy cooking outdoors and dining al fresco, you can make space on your deck or patio for a grill and some seating to create the ultimate cookout area. This is one of the popular ways to use a deck.
It may also be a good idea to add additional storage to your deck or patio for things such as dinnerware, grilling accessories, and other items you may need. Benches and other furniture with built-in storage can help you get the storage you need without taking up extra space.
3. Create Some Privacy
It can be hard to relax if you feel like you're being watched or when you're surrounded by people, noise, and other interruptions. Creating some privacy for your backyard can help create a space where you can feel more comfortable and let your guard down.
Adding a fence or garden wall to your property will give you a sense of privacy as you relax or entertain. You can also add lattice with climbing vines to screen views from adjacent homes while also adding an interesting look to your deck or patio. These are just a few ways to improve your backyard that can also help make it the perfect location for your "staycation".
4. Invest in the Right Furniture
Investing in the right furniture can make a big difference in creating a relaxing, comfortable, and cozy space in your backyard. Plus, you don't have to choose between comfort and durability – there are plenty of options available that can give you both.
Synthetic, weatherproof patio furniture and fabrics are available. They offer the same style and comfort as traditional cast iron or aluminum. And, you can always add extra cushions, switch out cushions, and more to get the right level of comfort for you and the look you want.
In addition to the standard chairs and tables, you can also opt for a hammock for extra space to relax. The right lighting is also important. Thankfully, there are a ton of outdoor lighting options available to help you get the right mix for your space. There are even waterproof lamps that can remain outdoors even during inclement weather.
5. Make Time for Memorable Fun
Having a pool or a hot tub is a great way to add excitement to your backyard and create a backyard vacation. But, you don't necessarily need those things to create a ton of outdoor fun and make great memories. Hoses, sprinklers, and inflatable pools are a great fit for kids of all ages on a hot day.
A water gun or water balloon fight is another great option. Outdoor games such as bocce ball, horseshoes, or cornhole can provide hours of entertainment and laughter. Plus, there are tons of new games, gadgets, and other items you can use to create a ton of memorable fun in your backyard.
These are just a few tips to create the perfect backyard vacation. Making sure your home and your backyard are in good shape can help you set the stage for your next "staycation". If your home needs some work or you're interested in adding a deck or a patio to your backyard, contact Zephyr Thomas at 717-399-4708 to start your free quote!