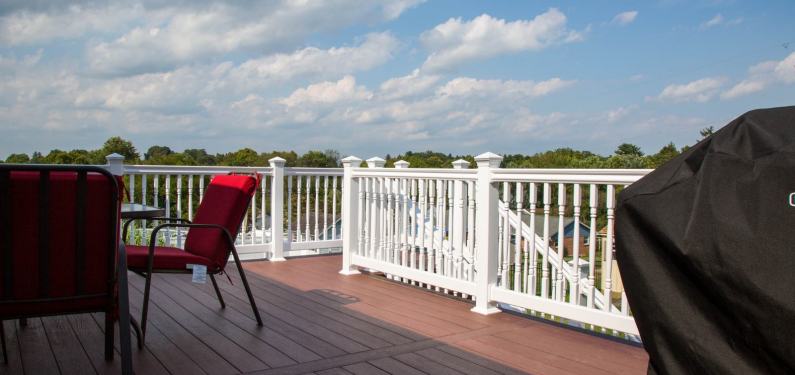 7 Useful Ways to Use a Deck Addition
Posted on March 18, 2021
A deck addition increases the value of your home and also the value you get from your home. Regardless of the shape or size of a deck, there are a ton of different ways to use a deck addition that take it beyond a comfortable outdoor seating area. Here are a few useful ways to use a deck addition:
1. Make the Ultimate Cookout Space
The smell of a grill creates one of the most nostalgic senses of summer. If you enjoy cooking on the grill, turning a deck addition into the ultimate cookout space can be the perfect idea.
If you're looking for more of an outdoor kitchen setup, many outdoor grills can be permanently installed within the deck structure. On the other hand, freestanding grills offer more flexibility because you can move them around. Either option can help you create a unique, designated cookout area.
At the same time, you can creatively integrate storage areas within the deck. This helps you maximize the space you have available while also making sure you have all the supplies you need to have an epic BBQ.
When you're thinking about adding a deck addition, you can also consider other creative ideas that will add extra functionality and fun to your new deck. A gas or electric fireplace or fire pit is one option.
A comfortable outdoor seating design is another consideration. If you'll be hosting cookouts, you'll want to have enough seating and you'll want a layout that allows you to serve food to groups of people efficiently.
2. Create a Luxury Outdoor Spa at Home
A deck is one of the ways to improve your backyard and can be turned into a luxurious space for relaxation and comfort. You can make your deck the perfect place for a nap or just some quiet relaxation.
If your deck will incorporate a hot tub or lead to a pool deck or pool house area, you are already well on your way to creating an outdoor luxury spa right outside your back door. This, in particular, is one of the reasons why you'll wish you had a deck this summer. Comfortable seating options with a natural look can also help add to an atmosphere of relaxation.
Wood or faux wood furniture with removable cushions is a popular choice as are swings and hammocks. You can also add a few plants to help create a more relaxing atmosphere. Another great option that contributes to the spa atmosphere is by installing outdoor speakers along the perimeter of the deck.
You can place speaks strategically so they don't take up a lot of space or detract from the deck's appearance. Unwinding in the hot tub or lying on a deck lounger with some soothing tunes playing over your outdoor surround-sound is the kind of summer evening that just about everyone can appreciate.
In addition to the audio/visual aspects of your home spa, you can even install misters along walkways and line them with ornamental warm-season grasses. This can provide an almost-tropical feel to the back of your home.
3. Turn it Into a Workout Area
Although you may not be able to create a full home gym on your deck for year-round use, you can turn it into a workout area when the weather is nice. A sunny deck can be the perfect place for some yoga, pilates, or meditation.
As long as you can move furniture and make some space, you can even do some sets with free weights or some bodyweight exercises. If the equipment you need is portable enough, you can turn your deck into a temporary home gym whenever you feel like it and the weather cooperates.
4. Use it as a Pet Grooming Station
If you have dogs, cats, or other furry pets, they'll likely be leaving fur around your house and will need some grooming periodically. When the weather is nice enough for it, bathing and cleaning your pets outside can be a lot easier.
You don't have to worry about moisture damaging a vinyl deck, so you don't need to worry as much about water splashing around as you bathe your pet. Plus, loose fur won't get cling to it, so you can quickly sweep away any fur left from brushing. Not only is cleanup easier, but it can also be more relaxing for you both as well.
5. Keep a Container Garden
If you don't have a lot of space in your backyard, or you've run out of room to expand a backyard garden, your deck can be a great place to keep a container garden. Many varieties of plants, including vegetables, can thrive in containers, planters, hanging baskets, etc. and you can use some of the space on your deck to grow them.
6. Air Out and Freshen Up Outdoor Gear
Sports equipment, camping accessories, and other outdoor gear can collect a lot of dirt, sweat, and grime. Keeping it inside to air it out can make an indoor space smell kind of funny. Plus, cleaning it inside can create a big mess.
Instead, use the sun to your advantage when it's nice outside and put your gear out on your deck to air it out and freshen it up. This is a great option for when you first bring these items out of storage.
You can also clean off your gear outside and use your deck as a temporary drying area. In doing so, you don't have to worry about creating and then cleaning up a mess inside. Plus, you can free up space inside your home by letting gear dry completely outside before storing it.
7. Extend Your Living Space with an Outdoor Living Approach
The concept of outdoor living is all about bringing the comfort and appeal of interior living spaces to your outdoor spaces. When it comes to ways to use a deck addition, it can be helpful to stop thinking about your deck as "just a deck" and start thinking about it as an extension of your home.
Just because the deck is outside doesn't mean it can't benefit you in many of the same ways additional square footage on the inside of your home can. Consider how you can maximize the available seating and space on your deck.
One great way to do this is to install permanent seating around the perimeter of your deck and turn the deck into an outdoor living or dining room. Indoor/outdoor pillows can be added to bench-style seating for additional comfort.
Plus, bench-style seating can often come with built-in storage for your convenience. Then, you can add tables, chairs, and other items to create a comfortable area on your deck for playing games, dining outdoors, and more.
Adding or renovating a deck is one of the backyard makeover tips to improve your home. Take a look at the Zephyr Thomas team remodeling a deck and extending the roof over it for this homeowner!

Adding a deck to your home can help increase curb appeal and property value, which are just a few of the reasons to add a deck to your home. And, because there are so many useful ways to use a deck addition, it also adds to the enjoyment and value you and your family get from your home. On top of that, there are plenty of under deck ideas to maximize outdoor space if you will have an elevated deck.
If you have questions about adding a deck to your home, give us a call at 717-399-4708 and we can help you design your dream outdoor space!